FORREC designs and constructs industrial plants to meet the many different requests from the world of solid waste disposal and recycling. The construction of a wide range of shredders and grinders flanked by the new division for the construction of conveyor belts allows for a high level of flexibility and capability to design customised solutions which then become turnkey solutions.
Behind the FORREC trademark, there is a team of professionals with the skills and maturity from twenty years of experience in the waste treatment technology sector.
Thanks to this significant experience, we can develop projects and build machines that can meet all your needs for the transformation of solid waste.
FORREC concentrates and develops our commitment in four different segments:
Research, design and construction of shredders and grinders for the management of all types of solid waste;
Research, design and construction of plants specialised in waste transformation;
Assistance and maintenance services aiming to provide maximum efficiency to guarantee customer satisfaction;
Development of environmentally-friendly technologies able to work in a fully eco-sustainable fashion.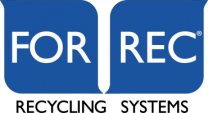 Address:
Viale dell'Artigianato 24
City:
Santa Giustina in Colle
Phone number:
+39.049.0990015