The PAALGROUP – Which started out as a printers in Osnabrück in 1854 and was founded in 2002 due to the amalgamation of PAAL, FAES, DICOM and COMDEC is now the longest-established and most innovative company in the world manufacturing baling presses for virtually all pressable materials.
The Press – The approximately 200 staff members in the PAALGROUP concentrate on developing and manufacturing high-performance baling presses of the highest quality. The focus on quality and reliability within the PAALGROUP is plain at every stage of the production process from development to assembly. The high performance and long service lives of our products as well as their high levels of availability at low running costs help our customers to be extremely competitive on their markets.
More than 150 years of experience and more than 30,000 machines – Mature designs tried and tested in thousands of installations – the PAALGROUP stands for extremely robust, durable and progressive series-production machines.
The Original – Made in Germany – Very high levels of quality and reliability and short delivery times that you can depend on – PAAL presses are produced only at our German facility in Georgsmarienhütte.
Wide Networks – Fast and competent customer service – the PAALGROUP vigorously supports its sales and service network that is spread across virtually the whole of Europe as well as across selected export markets.
Furthermore COMDEC is in France and FAES is in Spain as well as Portugal the sales- and service-partner of Husmann Umwelt-Technik GmbH.
PAAL – We set standards!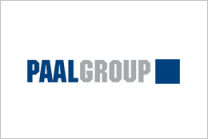 Company name:
Kadant PAAL GmbH
Address:
Raiffeisenstrasse 15-17
Phone number:
05401 / 488-0