Krickl weighing systems develops, manufactures and distributes products and solutions for vehicle-mounted weighing and identification. Often also classified under the keyword mobile weighing, our products represent a solution for a specific application. They are weighing and identification systems for vehicles from small transport cars to large multi-axle trucks.
Krickl scales systems focus on the specific applications of the customer. Our partial products, which have already been defined as standard, have always been designed for a specific use, from the very beginning. We are now able to speak of solutions for a particular industry. Of course the application diversity is unlimited, so we gladly individualize our products for your application in order to maximize the usage efficiency (the cost-benefit calculation). Our technicians and engineers will be happy to meet your challenges.
An overview of the main applications can be found below.
Garbage Disposal
Pellets, grain
LPG Gas
Identification
Loading Control
Telematic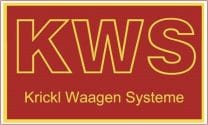 Company name:
Krickl Waagen Systeme GmbH
Address:
Heid-Werkstraße 13
Phone number:
+43 2266 72660-0
Fax number:
+43 2266 72660-22