For over 10 years MB has been a leader in the fields of crushing, demolition and recycling, by designing, producing and selling the very first jaw bucket crusher.
Since 2001, MB has offered the largest line of patented crusher buckets all over the world. With extensive innovation and development, MB now offers crusher buckets for excavators, skid loaders, and backhoes of all sizes.
MB stands for revolution: in the past 10 years MB has dramatically changed the methods of crushing used in all types of construction, enabling new opportunities and providing solutions to all types of technical requirements and environmental regulations.
Designed and manufactured in Italy, only the best materials are used for excellent quality. Solid, durable and characterized by the now recognizable clean lines designed to resist wear and high stresses in the toughest working conditions.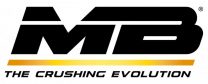 Phone number:
+39 0445 308148
Fax number:
+390445308179