Pronar is the biggest producer of recycling machines in Eastern Europe with machines working around the world – whole Europe, Russia, USA, Chile, China, Argentina, Japan, Korea – just to name a few. Its wide portfolio consist of mobile shredders (single shaft, two shaft, slow-speed, high speed, tracked, wheeled, on hook lift chassis), mobile stackers (tracked, different lengths), mobile trommel screens (tracked, wheeled, different drums sizes) and compost turners. Pronar can also produce drums and shredding shafts on special orders.
The company was founded in 1988. Since then the owners had the unique idea for the development of the company focused primarily on the implementation of the diverse range of products. Nowadays Pronar is the undisputed leader in the production and sales of machinery and equipment for recycling, agriculture, municipal services and transportation industry with nearly 50% market share in the Polish market. Pronar is also the world's major player among the manufacturers of wheels for agricultural and municipal machinery, pneumatic and hydraulic systems, axles for trailers, as well as steel profiles and plastic components.
Over the years, the commitment, innovation, modernity, the highest quality and own research & development centre made machinery and equipment from Narew competitive in international markets and successfully gaining them. The company has the dealers' network in all European Union countries, Scandinavia, Russia and both Americas.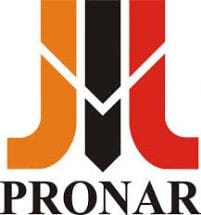 Address:
ul. Mickiewicza 101 A
Phone number:
+48 682 71 00