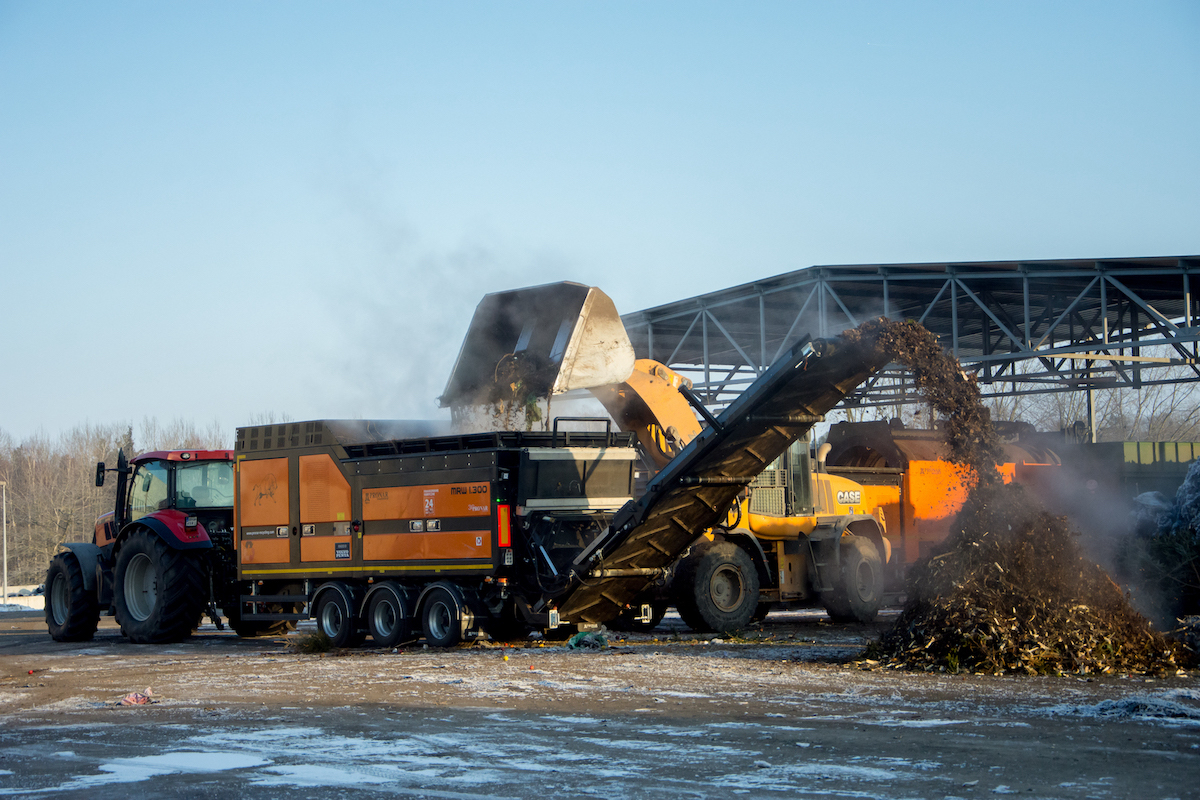 PRONAR recycling machines help to effectively solve problems related to waste management, including screening, shredding and composting.
Particular models of shredders and trommel screens, with properly selected equipment, meet the needs of buyers looking for comprehensive technological lines adapted to the treatment of specific types of waste.
Pronar recycling machines are not only solutions for the specific needs of the user in terms of screening, shredding, or composting, but also ready-to-apply solutions for creating a comprehensive working environment with a specific type of waste. An example is a ready-made solution is working with green waste such as tree branches, leaves, tree roots, or trunks to be a raw material for the preparation of high-quality compost.
The first stage of working with waste is primary shredding, using a single-shaft MRW 1.300 shredder. The organic material is shredded into a smaller fraction – up to 150 mm, but still too large to be combined with the soil for compost.
The fraction after the preliminary shredding is processed further with the one shaft high-speed MRS 1.53 final shredder, equipped with a shredding shaft with up to 1000 rpm speed, that guarantees precise shredding of the material into a small fraction.
The shredded raw material is further processed using one of the trommel screens, e.g. MPB 20.55g, using a drum specially designed for such works: with a hexagonal perforation (10 or 12 mm) and a thickness of 6-8 mm. Screening the shredded branches ensures that more waste is separated from the material that is mixed with the soil to make compost.
The prepared organic material is used to build special piles, that are then softened and aerated by the Mobile Windrow Turner MBA 4512G, which results in accelerated maturation of high-quality compost. The process of turning the compost can be repeated many times until the optimal parameters of ecological fertilizer are obtained.
In this way, with the use of 3 to 4 machines, it is possible to cover a full cycle of work on green waste. Thanks to the proposed solutions, Pronar offers a business model of a circular economy, which affects a more ecological concept of recycling, soil fertilization, and better living conditions. Details of those and other comprehensive solutions to be used in a specific work environment (green waste, municipal waste, mines, wood waste) can be seen at Pronar Expo Siemiatycze, already available for tour groups from the industry.
This article is published by
Pronar is the biggest producer of recycling machines in Eastern Europe with machines working around the world – whole Europe, Russia, USA, Chile, China, Argentina, Japan, Korea – just to name a few. Its wide portfolio consist of mobile shredders (single shaft, two shaft, slow-speed, high speed, tracked, wheeled, on hook lift chassis), mobile stackers ...