The Sutco RecyclingTechnik GmbH is one of the worldwide largest manufacturers of sorting and treatment systems for different waste flows. With more than 480 reference plants worldwide, the company has been established itself successfully during its company history for more than 35 years.
A SUCCESSFUL COMPANY HISTORY
In 1985 Sutco is founded as Sutco Maschinenbau GmbH and expands in Poland in 1991 with the Sutco Polska and in 1993 with Sutco Inzynierskie. In 2003 the company is renamed Sutco Recycling Technik GmbH under the umbrella of the LM-GROUP.
Then, the development makes quick progress: Sutco Polska moves to Katowice, and Sutco Iberica is founded in Barcelona in 2006. In 2011 Sutco purchases the remaining shares of the OKLM joint venture and founds the Sutco UK in Great Britain.
Sutco RecyclingTechnik GmbH has secured its position in the international market with an agency in Singapore and since 2013 with an own company in Brasil, the Sutco Brasil. In 2019, Sutco establishes its fifth international subsidiary Sutco Singapore in Southeast Asia, followed two years later by Sutco Sweden in Scandinavia.
Sutco RecyclingTechnik GmbH – your plant manufacturer for waste sorting and treatment plants worldwide.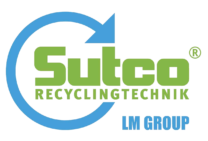 Company name:
Sutco RecyclingTechnik GmbH
Address:
Britanniahütte 14
Phone number:
+49 2202 / 2005-01