At LIGNA 2019, RUF Briquetting Systems and C.F. Nielsen will jointly present their briquetting solutions as one company for the first time. Following the merger of the two world market leaders, customers will be able to see the versatile range of applications at the LIGNA trade fair. The team will be on hand to demonstrate their product range and discuss the many benefits offered by the comprehensive briquetting solutions.  Visit them at LIGNA 2019, Hannover, (Hall 25 Booth J49) from 27th – 31st May 2019.
The merger of the companies
As the world market leader in hydraulic briquetting presses, RUF has successfully installed their systems into more than 100 countries. A significant factor is that the family-owned business has an extensive range of briquetting solutions to cater to most organic and inorganic raw materials. The acquisition of C. F. Nielsen by RUF in 2018 is a significant step for both companies. It will ensure their combined continued growth, extensions to the product range, expansion into new markets and give greater benefits to customers and prospects.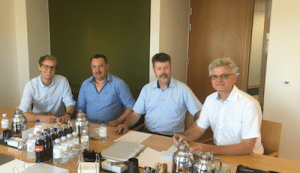 With the merger, RUF is expanding its product range with various important technologies in this industry – the mechanical briquetting and the briquetting with Extruder, also known as Shimada technology. Roland Ruf, Director at RUF, explained about the complementary benefits "We are both family businesses with a very similar philosophy, culture, and method of operating. We both attach great importance to being innovative through our satisfied employees and presenting ourselves as reliable partners on the market. With this in mind, we will collectively drive new advances for our customers and make use of synergy effects."
Mogens Slot Knudsen, Director at C.F. Nielsen, went on to explain the significant potential for growth through the international RUF sales network: "C.F. Nielsen has developed a range of new products and applications in recent years, and with this the international market support provided by RUF will help to achieve significant growth by getting access to this market."
The world of briquetting, under one roof – Benefits to the customer
The merger enables the companies to provide the complete spectrum of briquetting technologies, hydraulic and mechanical, plus the newly acquired extrusion briquetting technology. In close cooperation of both companies and their international sales network, the client's requirements can now be met regardless of depending raw material, necessary throughput volume, the production facilities, and conditions etc.
In order to provide the best possible briquetting solution, RUF and C.F. Nielsen are now able to offer the widest selection of briquetting systems available on the market. The experienced briquetting experts in both companies can give advice in order to check feasibilities, select products or to design a customized briquetting solution. Their combined experience of more than 100 years and 5,500 briquetting machines sold worldwide underlines their significant experience in this sector.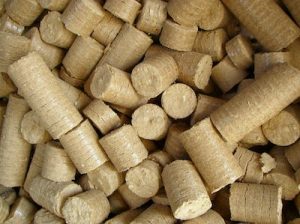 The innovation capability of RUF and C.F. Nielsen will be increased through their joint knowledge, experience, and expertise to deliver innovation, concepts, and technologies.
Either, to sell briquettes on the consumer market or to use them for industrial heating, the companies can supply suitable solutions for consumer- or industrial briquetting. The consumer market offers various marketing opportunities. The rectangular "RUF Briquettes" are, as well as the C.F. Nielsen's machines producing round briquettes, the leading products on the consumer market.
With throughput capacities of 30 to 3.500 kg/h, RUF & C.F. Nielsen are able to offer the right machinery for a complete range of applications, including wood, agricultural and other biomass raw material. Facilities in both companies enable a test pressing based on sample material to check feasibilities or the briquette quality.
This article is published by
RUF briquetting systems: innovative, individual, international.
Being a machine builder and the market leader in the field of briquetting, the Ruf GmbH & Co. KG has successfully been specialising in the development and production of 
briquetting ...