The Waste and Recycling sector in particular is tasked with designing, manufacturing, and installing innovative technology and equipment capable of effectively recovering scrap metals from various waste streams. In theory, the majority of metals have the ability to be recycled into high-quality 'better than new' metals. The UK scrap metal industry contributes significant value to UK based manufacturing as well as the export market as a major player in exporting of scrap metal.
Money in Metal and Waste Recovery
As specialists in the field of Density and Metal Separation Equipment, the Ecohog Team is conversant in waste separation challenges facing processors. Working in conjunction with Waste and Metal processors, Ecohog is continually testing and analyzing applications with the objective of supplying equipment proficient in achieving high-quality separation. Ecohog are focused on retrieving multiple segregated waste materials with resalable value for potentially more than one commodity, ultimately diverting recyclable waste and profits from landfill. There is money in metal and in waste making perfect sense to recover both.
The Ecohog Solution
The Ecohog core product range comprises of HogMag Mobile Eddy Current Separators (ECS), EH-1500 Mobile Windshifters, and Airhog Suction/Blower systems.
Ecohog has developed the HogMag ECS metal separators to offer waste processors maximum Ferrous and Non-ferrous metal recovery. Each machine utilizes a Vibe Pan Feeder to spread incoming material, leading to a Powerful Magnetic Drum to recover ferrous metals such as Steel and tramp iron, and then a high Gauss ECS to recover valuable non-ferrous metals such as Aluminium, Copper & Brass. The remaining material can often then be classed as "inert" and reduce landfill gate fees or used in waste-derived fuel resources such as; RDF and SRF.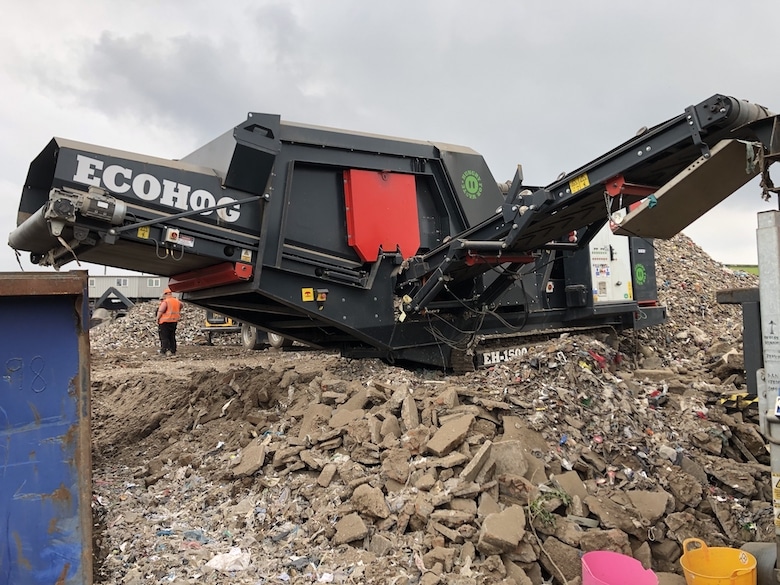 The EH-1500 Windshifters offer waste processors the maximum quality split of Light and Heavy materials. This plays a key role in C&D/Skip Waste recycling to separate light trash materials such as; Plastic, Paper, Foil, and Fluff (which can be used in waste-derived fuels) from heavy more valuable materials such as; Stone, brick, metal, glass, and ceramics. It also works very well in Used Beverage Can (UBC) recycling to remove light plastic, foil, and packaging contamination from the heavier valuable metal cans.
For applications that do not warrant the investment of the Windshifter unit, Ecohog offers the innovative Airhog Suction Separator range suitable the ideal compact solution for removing unwanted light trash material from various waste streams. As an example, the EH-81 or HSB-81 can be used to separate pesky polystyrene balls from different waste types and also as a final clean-up stage on valuable fractions such as; scrap metal and Woodchip Biomass.