Globally, we extract 55 billion tonnes of biomass, fossil energy, metal and minerals from the earth annually, the OECD reported in 2008. Two years later, the International Resource Panel put the figure at 70 billion tonnes.
To get an idea of what that figure might be today, we have only to look at the rise of the middle class around the world. More disposable income equals an increase in consumption. More consumption equals the continuing drain on the earth's resources to feed the demand for cars, appliances, phones, air travel – which requires more planes, of course – electronics and any other must-have convenience or toy.
E-scrap – end-of-life electrical and electronic equipment – is especially a problem, and it's a problem that's growing globally at a rate of 3% – 5% a year. We're going to throw some interesting, albeit devastating, numbers at you as reported by the Bureau of International Recycling (BIR).
In 2016, the world generated 41.2 million metric tonnes of e-scrap. This included:
4 million tons of large-household appliances, such as washing machines
9 million tonnes of small-household appliances, such as microwave ovens
7 million tonnes of ICT equipment, such as phones and computers
2 million tonnes of consumer electronics, such as televisions
Is there anyone who still thinks that the planet is in good shape?
How can recycling help?
Earth's resources are finite. That's problem number one. Problem number two: mining for those resources creates environmental hazards, from groundwater pollution and poisonous runoffs to unstable geological conditions. It can take centuries for the environment to heal from the scars left by mining non-renewable metal ores. Another point to consider: producing new metals adds more greenhouse gas emissions into the air, which may in turn contribute to climate change.
If we're to preserve our resources and mitigate the damage to our natural habitats, the solution is recycling metals. A good example is iron, which is the most recycled commodity in the U.S. – one car saves more than 2,500 pounds of iron ore from being extracted when it's recycled.
Scrap metal is not waste
Scrap metal, which the short-sighted call waste, is anything but. It's a continuous resource. Non-ferrous metals can be re-melted countless times, reshaped and its properties will never degrade.
Take aluminium, one of the most cost-effective metals to recycle. It's estimated that 75% of all aluminium ever produced is still in use today. Around 80% of all copper ever mined is also estimated to still be in use. Which leads to another benefit of recycling metal: it can avoid going to landfill.
Recycling by the numbers
While scrap metal recycling requires fossil-fuel usage, it's far less than what is needed by the production of new metal releases created by mining virgin ore, purifying it and giving it shape. Recycling's carbon footprint is also miniscule compared to producing new metals. For instance, you won't find large, open-pit mines at recycling plants.
The energy and CO2 emissions savings of recycling are also significant, as the data from BIR shows: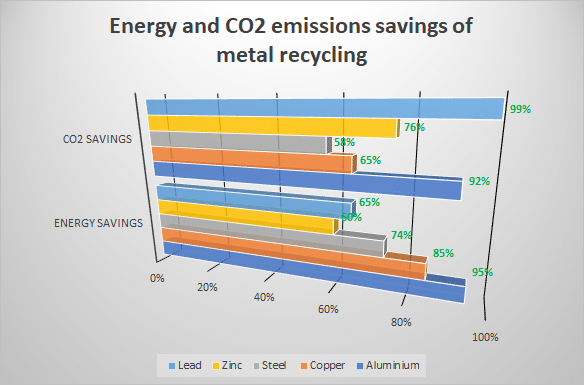 By rethinking what we throw away – and it's not just consumers, but businesses too – we can reverse the prevailing mindset of the proverbial disposable society. We all need to promote recycling and pressure our governments to do the same, while encouraging the sustainable trade of recyclable materials to green-driven companies across the world.
The economic side effects
Scrap metal recycling doesn't only benefit the environment, but economies too. It's a global industry worth U.S. $280 billion, or Euro 250 billion. It's expected to grow by 3% by 2024, while research firm HTF Market Intelligence expects the value of the industry to hit U.S. $340 billion.
In Europe, the industry employs 3.5 million workers, making it an important driver in those economies. Also, in the U.S., the scrap recycling industry has been creating green jobs for decades. Recycled metals are usually the first link in the manufacturing supply chain. The industry generates more than $90.6 billion in revenue annually, which translates to significant tax income.
All of this is good news, of course, as it contributes to moving towards a circular economy. The next step is for manufacturers to rethink how they design metal products to encourage reuse and recycling.
Support for metal recyclers
As proponents of a cleaner, more sustainable world, we at AMCS support metal recycling companies by helping them succeed. The way to do that is to provide the tools to optimise their profitability.  We do this with Enterprise Management, our digital ERP solution that eliminates the need for paper processes – helping recyclers to become greener – while streamlining and optimising their operations.
AMCS is the largest provider of software completely dedicated to the metal recycling industry. We've built Enterprise Management based on best practice in the industry. It's an end-to-end solution that integrates seamlessly with your systems to give you full visibility into your financial, commercial and operational functions.
It's designed with the understanding of the complexities in managing operations globally, with multi-location recyclers and brokers requiring precise information in real-time. Dispatchers and other key users will know about urgent situations as they develop so that they can respond accordingly.
It provides an advanced pricing engine that covers specific metals, and manages customer and supplier contracts, material sales, transport, inbound grading and receiving, transfers and production, brokerage transactions, export management and accounts receivable and payable. It even ensures export compliance.
The results are operational savings and improved efficiencies. By helping recycling companies improve their performance, AMCS is playing an important role in helping to create a sustainable environment.