Methodology: We recommended our tough tipped blades as a replacement for their industry standard D2 blades, which processed around 2.5 tonnes of recycled material before total failure, due to contamination in the customer's stock feed, the blades then being scrapped.
Results: The tough tipped blades vastly outperformed the industry standard D2 blades leading to cost savings and decreased downtime processing 10 tonnes of recycled material, before a blade change.
Overall, the tough tipped blades demonstrated superior operational efficiency.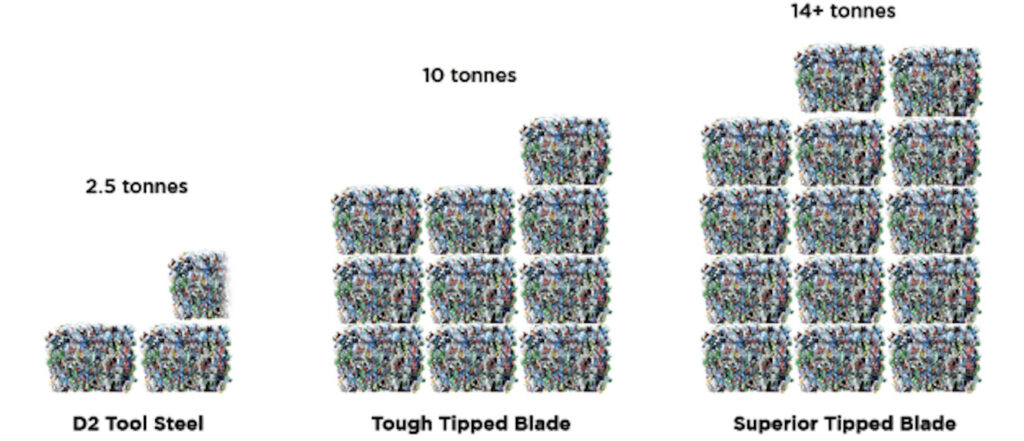 Recommendation: Based on production results, the tough tipped blades lasted four times longer than industry standard D2 with the additional benefit that they can be re-sharpened, whereas the failed D2 blades had to be scrapped. The enhanced cutting performance, extended lifespan and cost savings make them a compelling choice.
Outcome: The customer replaced their existing D2 blades with tough tipped blades throughout their production facility, additionally implementing a proactive maintenance schedule and keeping in regular contact with us to further optimise performance. Further operational efficiency is anticipated using our Superior Tipped Blades.
What difference would this extended blade life make to your bottom line? Get in touch if you'd like to find out how we can help you optimise your production, with less downtime and an improved ROI!