Karl Mossandl GmbH & Co. is a company active in the field of sand-gravel production, among others, and is one of the few companies that use duty cycle cranes every day in the production of building materials and has many years of expertise. They have relied on SENNEBOGEN products for years. The 650 HD previously used was replaced by the 655 E. Just a few kilometres from SENNEBOGEN's headquarters in Straubing, the Mossandl company in Dingolfing uses its 655 E with dragline bucket.
During the winter months, it is used here primarily for empty shovelling of the immersion basin to remove sand mud. The gravel is washed after extraction, water and sand are retained after the gravel has been washed. The sand can then sink and the water can be used again for the washing process. The operator can move the duty cycle crane safely and manoeuvre the dragline bucket to exactly the right position with light movements, high precision and at the exact speed. The removed sand slurry is loaded into dump trucks and stored off-site. There the sand slurry is then dewatered. All that remains is sand, which can be processed and resold as building material.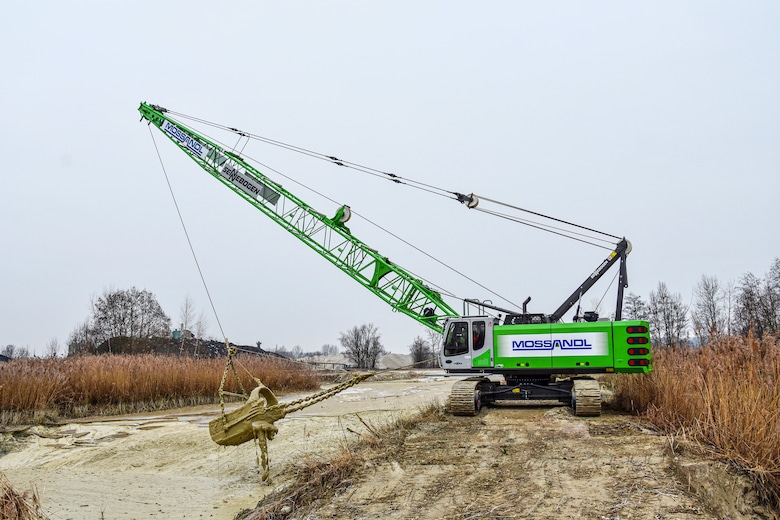 Allrounder with wide working area
The SENNEBOGEN 655E HD is equipped with a Hendrix drag bucket with a capacity of 2.2 cubic meters. Mossandl's dragline has a 29.9 meter lattice boom, offering a wide range of options in a relatively light machine The SENNEBOGEN crane is fitted with 18 tons of ballast and with a dragline bucket weighing about 63 tons, covering a working range of over 30 meters.
If you wanted to achieve this with a long-reach excavator, you would need a very large basic crane. Such a machine, with the same operating range, is several times more expensive. In addition, the weight increases greatly, which is a major disadvantage when it comes to gravel extraction.
Because of the high machine weight, it has to be positioned much further to the side. Other drawbacks are that the machine is difficult to transport to a new location and has a much higher fuel consumption. Thanks to its low deadweight, Mossandl's SENNEBOGEN can be transported quickly. It consumes little energy and costs less, both for purchase and maintenance.
With low costs and a large working area, the 655E offers maximum productivity. As bascis version the 655E HD with a 2.6 cubic meter Hendrix dragline bucket has a production capacity of 375 to 400 tons of gravel per hour – at a consumption of only 25 liters. For many companies, as for Mossandl, this undoubtedly justifies the conscious investment in a new duty cycle crane. The 655E meets the emission standards of emission stage IV. The 655E HD is a very modern and robust duty cycle crane and with its 261 kW/350 hp diesel engine it is particularly suitable for heavy dragline and grab work.