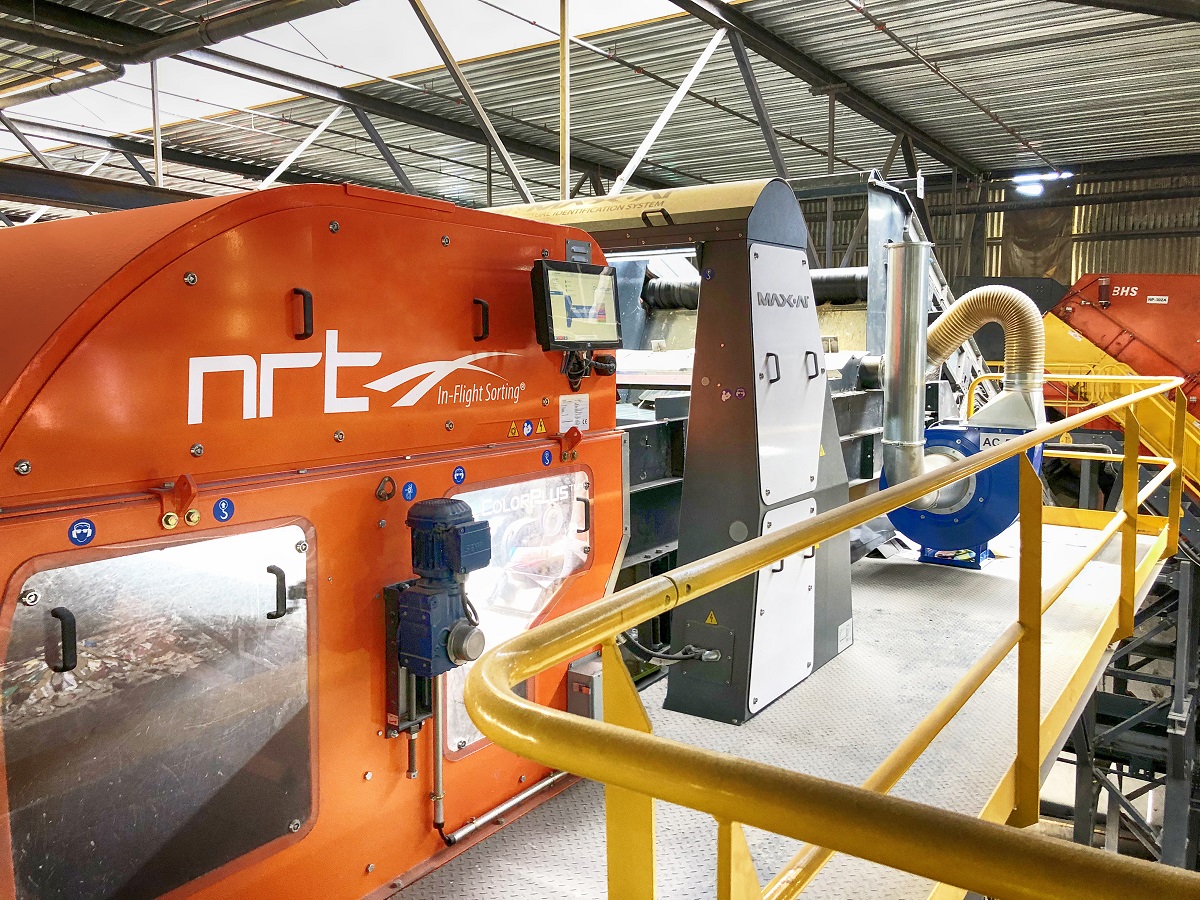 The combination of NRT's patented optical technology with the artificial intelligence (AI) and vision system of Max-AI® has created smarter optical sorters with new layers of advanced detection, boosting productivity, recovery and purity of recyclables for the operators of recycling facilities with these units. These unique optical sorters integrate high-speed scanning and In-Flight Sorting® with the vision and intelligence of AI technology.
NRT's SpydIR® with Max-AI® uses near infrared light (NIR) detection to identify plastics, paper, wood and other materials by material type. Max-AI technology employs a camera and neural network-based AI to identify recyclables similar to the way a person does. The result is a new capability not found in other NIR platforms – for example, NRT SpydIR® detection can quickly and reliably identify fiber, PET or numerous other materials, but Max-AI can identify if PET is a thermoform tray or if HDPE is food grade and segregate these materials to make a cleaner end product.
NRT ColorPlus™ with Max-AI® uses a high-resolution RGB line-scan sensor to identify and sort recyclables by color. When combined with Max-AI technology, the system can make additional sorts that are now not possible. For example, in a fiber application, the ColorPlus™ precisely targets brown OCC while Max targets all OCC and boxboard of various colors. This results in higher recovery and purity of both paper and OCC, with lower product loss and decreased labor. The combination of proven color detection and the added layer of AI ensures the ultimate removal of non-spec fiber.
This technology has the flexibility to change what material types are targeted, allowing the customer to adjust to market and material fluctuations. In addition to improving optical sortation, the vision systems with AI can provide operators with valuable, real-time data on both system efficiency and on the ever-changing composition of materials in the recovery stream. With this information operators can more quickly respond to changing trends to optimize plant performance.
"From the beginning we realized Max was a game changer, not just for robotic sorters, but really for the industry on a system-wide level," said BHS CEO Steve Miller. "We continue to integrate Max into more of our equipment and intelligent system controls. NRT optical sorters are the best in the world at identifying material at very high confidence levels by color or material composition, but sometimes the most effective sort requires the type of characterization that a person can make – that's where Max comes in. Cardboard isn't always brown and a clear PET container isn't always desired in the end product."
The NRT SpydIR® with Max-AI® and the NRT ColorPlus™ with Max-AI® have been installed in multiple locations throughout the world.
This article is published by
Headquartered in Eugene, OR, BHS is a worldwide leader in the innovative design, engineering, manufacturing and installation of sorting systems and components for the solid waste, recycling, waste-to-energy, and construction and demolition industries. Wholly-owned subsidiaries include Nihot (Amsterdam), NRT (Nashville, TN) and Zero Waste Energy (Lafayette, ...