With an ever-more complex input stream and new Corepla's purity targets ever-more ambitious, the time had come for Ambiente S.p.A. to modernise its plant, and, to stay at the cutting edge, it decided to acquire more efficient and less energy-consuming equipment. Already satisfied with its current industrial partners, Ambiente S.p.A. has renewed its confidence in the Vauché-Pellenc ST pairing and replace the 20 old machines with 19 new ones.
Install Modular Equipment Easy to Integrate
Ambiente S.p.A. chose the COMPACT+ machines because they have been specifically designed for complex integrations and upgrade projects. Available in two configurations (conveyor or gantry), the COMPACT+ is particularly suited to installations where space and access is limited. It is the ideal solution for a quick and easy retrofit with the option of offsetting the control cabinet and the ability to modular assemble the machines on-site. The machines have been designed to interface easily with all types of high-speed conveyors supplied by different integrators, whether for a refurbishment project or a new sorting centre and are also compatible with belt speeds up to 4.5m/s.
Meet New Regulation Sorting Standards
With growing demands in terms of quality, this plant retrofit aimed to guarantee at least the same sorting capacities while increasing industrial performance. So, for Ambiente S.p.A., acquiring the most advanced technologies on the market was essential.
Equipped with the latest hardware and software innovations developed by Pellenc ST, the COMPACT+ was the suitable machine for this project. It offers improved performances, using the new "FLOW" detection system which combines a new spectrometer with an extended NIR/VIS spectrum and focused illumination. This combination enables the recovery of waste to high levels of purity. For instance, Pellenc ST machines can achieve the fine separation between clear and light blue PET with ever greater performance in terms of purity and efficiency.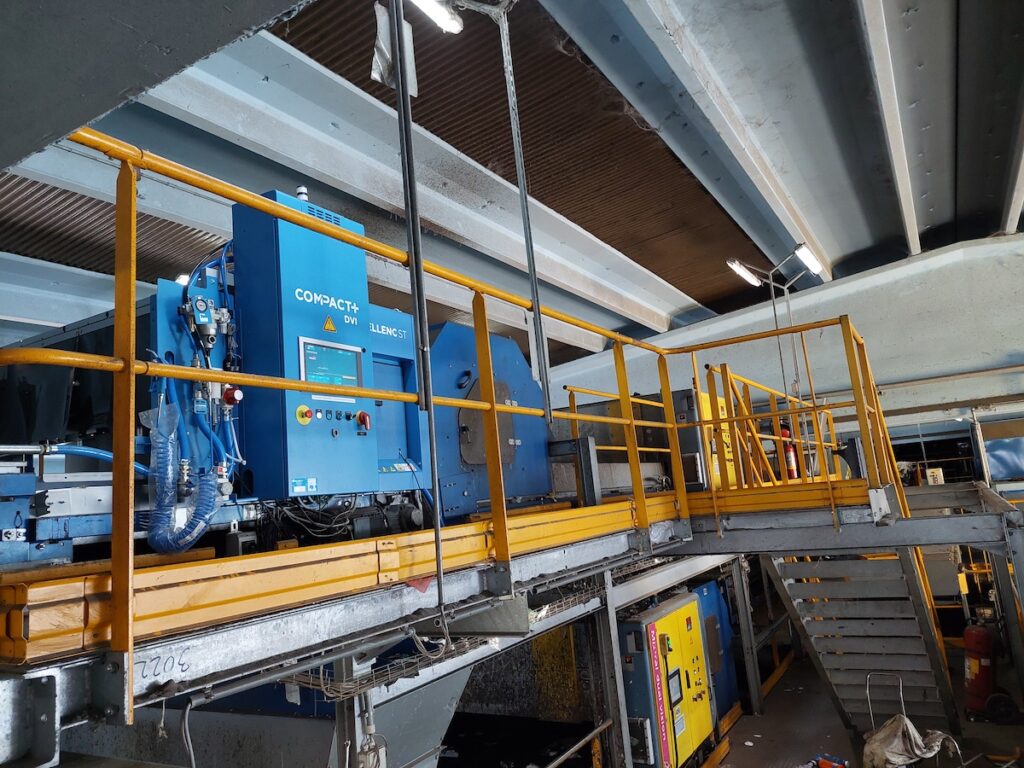 Moreover, Pellenc ST machines are now "Future Proof". Thanks to the "Central Nervous System" (CNS) software platform, operators will be able to integrate future technologies as market demand evolves, including the latest Pellenc ST innovation in IIoT, Watermarking and Artificial Intelligence modules.
Reduce Energy Consumption
During the development phase, Pellenc ST paid particular attention to simplify the work of operators to optimize maintenance costs. Firstly, in terms of ergonomics, the control cabinet is fitted with a large screen to improve the man-machine interface. Pivoting reflectors are also provided to facilitate the ease and safety of maintenance operations. Moreover, the replacement rate of wear and spare parts has been reduced.
The COMPACT+ stands out with the lowest energy consumption in the market. The COMPACT+ benefits from the last development in reducing air consumption up to 30% compared to previous ranges of machines. In the actual energy crisis context, these unique market features were decisive in the choice of Ambiente S.p.A. in selecting the optical sorting supplier.
Get Ready for 4.0 Industry
Thanks to the Smart&Share software, Pellenc ST optical sorters range are now Industry 4.0 compatible. With this invaluable performance support tool, Ambiente S.p.A. benefits from real-time data about the operation of machines and helps optimise their maintenance operation with intelligent alerts and customised reports for increased availability and better sorting quality.