FARZ is owned and operated by Imdaad, the leading integrated facility management company in the Middle East. The plant is built on a 45,322 m2 plot in Dubai's National Industries Park, a 21 km2 area of specially designated land in the heart of Dubai's new industrial district. Imdaad is responsible for the collection of C&I waste from the Jebel Ali Free Zone (JAFZA), a free economic zone located in the Jebel Ali area at the far western end of Dubai in the UAE.
Imdaad's mission for the FARZ plant is closely aligned with Dubai's target to hit zero waste to landfill by 2030, and the plant is widely recognized as having the most efficient recovery rate of any MRF in the UAE.
Using the very latest in automated technologies, the state-of-the-art MRF is capable of handling 1,200 tons per day of C&I waste and MSW. An automated system is used to maximize the recovery of the target fractions which are HDPE, PET, aluminum, ferrous metals, OCC, wood and PE bags.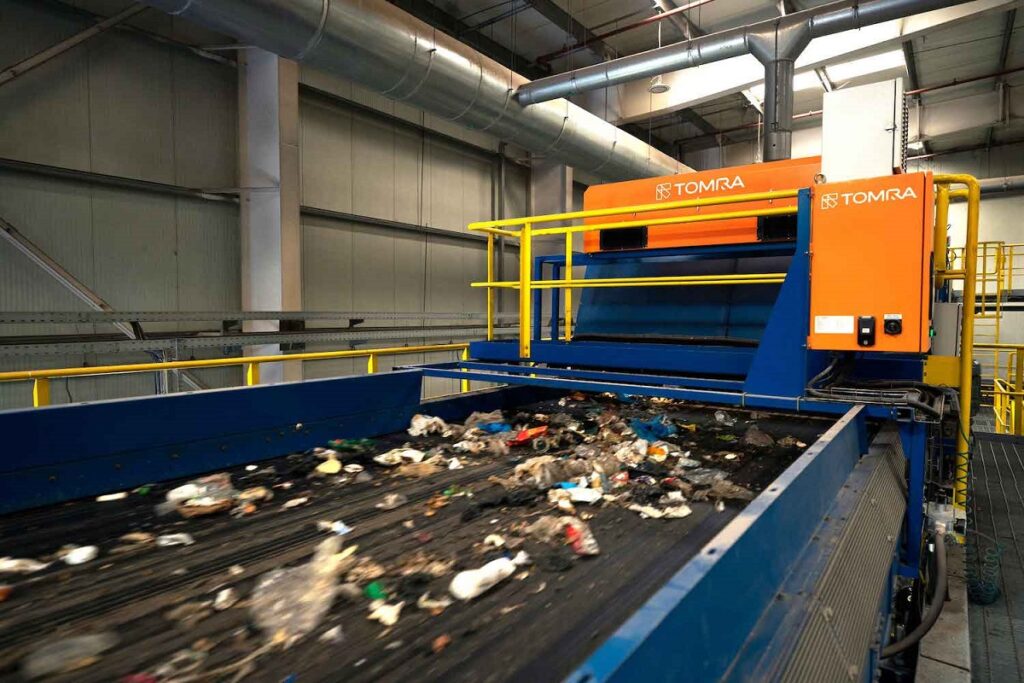 The process
Infeed waste arrives by truck to FARZ's reception area where, following a pre-sorting stage, the MSW and C&I waste are separated into two lines; one for MSW and the other for C&I waste.
Shredders on both lines break down the material and trommels separate the infeed material into different fractions based on size. On both lines, the valuable fractions (80 – 300mm) are passed onto the next stage of magnetic separation and the <80mm organic waste and inert fractions smaller are diverted directly to the landfill. Any >300mm material is returned to the feeding area to go through the shredder process again. Magnets and eddy current separators sort the metals into ferrous and non-ferrous metals, removing them in preparation for the next sorting stage.
Once the metals have been recovered from both the MSW and C&I lines, the first TOMRA AUTOSORT™ units in each line separate a mixed plastics fraction for further processing into three target fractions: 3D (bottles and plastic containers), 2D (film, cardboard, foil and textiles) and fines. The remaining material passes through a second AUTOSORT™ unit on each line to separate a mixed paper/cardboard fraction. The residual waste is transferred to a Refuse Derived Fuel (RDF) bunker prior to being sold for use in energy from waste (EFW) plants. The final two AUTOSORT™ units – one on each line – separate out HDPE and PET from the 3D fraction before the material undergoes a final manual quality control check.
This phased process enables FARZ to produce high-quality, high-purity end fractions of HDPE, PET, aluminum, ferrous metals, OCC, wood, PE bags and RDF. These fractions are baled and sold on to recyclers within the UAE and exported worldwide.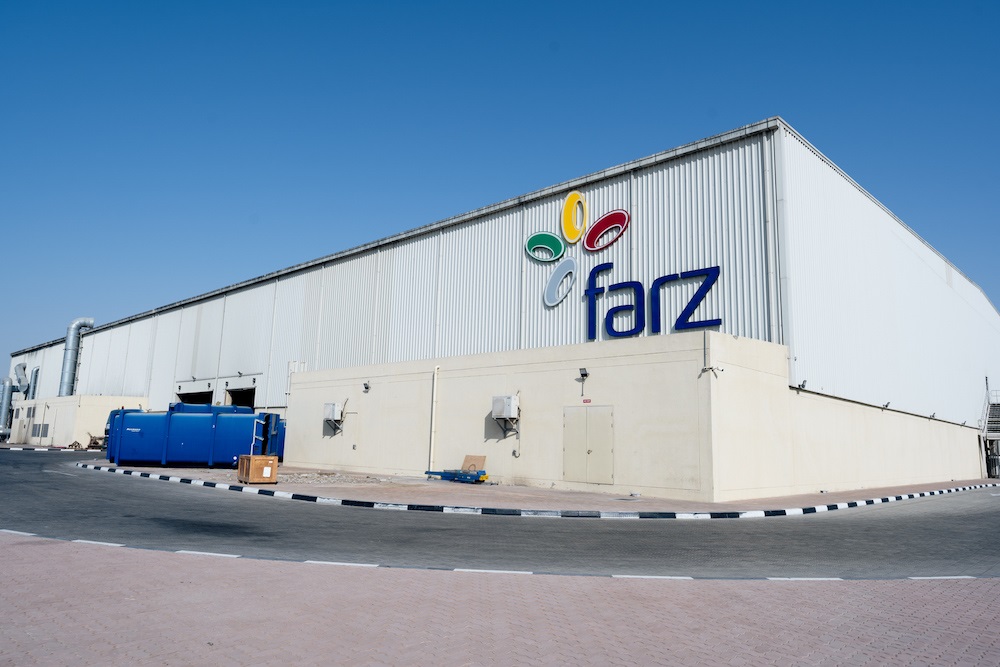 A flexible, futureproof solution
Mr. Mahmood Rasheed, Chief Operating Officer at Imdaad, comments: "We were already familiar with TOMRA Recycling Sorting's technology because they have successfully installed numerous sensor-based sorting systems in the Middle East. The company has an excellent reputation as a pioneer and leader in sensor-based sorting technology, with an extensive range of application knowledge. By working closely with our team in the design process, TOMRA Recycling Sorting has helped to deliver a highly automated and highly efficient plant that is achieving fantastic rates of recovery and purity with minimal requirement for manual sorting. The flexibility of the AUTOSORT™ technology and the ease of upgrading in the future should we need to mean that we have a future-proof solution. We can't overemphasize the positive impact TOMRA's knowledge, expertise and technology have had on our business."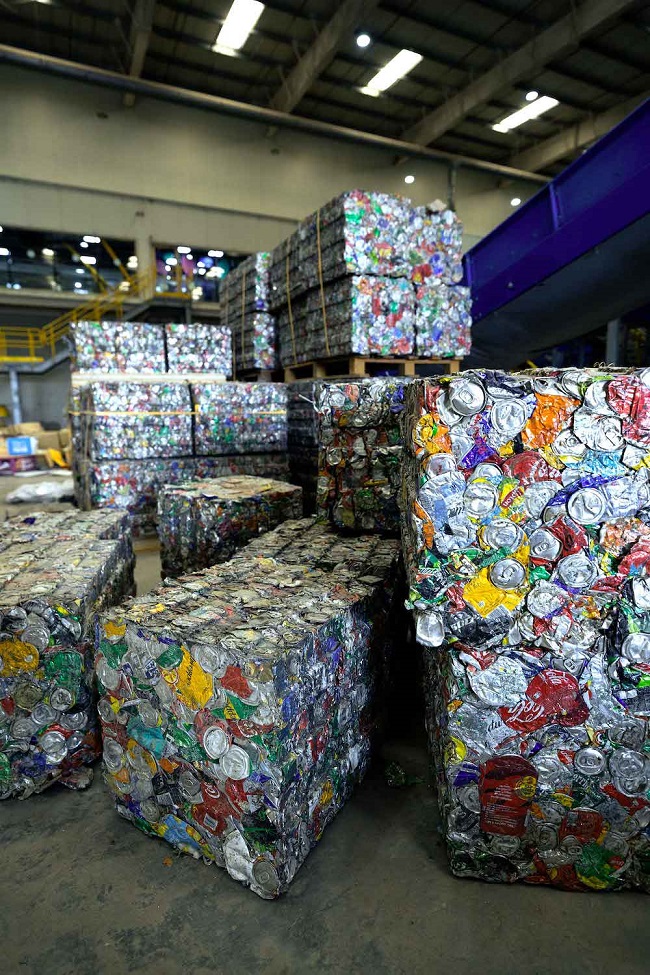 AUTOSORT™ and much more
With up to 320,000 scan points per second, TOMRA's AUTOSORT™ high-resolution sensors collect data on multiple characteristics at high speed to ensure accurate identification of a wide range of materials. To put this into context: TOMRA's optical sorter can analyze and sort the equivalent of a soccer stadium covered in trash in less than 15 minutes.
AUTOSORT™ combines state-of-the-art features and technologies in one machine. Compact and flexible in construction, it allows easy integration into existing or new installations. Thanks to FLYING BEAM® technology (the first NIR scanning system used point scanning), excellent homogeneous light distribution is guaranteed for better detection and monitoring across the entire belt width, distinguishing even the finest molecular differences of materials flowing along the line.
The latest generation of AUTOSORT™ also incorporates SHARP EYE™ technology as standard, which ensures improved light efficiency and sorting clarity, facilitating the separation of difficult-to-sort fractions such as PET from bottles and trays.
The optional integration of TOMRA's DEEP LAISER™ technology also enables the detection of previously undetectable materials and further increases purity levels.