The landfill SR2 Advisory is built on contained vast amounts of legacy waste and until then, nothing had been done to it. Realizing how much value was literally buried right in front of them, and how much of a negative impact it had on the environment, the company decided to include legacy waste in their RDF production.
For the waste materials to become a valuable resource, they first needed to be shredded into homogenous fractions, that were both easy to transport and would facilitate a steady production flow for the customer.
For that purpose, SR2 Advisory needed an industrial waste shredder that was powerful and reliable, as well as mobile.
"When we took over the site, nothing was being done with the legacy waste already at the landfill. We wanted to change that and process legacy waste as well as municipal waste, so we needed a machine that could be moved around and work from different locations", says Sukit Bejrsuwana, Managing Director.
After considering several different machines, they bought an M&J PreShred 4000M – a mobile shredder on crawlers, that can easily be moved around the site when needed:
"We chose the M&J 4000M shredder because it is built to move around landscapes like ours. It is of utmost importance that we have the flexibility to move around – and a machine capacity that matches our business, " says Sukit, who is seen with the shredder below.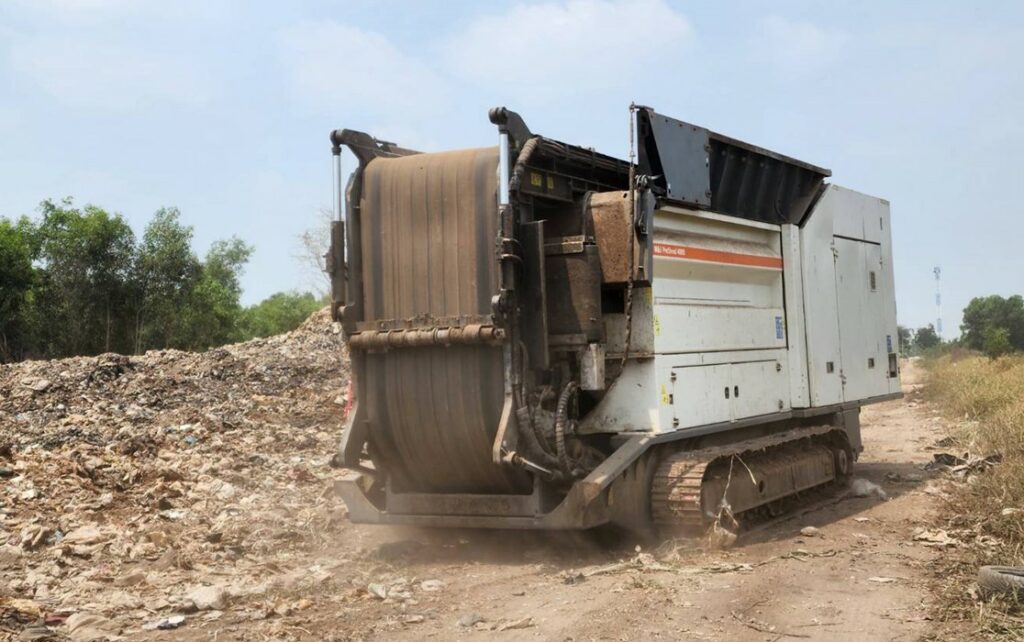 Since M&J Recycling is known for its heavy-duty machines, Sukit was reassured that choosing this European brand would give them a reliable machine, that would need little service. However, when service is needed, e.g. for the replacement of wear parts, he likes knowing that help is close by:
"Service also played an important role in our decision. With M&J, there are service specialists here in Thailand and it means a lot that they can be here within a couple of hours", Sukit adds.
Service ensures maximum uptime
When SR2 Advisory needs assistance on their shredder, M&J's local service partner, Promech, will answer. As Promech's office is in Bangkok, only 50 km from SR2 Advisory's site, their trained service specialists can respond quickly – thereby keeping the shredder's downtime to a minimum.
Using service specialists that have been carefully trained by M&J at the headquarter in Horsens, Denmark, makes a difference to daily operations:
"Using trained M&J specialists costs more than using local service people, but it is still profitable, and that way we know that the maintenance is done correctly. Instead of seeing it as a cost, we see it as insurance in maximum uptime", Sukit mentions.
Local presence makes a difference
In addition to local service, there are local partners for sales too – as well as local project management being provided by M&J Recycling's office in Bangkok.
"The local presence is valuable to us. We chose a European machine because in my experience it is more durable than local or Chinese machines – but a potential downside could have been the physical distance to the manufacturer. Because M&J has an office near us, that is not the case. They know who we are, and we know them. That makes a difference," Sukit mentions.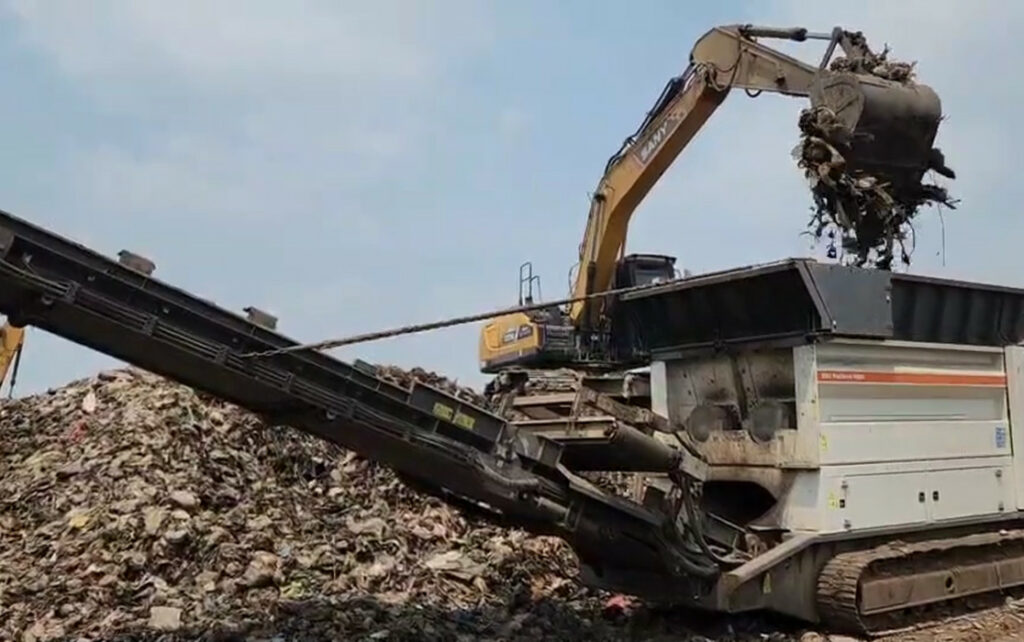 Because of the good experience SR2 Advisory has had with M&J Recycling and the 4000M shredder, the company decided to add another mobile shredder to its collection only a year after the first was bought.
Both machines are being used to shred legacy waste and municipal solid waste (MSW). Every day they produce about 400 tonnes of refuse-derived fuel (RDF), that is sold to cement plants nearby.
Some of that material – the RDF 1 – go directly to customers. The rest goes through SR2's fixed treatment line and is processed by a fine-shredder, in order to get a smaller grain size and become RDF 2. The fine-shredder was given to SR2 by a local cement company in exchange for some of the RDF it produces.
"We experience excellent performance from our shredders. They live up to the promised capacity and durability. For the types of waste we process, I believe M&J's pre-shredder is the best", Sukit concludes.