Many temporary vaccine centres have opened all over Denmark and around the world. With these come many challenges, including in terms of waste management, which has led the Danish Medicines Agency to issue a series of guidelines.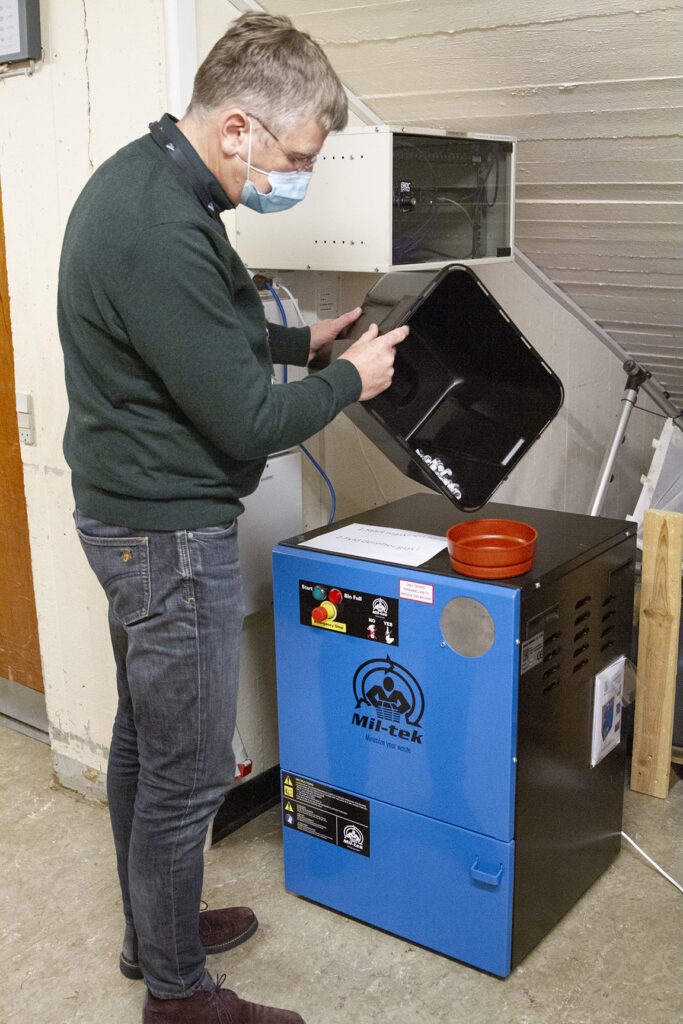 There are real concerns that empty ampoules – the glass bottles in which the vaccines are shipped – would be stolen, filled with saline water and then sold as real vaccines on the black market. A specific case in Poland is currently under investigation. (source: Danish Medicines Agency)
It is this threat that now means that the vaccine centres must safely dispose of the ampoules so that they are destroyed and not left in bins, containers, etc., where unauthorized persons could access them.
Depending on the type of vaccine, there are typically 6-10 doses of vaccine in an ampoule. Currently, over 100,000 Danes are vaccinated per day (source: SSI), which results in a large number of glass ampoules that need to be destroyed.
To solve this challenge, the Region of Southern Denmark has collaborated with the company Mil-tek, which deals with compaction and optimization of waste solutions. Mil-tek has several glass crushers in its product range, the smallest of which is aimed at the restaurant industry. With a few modifications, this glass crusher has been adapted to the special task of destroying the small ampoules and is now used daily both in South Jutland and on Funen, where large scale vaccination centres are in operation.
We solve a lot of tasks around compacting waste and optimizing internal processes, and although this is a very special task, I am pleased that we have been able to solve it quickly so that staff can focus their time on the vital task of vaccinating the public.
– Brian Lund Kattenhøj – Mil-tek A/S
It is a small but significant factor in the day of these healthcare professionals that the additional task of destroying the ampoules can be easily and smoothly carried out. In most cases, vaccine centres are temporarily established and therefore need bespoke, effective solutions.
The Danish Medicines Agency encourages all vaccine sites to review the processes of vaccination efforts to take into account the current risk parameters.