The Wet Granulator in the module grinds the film to a dimension that can grant the best output with limited production of PE fines, so the following operations of washing, drying and extruding take advantage to work with a constant and small material dimension, reaching a final sensible reduction in the consumption of energy and water. During the grinding process the machine generates a high friction on the material surface opening and removing a huge quantity of contamination thanks to the high mass quantity flow of water.
This solution has an effective capacity of clean the material that are quickly separated in water by the centrifuge. This solution offer a better quality in the polymer recycling than solutions based on a single dry-shredder in terms of better cleanness and less machine component wear.
In the photo below, we are showing as example the wet grinding module based on three components:
Grinder MU920PRH: to make the material size reduction and the high friction in water 
Dewatering Screw SCW30: to transport the material to the washing centrifuge
Washing Centrifuge WCE2000: a centrifuge to remove the smaller contamination with the water.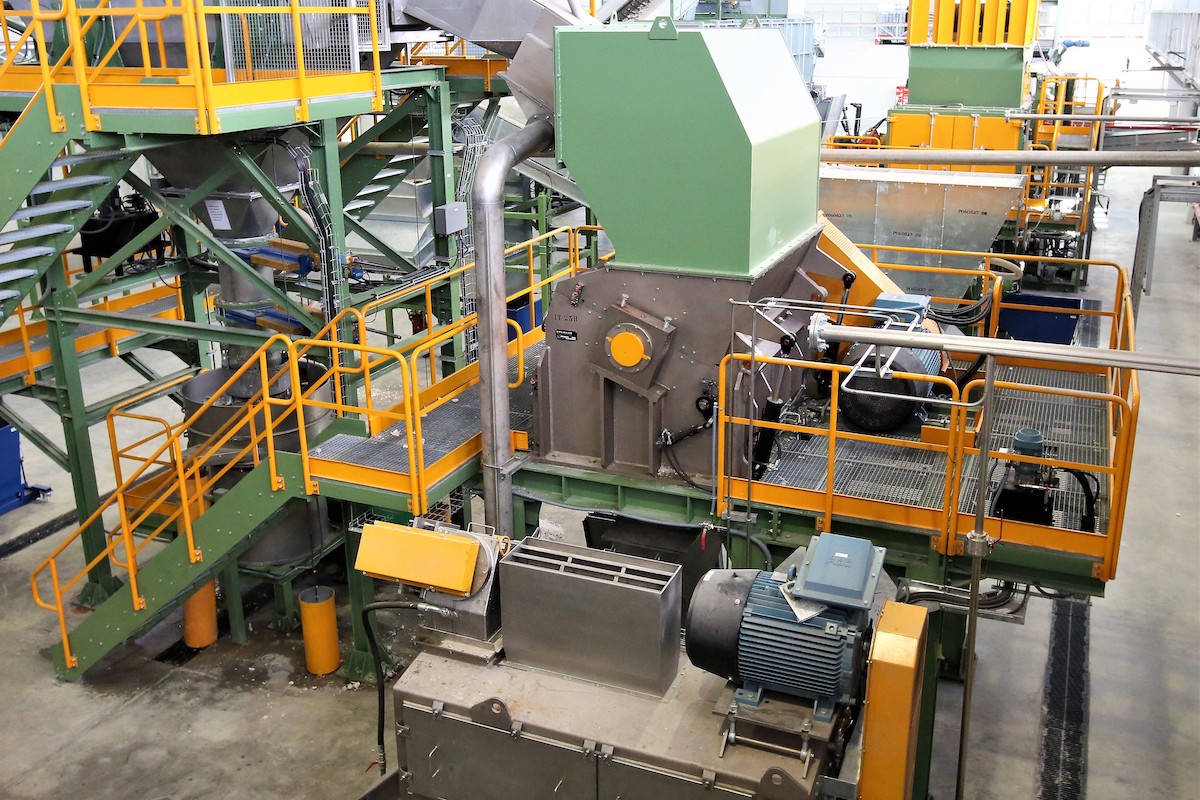 Core of the module is the PREVIERO Grinder model MU 920 PRH, that receiving, inside of a SOREMA plant, the material after the pre-washing module, due the post-consumer material contaminations, can be subject to high wearing. In order to work in this severe condition, all the wearing parts are designed to be easily interchangeable without the need of dismantling the grinder and the need of a big crane. The wedge blocking of the blades assures a quicker maintenance and stronger blocking. The advanced design of the sealing allows to avoid water loss during grinding operation and to keep the ambient clean.
Main technical characteristics are:
Feeding hopper with inlet of water.
Forged rotor with interchangeable rotary blade supports.
Interchangeable fixed blade supports.
Interchangeable fixed with wedge blocking.
Interchangeable rotary and fixed side discs
Interchangeable chrome plated grate 
Blade wedge blocking 
Revolving knives 21 + Fixed counter knives 6 
Rotor dimension: ɸ 850 x 2000 mm
Rotation speed 350 rpm/min.
Motor 250 kW. 
Hydraulic opening of the hopper.
Hydraulic opening and wedge fixing of the grate.
External bearings.
Complete cutting chamber sealing
Safety keys system not affected by machine vibration.