The PY series is suitable for whole or part wooden pallets, packaging, and other bulky materials, breaking them down into hand size pieces. Available in 2 versions, both the 1,300mm and 1,600mm wide machines are capable of processing up to 50 pallets an hour.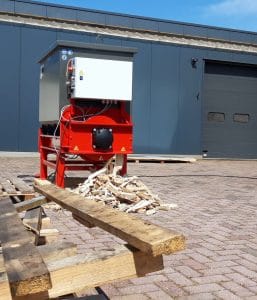 The PY1600 has been designed with a larger opening for handling wider pallets, whilst processing the same volumes. The PY Series is low energy, self-contained compact solution, which enables you to reduce voluminous products by up to 80%.
Using the PY Series couldn't be easier. Simply load your material into the top of the machine, and press the start button.
It's as simple as that, with pallets automatically processed through the machine, where they can be discharged either into a suitable container or onto a conveyor. The PY Series senses when there's no material in the machine and it automatically switches itself off, saving energy.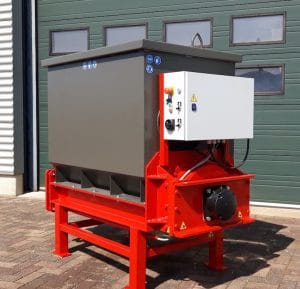 The 'PY Series Pallet Breaker' is truly a standalone solution.
Reducing your pallet waste is not just about reducing your disposal costs, you could also generate revenue. You have the option of selling on the processed material for biomass, or further reducing it in size and producing solid fuel in the form of wood briquettes.