For more than four decades, the Belgian company UNILIN Insulation has been developing innovative insulation products for energy-efficient buildings, thereby helping to reduce their CO2 emissions. More than 1,000 employees work to develop insulation boards and roofing elements that not only make homes more comfortable, but also lower energy bills.
Circular economy as part of the company DNA
As part of the globally active UNILIN Group, the principle of the circular economy forms the foundation of the business model at UNILIN Insulation in Desselgem (Belgium). When procuring materials, the company constantly looks for residual materials or "waste" that can be reused as raw materials. In addition, UNILIN drives the recycling of products at the end of their life cycle. In doing so, UNILIN has set itself ambitious goals: by 2030, 100% of the insulation boards it produces are to be recyclable, and up to 90% of the production waste generated at its sites is to be recycled and reused.
UNILIN relies on WEIMA for fire-hazardous shredding
To get a step closer to this goal, UNILIN has recently started using a WEIMA WLK 1500 single-shaft shredder to make production scrap and waste from insulation board production recyclable.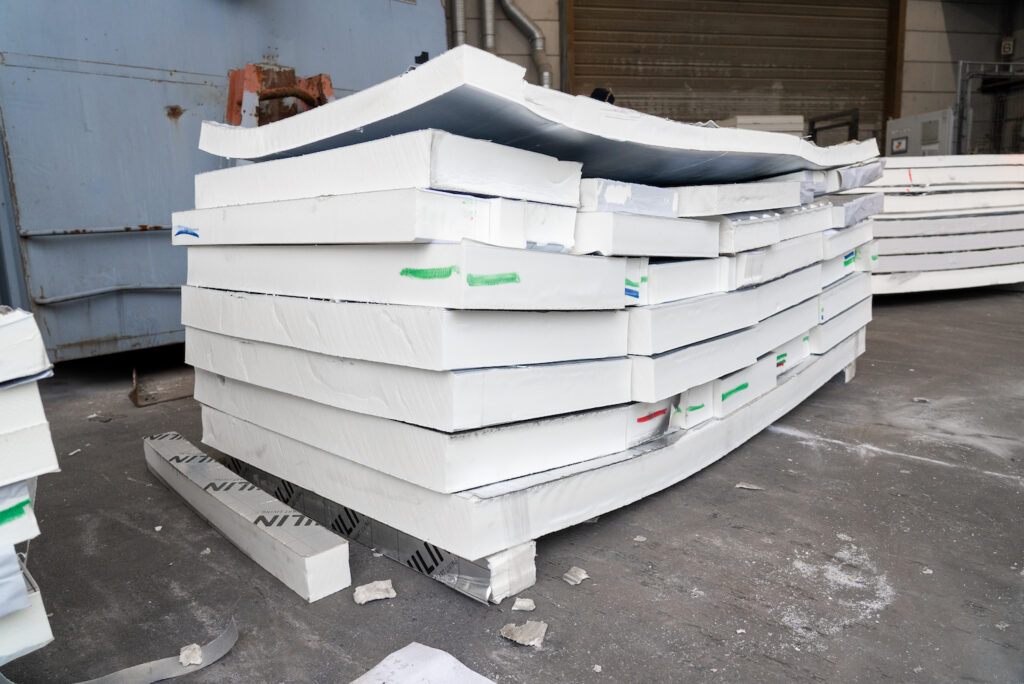 The production waste generated is panels consisting of pure polyurethane (PU) foam or PU foam, wood and nails. The latter are a particular source of danger during shredding because PU dust is extremely flammable. To minimize this fire hazard, shredding takes place at a low speed. In addition, the shredder is operated with a hydraulic drive. This allows the bulky panels to be shredded to a particle size < 25 mm.
Hydraulic tilting table for oversized materials
Another challenge was the size of the panels, as they can be up to 5.5 meters long. The solution? The WLK 1500 is equipped with a hydraulic tilting table that is used to feed the material. This special design was developed in close cooperation between the UNILIN and WEIMA teams. As a result, entire stacks of insulation boards up to 5,500 mm in length can simply be fed via the tilting table using a forklift truck. Prior processing is completely unnecessary. This not only saves time, but also personnel and transport costs.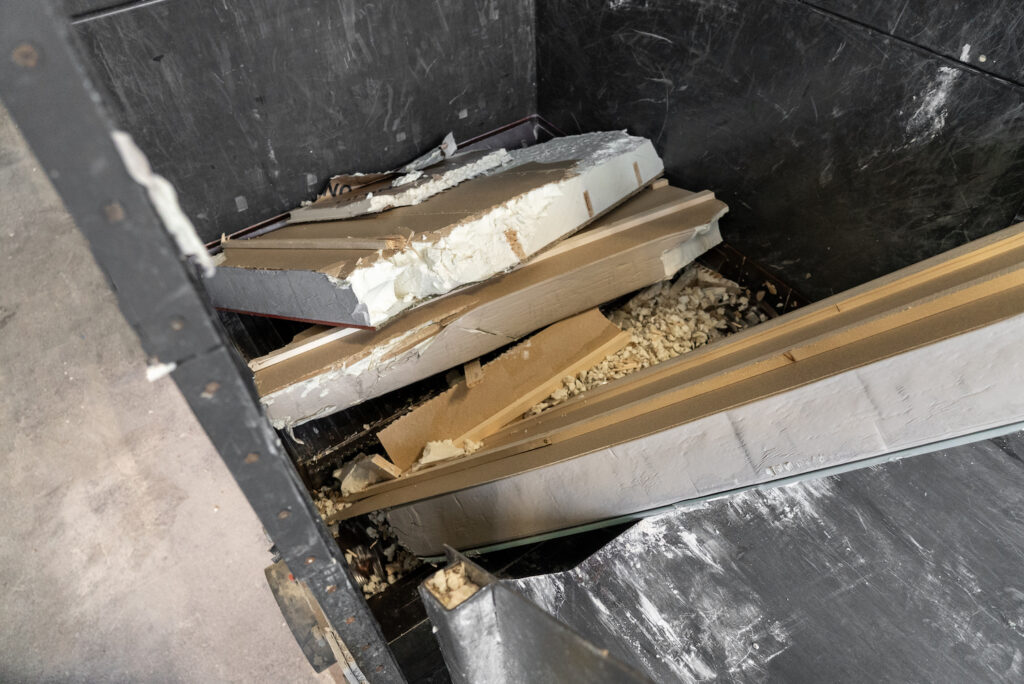 Further processing of production waste
If insulation boards made of pure PU are fed to the shredder, the material is fed to a briquetting press via an exhaust system after shredding. The highly compressed briquettes are then sold to a company that processes them further and uses them to manufacture new products. If the shredder shreds insulation elements, consisting of PU as well as wood, the extraction system directs the shredded material onto a truck, which takes it directly to another partner company for further processing.
Robustness and reliability as reasons for purchase
The robustness and reliability of the shredders from Ilsfeld were crucial in the decision to choose WEIMA. With a high degree of technical flexibility, the machine was precisely adapted to the requirements, the specific application, and the machine feeding process. The after-sales service offering also impressed the Belgians. "We chose a shredder from WEIMA because we had already had good experience in other business areas," explains Automation Project Engineer Sam Christiaens. "It was particularly important to us that the shredder would be in use for many years and that the machine would run reliably. We are looking forward to receiving the shredder we have ordered for the UNILIN location in Sury-le-Comtal, France."