Mark Heatrick explains, "The TBG 530T track-mounted high-speed shredder is a great machine, cutting back on a lot of manpower. Before we were running the waste wood through a slow-speed pre-shredder and then through a high-speed shredder, so apart from the obvious savings with maintenance and repair of two machines, there is also a huge saving on diesel."
Established over 50 years ago in 1969, R. Heatrick Ltd has grown and diversified, and today is a major player in the recycling and demolition sectors across the UK, operating from depots in Belfast and Portadown and quarries in Moira and Lisburn. Adding to its versatility, the TBG 530T will be moving back and forth between R. Heatrick's Belfast and Portadown locations on a low loader.
The TBG 530T is ideal for medium-scale producers requiring an accurate and consistent end product. Powered by a 493HP Scania DC13 engine, the TBG 530T has been expertly designed to give operators unrivaled performance, ease of maintenance, and superb fuel efficiency.  Extremely versatile, it excels in many applications and is particularly suited to waste wood processing and green waste shredding. 
With a rapid setup time the TBG 530T is ready to work in a matter of minutes with no tooling required. The open fronted feeder enables the TBG 530T to be fed quickly and easily from the rear. The intelligently controlled feed system, comprising of heavy duty drag chains and aggressive feed wheel with unique lift/downward assist, ensure optimum material flow resulting in class leading performance.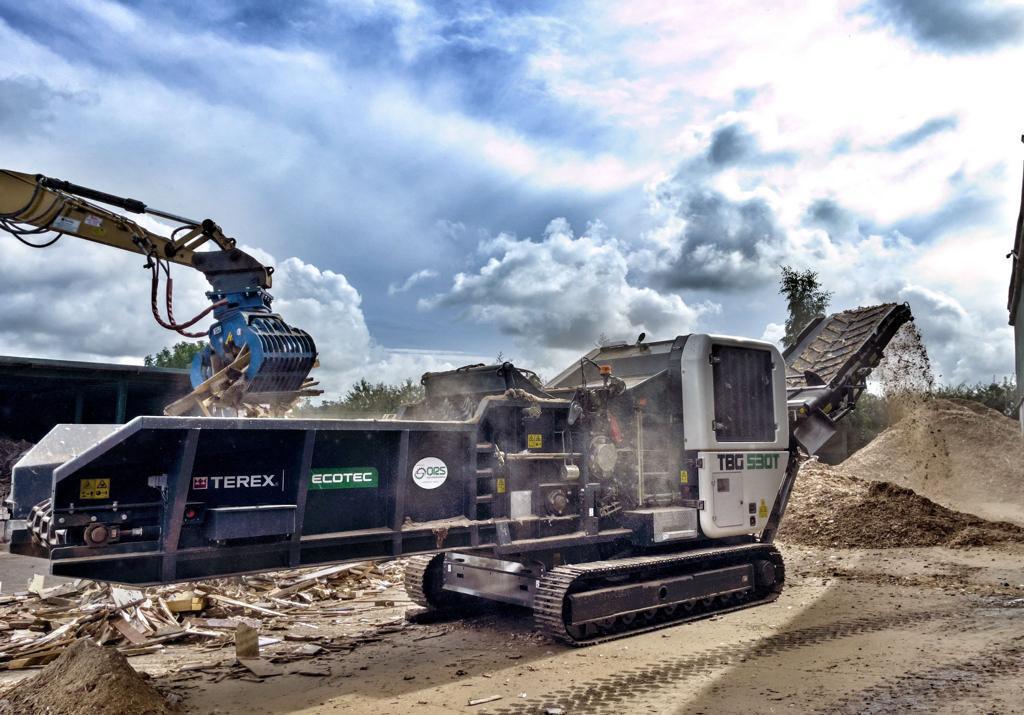 At the heart of the machine is the 1,100mm diameter x 1,490mm wide swinging hammer rotor. This robust, direct drive rotor rotates at 1000 RPM and incorporates 30 up-swinging hammers. A wide selection of hammer designs and interchangeable screens are available allowing the machine to be configured to suit the ever-changing product requirements. The TBG 530T also benefits from the added protection of a screen kickback system. Should an unshreddable object enter the shredding chamber the screen will release allowing the material to quickly pass through, reducing the risk of accidental damage.
Processed material is removed from the machine via a modular product conveyor with an impressive discharge height of 4.6m. This conveyor also lowers to ground level for inspection and maintenance. An optional overband magnet with hydraulic height adjustment can be fitted to remove ferrous metal from the product.
Whether performing daily checks or carrying out maintenance, the TBG 530T offers unrivalled service access to all key areas of the machine. The electric/hydraulic raise/lower of the screen and interlocked chamber access door allow the rotor and anvil to be inspected with ease. Designed with the operator in mind, the TBG 530T offers the perfect blend of performance, efficiency and serviceability.
The TBG 530T comes fitted as standard with the industry leading T-Link telematics solution designed to improve productivity, efficiency and profitability for the customer.
Terex Ecotec's Northern Ireland dealer, Quarry & Recycling Solutions (QRS) supplied and delivered the TBG 530T. Mark comments, "We have a good history with QRS, they are great to work with and very helpful. This is the second Terex Ecotec machine we've purchased from them."