Scottish waste regulations are demanding that by 2025 only 5% of Scotland's waste is to be sent to landfill. Binn Group is making large strides to achieve this.
Binn operates a materials recycling facility where a wide variety of recyclable materials are separated, graded, baled and sent to re-processors. As a result, over 86% of all the materials entering the facility are transformed into useful commodities. The remaining 14% is then processed into SRF (Solid Recovered Fuel), which generates electricity and power (avoiding use of fossil fuels, i.e. coal) from the materials that would have otherwise gone to landfill.
To produce a quality SRF, the unrecyclable material must first be shredded down to between 250-300mm. This stage is completed by a HAAS TYRON 2000XL 2.0 shredder, which had previously been supplied by CRJ Services.
The shredded material is then dried to around 15% moisture. Once dried, the material is loaded into a hopper via a telehandler, which begins its journey through the plant.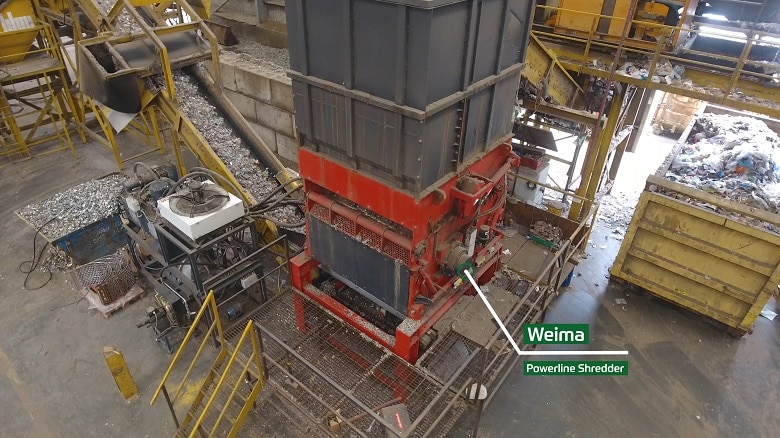 Firstly, a long part separator uses a roller to remove any long fibrous materials from the waste stream. From there, the material enters a Nihot density separator which uses powerful fans to blow light material over a gap onto the next stage of the process. Heavy material falls onto a separate conveyor where any recyclable material is manually picked.
The light materials then pass onto a picking station where trained staff remove any non-conforming materials, such as PVC and cardboard. The remaining material then passes under both an over-band magnet and eddy current magnet, which removes any ferrous and non-ferrous metals.
The resulting material is then fed into a high-speed shredder, which must shred the material down to around 40mm before being baled, wrapped and stored ready for shipment. The baled SRF is then shipped to Denmark to be used as an alternative fuel in a cement kiln.
Over the years Binn Group has used several different high-speed shredders to complete their final shredding stage. Each of their previous shredders has failed to live up to expectations, with reliability issues causing a lot of plant downtime.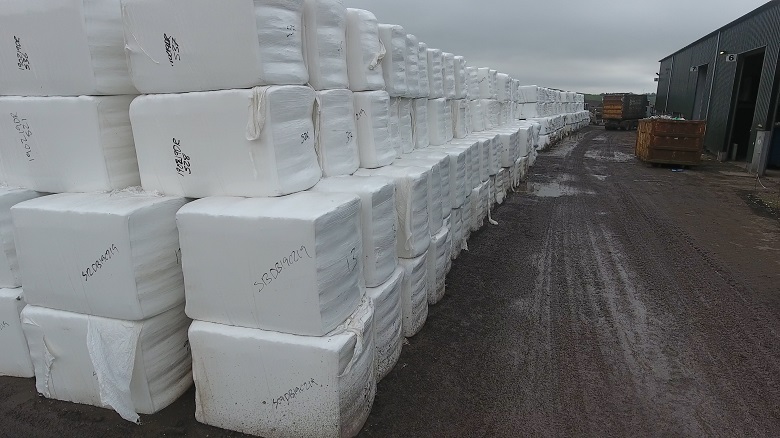 Binn required a static high-speed shredder that could shred their material down from 250-300mm to 40mm. The shredder needed to be capable of producing a consistent sized product, at their desired tonnage per hour. It was also key that their new shredder would either match or better the fuel consumption seen by their previous machines.
Having previously bought their HAAS TYRON 2000XL 2.0 pre-shredder from CRJ Services, Binn Group returned to CRJ for a solution.
The team at CRJ met with Binn Group to understand their operational requirements. Following various site visits and consultations, CRJ proposed that the Weima Powerline shredder would be able to meet and surpass Binn Groups needs.
The Weima Powerline is a universal single-shaft static shredder, capable of shredding a wide range of input materials, making it the ideal solution for SRF production. The Powerline uses a series of counter knives which are mounted diagonally for a more aggressive cut. The Powerline rotor allows for high throughputs, whilst operating with low energy consumption, a key requirement for Binn Group.
To ensure a consistent final product, the Weima Powerline is fitted with an easy to change gate, which will only allow material to pass through to the outfeed conveyor once it has been reduced to a specific size.
Following the sale of the Weima Powerline to Binn Group, we went to see how the machine was performing and to catch up with David Russell – SRF Supervisor at Binn Group.