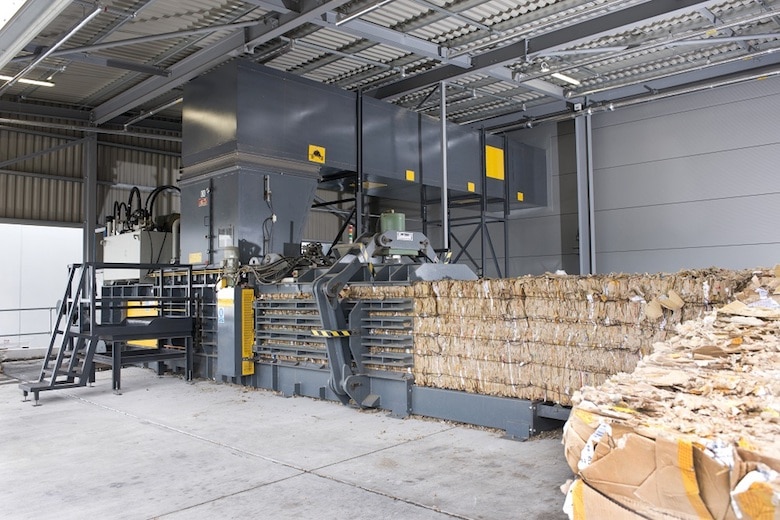 With over 500 stores in the UK and a further 1,700 outlets worldwide, JD Sports Fashion Plc who own big high street brands such as JD Sports, Blacks, and Go Outdoors has grown to be a multichannel superpower.
Knocking on the doors of the FTSE 100 Index, JD Sports knows a thing or two about how to efficiently run a distribution center and control waste.
The giant 1.4 million sq. ft. distribution facility at Kingsway, Rochdale, currently has 4 fully automatic cardboard balers (GB1111FS) with heavy-duty chain conveyors, manufactured and installed by Whitham Mills Engineering Limited, a market-leading waste management equipment supplier.
These robust machines produce bales of around 900kg each, maximizing the export revenue for JD Sports. To keep the goods moving smoothly in and out of this busy DC, JD Sports have large material processing requirements so each baler capable of producing over 3,150 bales per week on a 24hr shift, 7 days a week.
This is all backed up by Whitham Mills' 24hr service and maintenance assistance ensuring the business-critical equipment at JD Sports is always baling.
Furthermore, waste streams in distribution centers are identified as potential fire risks, leading Whitham Mills to design an enclosed baler feed conveyor system which includes an automatic fire door and fire-suppressing sprinkler system. If activated, the system automatically closes the fire door at the conveyor's exit point, isolating the fire and allowing the sprinkler system to take control.
Whitham Mills managing director, Ben Smart, said: "At Whitham Mills, we take the challenges set by our customers and identify efficient and imaginative systems which respond to their needs. There is rarely an off-the-shelf system which is suitable which is why our engineering know-how is so important to our customers.
"In this instance, we've designed a system which will suppress any fire in a way which will protect stock and allow the distribution center to return to operations as quickly as possible."
This article is published by
Designer and manufacturer of fully automatic baling systems - for cardboard, paper, plastics, RDF and cans. Whitham Mills Engineering Ltd is an ISO quality assured company based in the North West of England, providing a comprehensive range of highly-efficient, reliable and profitable recycling equipment. We serve a wide client base covering the whole ...