the company Willibald…
… is a medium-sized mechanical engineering company, with its headquarter in Wald Sentenhart (near the Lake of Constance).
Our (mobile) machines serve the purpose to prepare biological material for composting, biogas treatment or thermal use. Shredder, screening machines and compost turner are our main products.
Whether efficient composting, the mulching of very specific substrates or shredding of  sensitive substances – we have the right machine in the range for even the most complicated tasks.
It doesn´t matter what diameter the woody plants have or how complex the mixture of bulky shrubs and wet grass is designed: With our groundbreaking shredders, compost turners, screening machines – and bagging machines biological waste products are transformed in a very short time to new earth, nutrient-rich humus and natural fertilizers or wood chips for cogeneration plants.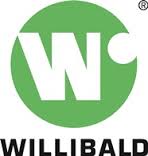 Company name:
J. Willibald GmbH
Phone number:
+49 7578 / 189-0