Recycling center with an intelligent and efficient concept
A simple and clear loop runs through the facility where customers drive along a two-lane U-shaped road with around 20 containers for sorting different types of waste. The plant's machines can work safely and undisturbed on the other side of the containers, completely separated from the customers, but still at ground level. The fact that the sorting area is laid out on one level, limited only by painted lines and containers, not only provides good accessibility, but also makes it easy to adapt to the season and needs, with up to 30 containers for different waste fractions. Also, if the requirements change in the future, major layout adjustments can be made without any problems.
The recycling center in Heljeved has invested in smaller type of waste container that customers can easily fill from the front, with additional help from the facility staff to sort correctly. For emptying the containers, the company chose the SENNEBOGEN 355 E telehandler. With the size and strength of a wheel loader and the long reach of a telehandler, the machine is ideal for multifunctional use. The 355 E is also equipped with an elevating cab, which provides the best possible view of the shovel and ensures safer and more precise work.
Multifunctional and flexible machine simplifies daily work at the recycling yard
"Three years ago I saw one of OP System's ads for the 355 E and thought it seemed to suit us," says Leif Lindqvist, Operations Manager for Recycling Centres West. "We previously had telehandlers for emptying containers etc. and they did their job in terms of reach, but the problem was that you couldn't see the working area when emptying or loading a truck, for example. With the lifted cab of the 355 E, you can see down into the container or truck bed, which is a big advantage. It is also flexible and can turn around in a heartbeat. It's just the right size." Sanna, the operator of the machine, also agrees that the height-adjustable cab is a great relief in everyday work: "We used to sit underneath the shovel and tried to get a view of the working area, for example when emptying containers." Before that, Sanna worked with a wheel loader, but finds that the 355 E is much more flexible and maneuverable.
A total of five SENNEBOGEN telehandlers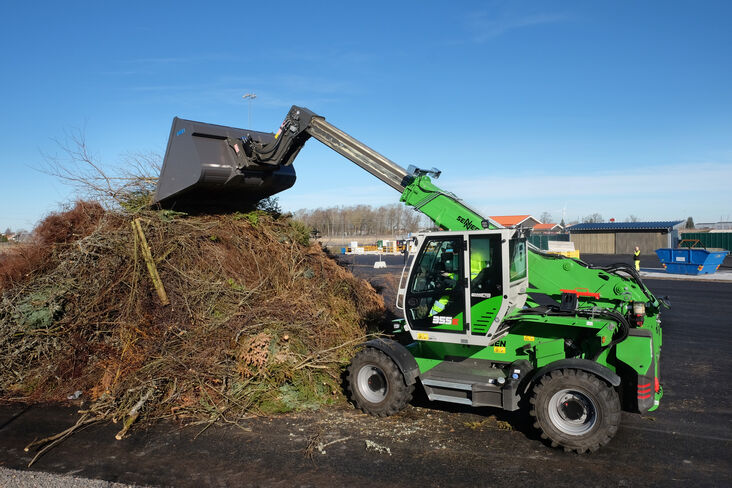 Besides emptying containers, the 355 E is used for several other tasks, such as moving materials (waste wood, garden compost, etc.) and keeping the area tidy. For this, the 355 E is equipped with several different attachments such as a bulk bucket, a planer bucket, a hydraulic pallet fork and a sweeping attachment.
The first 355 E was ordered in 2020 and today Avfall & Återvinning Skaraborg has five SENNEBOGEN 355 E telehandlers working safely and efficiently on recycling jobs at various waste centers in Skaraborg. In total, Avfall & Återvinning Skaraborg has 21 facilities and manages 13 of Skaraborg's 15 recycling centers, thus serving almost all of the county's municipalities. In Heljeved, 4 people work on a daily basis to help people with the recycling process. "For us, it is important that we provide a good service and that customers feel welcome", says Leif Lindqvist. "The goal is to sort as much as possible and thus minimize residual waste, which is a win-win for everyone in the long run."