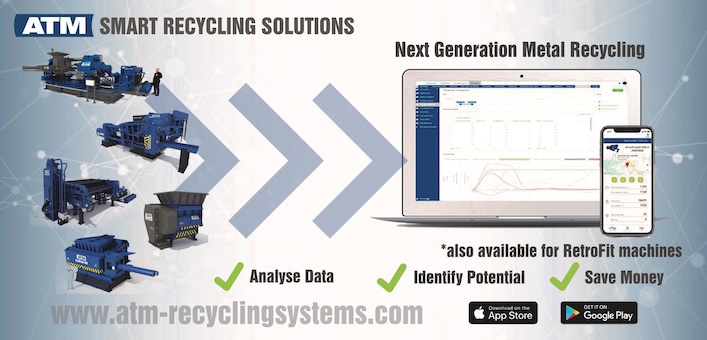 Smart metal recycling means "High-Performance - Metal Recycling" through data analysis, identification of areas of improvement and reduction of costs.
Machine data, which could previously only be seen in specific cases by the ATM Service Team, is now also available for our customers. Precise data are collected in real time with the help of ATM Smart and are made transparent for the customers. Thereby, a lot of valuable information can be generated and resources can be saved.

With the continuous digitisation of machines, data concerning user behaviour, product optimisation, utilisation capacity and maintenance can be generated and analysed. The analysis shows potential for improvement and enables customers to efficiently use their machines.

The recycling machines are equipped with a special hardware by t-matix which is connected to the machines via a SPS-interface. The data is transferred to a platform and visualised by means of interactive dashboards.

The data analysis helps employees to plan the maintenance of machines and to save resources. The maintenance condition of machines is made available on the app and can be coordinated by employees. Furthermore, the system informs users of wear parts that need to be replaced, so orders can be planned early. Data concerning utilisation capacity shows potential for improvement and allows for optimised processes.
All these benefits can also be used with older recycling machines. With the help of the ATM RetroFit package, older recycling machines can also be upgraded and equipped with smart technology.
ATM Smart Recycling Solutions can be used as an add-on to every briquetting and baling press. The app is available for IOS and Android.

https://play.google.com/store/apps/details?id=com.tmatix.iot.atm&hl=gsw

https://apps.apple.com/us/app/atm-smart-recycling-solutions/id1490103357
This article is published by
ATM Recyclingsystems - One Company, One Team, One Focus: High Performance Metal Recycling ATM stands for Arnold Technology for Metalrecycling - based on more than 80 years of experience and is a leading company of ASCO Group. Our company engineers, plans, produces and services metal-recycling-systems for the treatment ...