The decision in favor of the quality and reliability of Liebherr machines
R 926 G8 – the combination of power and versatility
The Timo-Tuin family business: 30 years in the service of the customer
The Timo-Tuin company has purchased the latest-generation Liebherr machine to carry out various earthmoving operations. In doing so, the company has opted for the performance, low fuel consumption, and comfort of the Liebherr R 926 G8 crawler excavator. The first of this type in Belgium.
Poperinge (Belgium), 26th January 2021 – "With its great versatility and optimum performance, the R 926 G8 fully meets our needs," says Sandrino Timperman, son of company founder Timo Tuin, summing up his decision in favor of the R 926.
Decision in favor of the quality and reliability of Liebherr machines
The most important criteria for the company are the quality and reliability of the product. The excavator has now completed 215 operating hours and the customer is very satisfied with it. Liebherr customer service was the second criterion for Timo-Tuin. Here, the Belgian company can count on the reaction speed of the local Liebherr dealer SOMTP Belgium when needed.
The customer is particularly impressed by the excavator's economic efficiency: The average fuel consumption of the R 926 is less than 13 liters. Timo-Tuin is increasingly working on urban construction sites and in the vicinity of residential buildings, which is why the company is paying more attention to the environment.
The R 926 G8 combines power and versatility
The power and speed of the machines are also important to the Belgian company. The Generation 8 R 926 crawler excavator is powerful and meets all requirements. Equipped with a hydraulic quick-coupler as well as hydraulic lines for the hydraulic breaker and the sorting grapple, the excavator is currently laying pipelines for the water network of a residential area in Veurne, Belgium. The excavation forces, the traction of the undercarriage, and the torque of the upper carriage have been increased in comparison to the previous generation. These improvements increase the overall excavator performance in every application.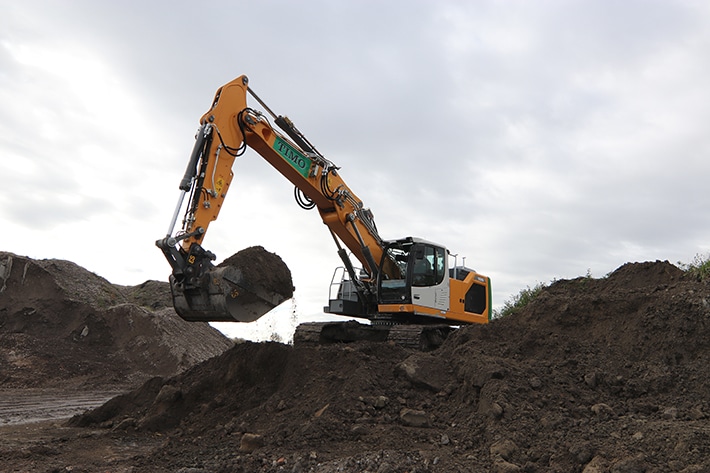 In addition to the machine's performance and stability, the operator also appreciates the comfort and quietness in the cab. Here they have a spacious and air-conditioned work area. To facilitate daily work, the cab is equipped with a pneumatic seat with height and longitudinal damping and an easy-to-use, high-resolution 7-inch color touchscreen.
The R 926 is the outcome of Generation 8, which has been completely redesigned to improve comfort, safety, ergonomics, and operating performance. Seven models ranging from 22 to 45 tonnes were presented at Bauma 2019 in Munich.