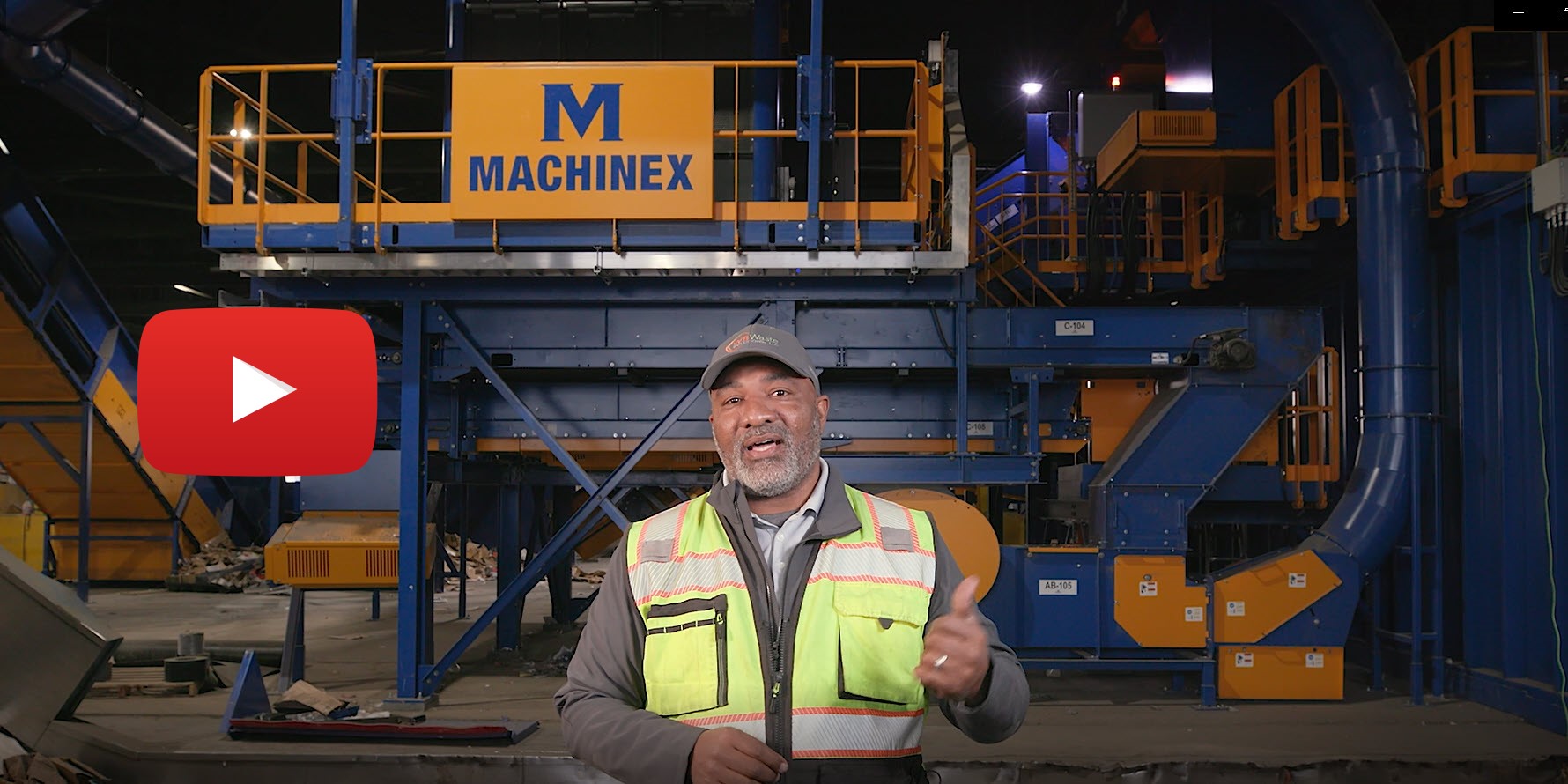 Machinex is proud to have teamed up with WB Waste & Recycling, located in Washington, D.C., to help them reach the next level of recycling. The upgrade of their Olive Street Recycling facility, located in Capitol Heights, Maryland was performed by our experts, to increase overall MRF performances.
The system processes residential single-stream and commercial materials. Olive Street Processing was awarded several new contracts for processing additional tons of Residential Single-Stream (RSS) so they needed to improve their recycling capacity to meet these requirements. As a result, they contacted Machinex to retrofit their recycling system.
Key elements of this modernized facility are the two MACH Ballistic separators and the dual-eject MACH Hyspec® optical sorter to eject PET and mixed paper.   The container line features a magnet for the removal of ferrous metals (tin cans) and an eddy current to remove the non-ferrous which they QC to make a UBC grade aluminum.
Similar to many upgrades, our engineering team had to deal with a tight existing building with a low roof to add several pieces of equipment. The result is an increased tonnage capacity from 10TPH to 25TPH.
Machinex's dedicated team worked around the clock to deliver the upgrade on time, and the system "only experienced 6 weeks of total downtime" declares Dave Taylor, Director of Recycling at WB Waste & Recycling. "Working with Machinex, with their customer service, it was incredible how quickly we were able to get this project off the ground and completed," adds Taylor.
This article is published by
Machinex Industries offers complete engineering design, manufacturing and installation of Material Recycling Facilities. As a leader in sorting technologies, Machinex Industries provides turnkey systems: Single-Stream, Mixed Waste Processing, Construction & Demolition, Commercial and Industrial Waste, front-end processing for Waste-to-Energy ...