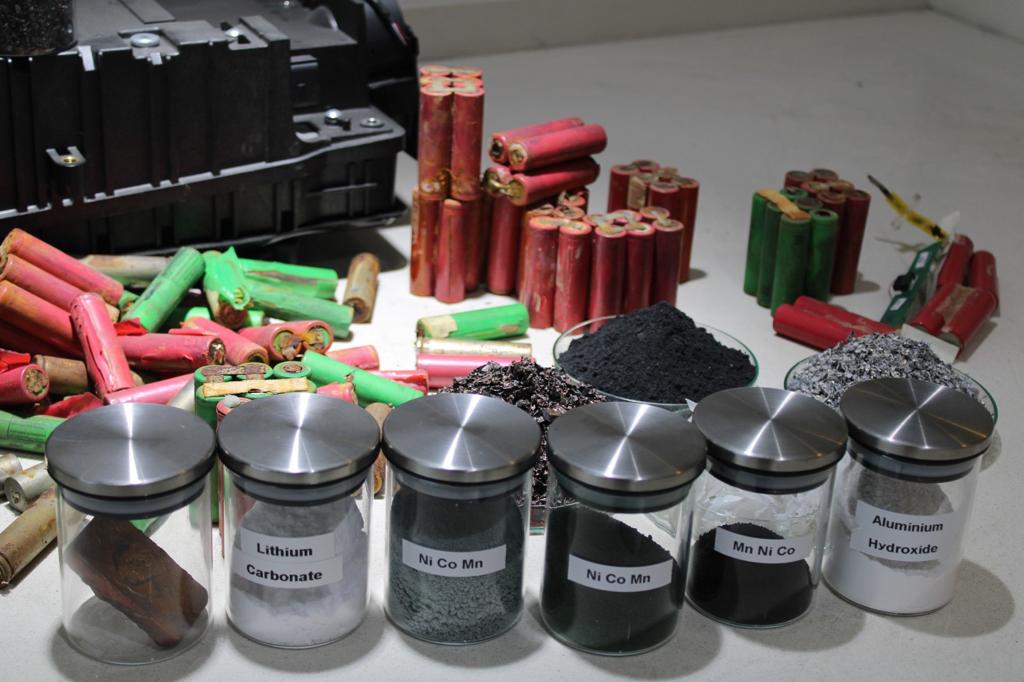 With the introduction of technology and digital products into every aspect of our lives, our need for energy is increasing day by day. While electric cars are rapidly becoming popular in the world, smartphones, cameras, tablets, computers, smart watches, drones and almost all of the IoT devices that are expected to become more widespread either work with electricity or get their energy from the electricity they store in their batteries. Due to their long service life and low maintenance requirements, lithium-ion batteries are particularly preferred in the defense industry and submarine technology. In general, they are highly demanded in all areas of industry due to their compact size, ability to be recharged, recyclability and high-density energy output.
Are Lithium Batteries a New Energy Addiction in Technology?
The battery revolution is at the center of the energy transition we are in today. While the automobile sector has driven the development of the battery industry, the fixed storage feature of batteries could have an even greater impact in many other sectors. Over time, it will provide a significant integration of renewable energy sources into the energy grid with its ability to store electricity. As lithium batteries play a central role in this energy transition, lithium will also be at the center as a raw material. This also brings some risks. While the energy transition means reducing our dependence on fossil fuels, in addition to other benefits, the battery revolution may lead to a new type of dependence. The most obvious thing about lithium dependency is that it doesn't seem logical to attribute a significant role to a single source of energy exchange, no matter how abundant it may be.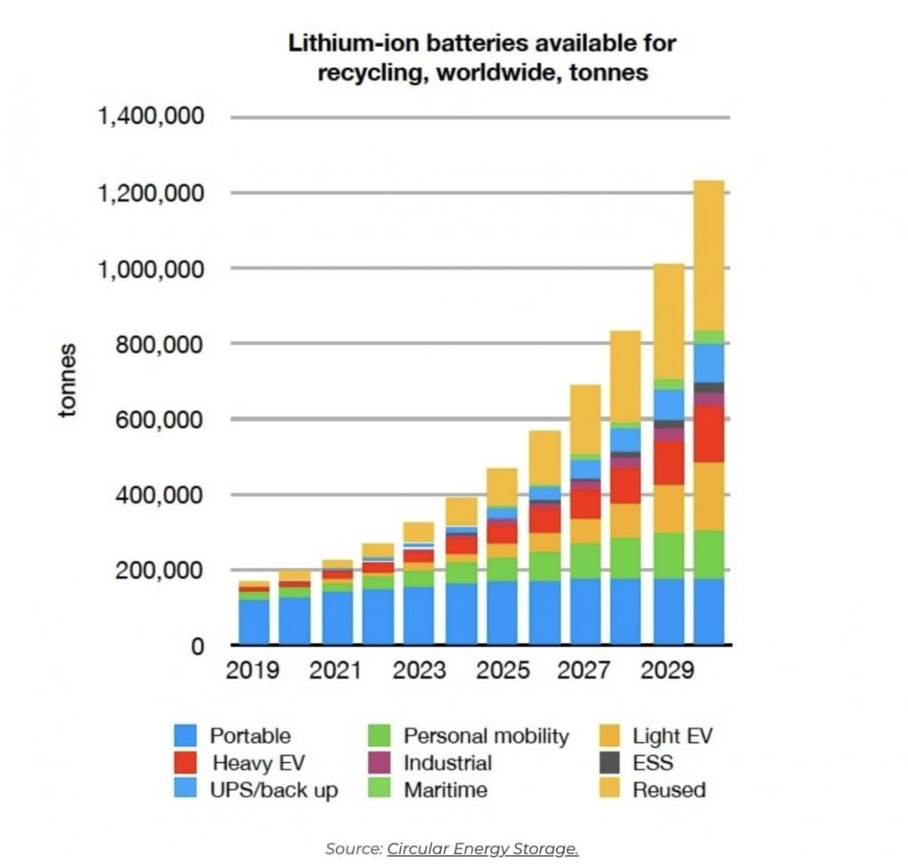 Especially when this resource is concentrated in specific geographic regions, controlling the reserves becomes an even greater risk. More than 60% of the world's lithium reserves are in Latin America (Chile and Argentina), while other sources are found in China (22%) and Australia (17%).
Another concerning issue is that global production may not be able to meet the demand. When the mining sector is examined, the supply of raw materials seems to be able to adapt to the needs, but short-term supply interruptions may cause problems in the battery and automobile sector.
Most importantly, as the world struggles to replace fossil fuels with clean energy, the environmental impact of lithium mining required for change to happen is a serious problem in itself. This is because approximately 2 million liters of water are needed to produce 1 ton of lithium.
Lithium-ion cells typically consist of three main parts: Cathode materials (positive electrode): The most commonly used commercially are lithium, cobalt, manganese and nickel. Anode (negative electrode): Graphite, aluminum and copper. Electrolyte: Mostly composed of organic solvents containing lithium ions. Due to high demand for all these metals in various industries and their insufficient supply, their prices are constantly rising.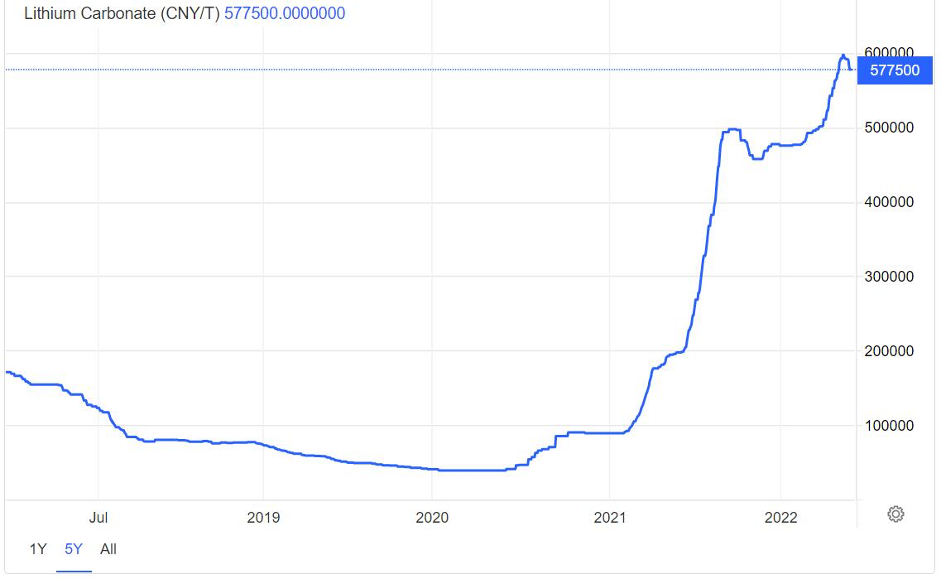 The Obligation of Lithium Battery Recycling
Reasons we mentioned above compels us to recycle. Regulations are likely to play a key role in the future of lithium-ion battery recycling, which is vital to the industry as it reduces resource scarcity and improves sustainability. In recent years, governments have set stricter targets for waste collection, recycling efficiency and material recovery. As demand for batteries increases, there will be an increasing political will to enact appropriate legislation for the sector.
Regulations on battery recycling, particularly with EU laws and regulations, make battery recycling is a must, but there are no clear regulations for lithium-ion battery recycling in the United Kingdom.
Last December, the European Union (EU) agreed on a comprehensive battery policy aimed at making electric vehicles (EVs) more sustainable. The regulation includes requirements for mineral supply, life cycle emissions, information sharing and recycling. These regulations set a precedent for battery policy.
Initially, removing and replacing batteries will be easier and consumers will be better informed.
Battery Tracking System: It will be possible for all end users and commercial or supervisory organizations to access the data related to that battery over the internet via a QR code to be found on the batteries. This will enable the tracking of batteries that have reached the end of their useful life and if they are not recycled, legal requirements will be applied. EU regulations include a requirement for "battery passports" that help inform consumers about the content, origin and environmental impact of the battery. Production and reuse standards for batteries are established within the framework of newly proposed rules.
Recycling recovery rates: Recycling rates refer to the amount of material recovered from the recycling process. The regulation requires an overall recycling recovery rate of 65% by 2025 and 70% by 2030. Higher recycling rates are specified for more valuable materials: by 2025 the recovery rate of cobalt, nickel and copper should be 90% and lithium 50%. By 2030, they should increase to 95% and 80%, respectively.
Recycled content standards: After materials are recovered, they can be used to produce new batteries. The regulation mandated the use of recycled materials in the production of new batteries. These standards start at 16% for cobalt, 6% for lithium and 6% for nickel in 2030 and increase to 26%, 12% and 15%, by 2035.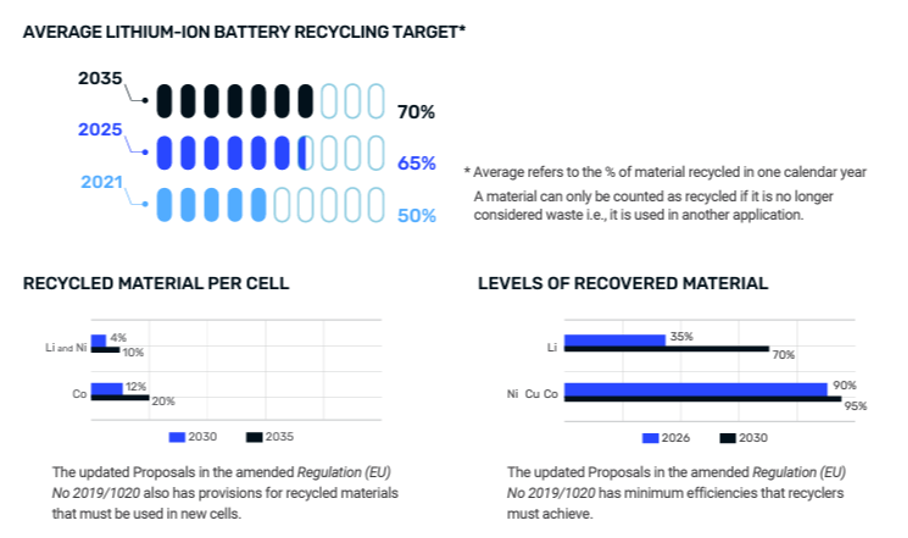 All waste LMT, EV, SLI and industrial batteries must be collected free of charge for end-users, regardless of their nature, chemical composition, condition, brand, or origin.
Created by the US Environmental Protection Agency (EPA), the Universal Waste Rule exists to promote the safe recycling and disposal of hazardous waste. It is effective in all 50 states without exception. Besides applicable federal laws, there are some states that have their own battery recycling regulations, which must be complied with above and beyond federal regulations. Canada also regulate the processing and recycling of lithium batteries and offer huge incentives for recycling facilities. US and Canada opted to allocate federal funds for battery recycling and grants and incentives for research, development and pilot facilities over stringent legal mandates.
Regulations in China, the largest market for the electric car, have been expanded to cover many aspects of production, collection and recycling, resulting in a comprehensive used battery management system. In addition, there are many laws in China that prevent the import of waste from other countries.
Opportunities for Lithium Battery Recycling
Lithium-ion battery production is a very complex and delicate process that results in very high material and energy costs. In addition, the prices of the mines used in the production of these batteries are increasing exponentially in accordance with the demand. Instead, using recycled material as raw material is a much more effective method. Legal regulations and incentives all over the world makes Lithium battery Recycling is a very profitable investment.
Due to the relatively long lifespan of EV batteries and the relatively new EV market, waste streams from consumer electronics are currently an important source for battery recycling facilities. Currently, only a small fraction of the electronic waste produced each year is collecting and properly recycling. The batteries inside these devices contains the same minerals as EV batteries. Recycling batteries from old electronic devices would not only be good for the environment, but would also contribute to the minerals needed to make future batteries. Automobile manufacturers will always be in the position of ready buyers for the raw materials to be released in the battery recycling plants.
There are not many manufacturers of machines and systems related to the recycling of lithium batteries. Some recycling machine manufacturers only produce equipment for the physical installation of recycling facilities. Proses Makina installs both physical facilities and delivers the final product on a turnkey basis, tailored to the capacity of its customers.
This article is published by
Proses Makina is producing plants for refining and recycling systems. Thus, precious metals and rare metals attainable from e-waste, catalytic converter/spent catalyst, jewellery and mining fields. Catalytic converters contain PGMs and it's possible to recovery as Platinum, Palladium, Rhodium. Also e-waste has a precious metals and our e-waste recovery ...