With this facility, the city government is the first in the country to move towards a correct treatment of urban waste based on a circular economy concept – one of the priority objectives of the current administration.
STADLER supplied the cutting-edge technology to achieve this milestone. Natalya Duarte, Sales Director for Mexico at STADLER, says: "We would like to thank Mexico City for allowing us to give our contribution and take part in the great challenge of reducing waste in Mexico City, one of the most populated megacities in the world, where more than 12,000 tons of waste are generated every day." The city government thus lays the groundwork for fulfilling its environmental responsibility, recognising the importance of complying with international agreements and the need to apply circular economy principles.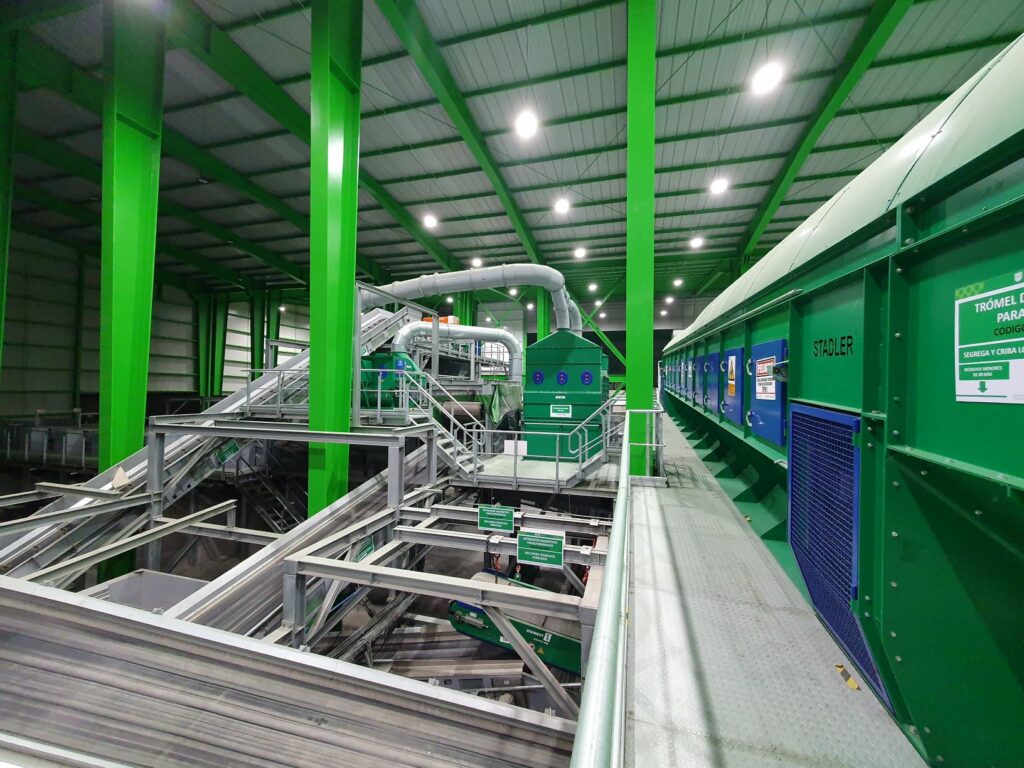 It is the country's first government-owned automated plant for the separation and treatment of municipal solid waste. The 11,000 m2 facility sorts paper, cardboard, multilayer packaging, PET and HDPE, plastic bags and film, aluminum cans, metallized bags, textiles, glass and other metals.
The plant was commissioned in May 2021. It operates in conjunction with a transfer station to process around 1,000 tons per day of waste from the municipalities of Cuauhtémoc, Gustavo A. Madero, Miguel Hidalgo and Azcapotzalco, and will be able to receive up to 1,400 tonnes of waste per day. Its operation will generate 404 jobs.
The facility is run by Pro Ambiente, a subsidiary of CEMEX, which has more than 25 years of experience in waste management and in operating plants for the selection and recovery of waste-derived fuels. "We are proud to participate in this new project, which is in line with our sustainability and emission reduction objectives. We are prepared to operate this plant under a model that guarantees, first and foremost, the safety of all our employees, operational continuity through maintenance and production programs with international standards, and sorting quality to ensure a greater use of the waste generated in Mexico City," says José Guillermo Díaz, CEMEX's manager of technology and alternative fuels.
A grand opening
The plant was officially inaugurated on Sunday 25 July in an event attended by the most prominent personalities of the political arena, including Claudia Sheinbaum Pardo, Head of Government of CDMX; Jesús Antonio Esteva Medina, Secretary of Works of CDMX; Marina Robles García, head of SEMADET of CDMX; Vidal Llerenas Morales, Mayor of Azcapotzalco; and Gautier Mignot, Ambassador of the EU Delegation in Mexico.
Following a heartfelt statement about the significance of implementing such a facility, Claudia Sheinbaum pressed the button that started the machinery, fulfilling the plan set out in her agenda to move towards a circular economy.
"Instead of driving trucks to dump waste and rubbish in landfills, we are sorting it all. In addition, recycling is used to produce other products. This is called circular economy in Mexico City. Let us be proud of this solid waste sorting plant, the most modern in Latin America – here in Mexico City," said Claudia Sheinbaum during the inauguration event.
Automation and labor: a perfect balance
The use of mechanical treatment between transfer and final disposal was a fundamental and natural first step in the zero-waste program of Mexico City's current administration. The objective was to capture and sort all recyclable packaging within the transfer station itself.
"STADLER's innovative sorting technology makes sense both in terms of the efficiency achieved in the recovery process and the high degree of purity of the materials obtained. It professionalizes and industrializes this waste management process, providing working conditions for manual sorters that are comparable to those of any first-world plant. It is worth noting that automation does not displace human resources. It is possible to achieve a perfect balance between the two, which is key for the Mexican market. We clearly showed that it is so in this project in Mexico City, where the balance between technology and human resources improves the numbers from a public administration point of view and optimizes the operational cost of this type of recycling plant," says Natalya Duarte.
STADLER: cutting-edge technology focused on the circular economy
The trust that the government has placed in STADLER was developed through a bidding process with the participation of academics and experts at national level, as well as institutions and ministries involved in the legislation and oversight of the correct treatment of MSW. The outcome of a detailed analysis by a committee of experts based on a waste characterization carried out by UAM led to the conclusion that STADLER's technology, "Made in Germany", but adapted to local needs and tailored to the specific requirements, guarantees a mechanical treatment that meets the highest quality and efficiency standards, and is based on the principles of sustainability and the circular economy.
STADLER is a world leader in MSW plants and is present in Mexico through 4 important recycling projects: in Cuautla de Morelos (OFMRS), in Chihuahua, in San Luis Potosi and now in Azcapotzalco. Three of these projects have been fully completed, and the remaining one, soon to be commissioned, is expected to be a great success in its location.
Proud to have been selected to participate in this exciting step towards a sustainable future, Natalya Duarte says that this plant is special for several reasons: "The innovative sorting technology allows us to move from a more manual sorting process to an automatic process that ensures higher recovery efficiency and material purity. This results in recyclable materials of higher value. The recycling process is also professionalized and industrialized, striking the right balance between technology and manual quality control. In addition, the plant operates under criteria of efficiency and sustainability that are completely new in this country, and it sees technological innovation as a fundamental tool in the care of the environment."