The COMPACT+ is the latest generation COMPACT. The machines are inherently compact and share the latest advanced sorting technology with the Mistral + CONNECT, giving the same high levels of performance.
It is available in two configurations (conveyor or gantry) the COMPACT+ is particularly suited to installations where space and access is limited. With the option of offsetting the control cabinet and the ability to modular assemble the machines on site, the COMPACT+ is the ideal solution for a quick and easy retrofit. The machines have been designed to interface easily with all types of high-speed conveyors supplied by different integrators, whether for a refurbishment project or a new sorting center and are also compatible with belt speeds up to 4.5m/s.
As well as being easy to integrate, the COMPACT+ is equipped with the latest innovations developed by Pellenc ST. These offer improved performances, using the new "FLOW" detection system which combines a new spectrometer with an extended NIR/VIS spectrum and focused illumination. This combination enables recovery of waste to high levels of purity. In particular, the "FLOW Detection" system improves the separation of paper from cardboard, different grades of PET or wood, for example.
Thanks to the CNS "Central Nervous System" software platform, operators will be able to integrate future
technologies and Pellenc ST scanners such as the IIoT, Watermarking and Artificial Intelligence in the form of
upgrades. The COMPACT+ also has all the options already familiar from the Mistral+ CONNECT range, such as Dual
Vision, Metal Detection and Profile Detection for the detection of black and inert materials.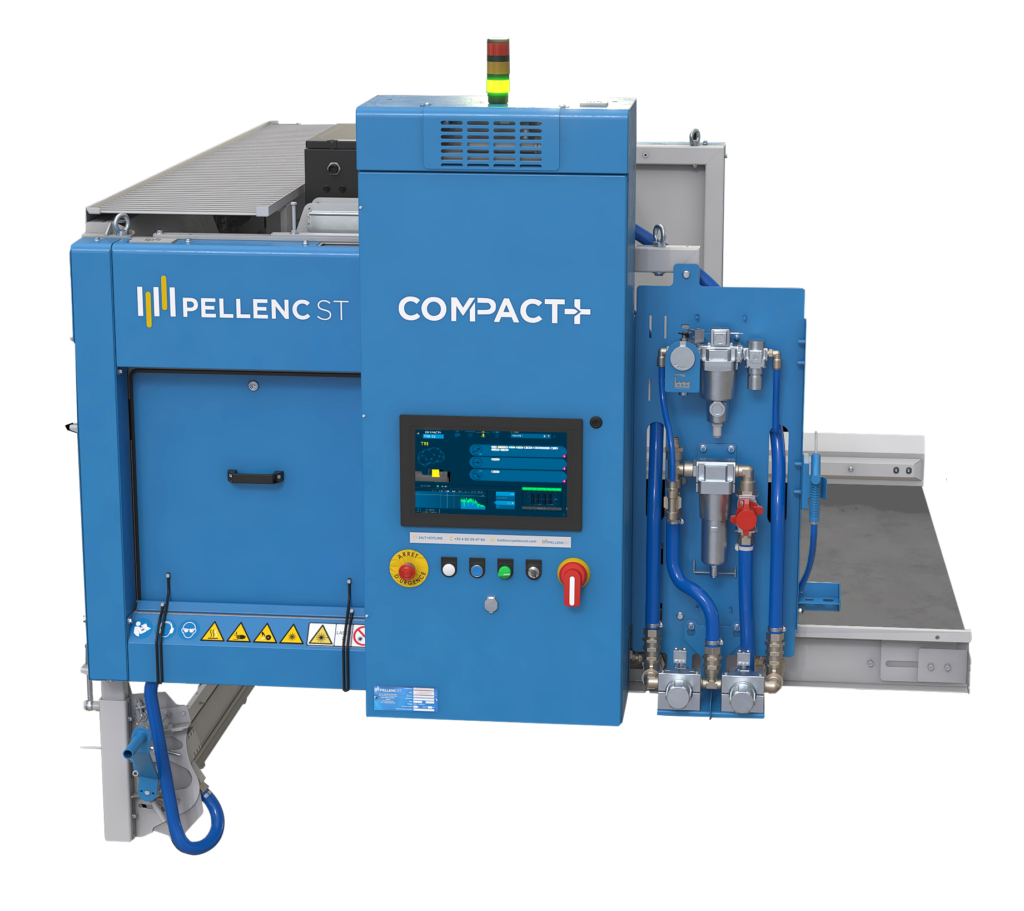 During the development phase, Pellenc ST paid particular attention to simplify the work of operators in order to optimize maintenance costs. Firstly, in terms of ergonomics, the control cabinet is fitted with a large screen to improve the man-machine interface. Pivoting reflectors are also provided to facilitate the ease and safety of maintenance operations.
The COMPACT+ stands out with its low energy consumption. Maintenance costs have been minimized, particularly in terms of air consumption and wear parts.
Last but not least, Pellenc ST offers its customers local and personalized support through a 24/7 turnkey service offer which includes wear parts and the Smart&Share application. Smart&Share is a valuable performance support tool that continuously analyses the operation of optical sorters and helps optimize their operation with intelligent alerts and customized reports for increased availability and better sorting quality.