Following a thorough selection process, Željko Penić-Ivanko, the owner and director at LUGplast d.o.o. is sure that he made the right choice with ANIS the fully-automatic channel baler ATS 110-75D-5V 110t.
For Croatian company, LUGplast specialized in sorting into 15 fractions and processing of recyclable materials, especially various types of plastic and waste paper, and cardboard was old, worn-out, and low-capacity baling press a source of growing concern last years.
The cost of maintenance and replacement parts increased significantly, reported the owner and director Željko Penić-Ivanko, so it was time to look around for a new baling press with an infeed chain conveyor for the site in Karlovac which would compress all recyclable materials, most of which are PET bottles. Important criteria in the selection were machine robustness with heavy-duty design and quantity of wear-resistant steel integrated with the baler's body, industrial safety, energy consumption, noise level, and maintenance effort – in addition to the technical competence of the future supplier and, of course, the price. Following an intensive pre-selection process, director Mr. Penić-Ivanko still had two providers on the shortlist and planned reference visits. The first hurdles already appeared at this early stage, he said. "One provider only offered references that were located far away, the second reference no longer wanted their machine and offered to sell it during the reference visit".
Convincing reference customers
Mr. Željko Penić-Ivanko then contacted ANIS baler company after heard a good positive opinion about the company from the other users. He was "very impressed" by a visit to the ANIS plant and saw how high the share of in-house production is at ANIS. "Made in Germany" is very important to the recyclers but this company is located in Slovenia. He also found out that most renowned EU baler manufacturers as well as ANIS use the same basic hydraulic and electrical components as well as wear-resistant steel.
Also, after having made several reference visits to ANIS customers in the south part of the EU, Mr. Penić-Ivanko returned home satisfied. Among others, he went to a company that has been pressing the entire range of materials in constant alteration with a large-format channel baling press from ANIS for eight years without complaint. "I saw how well the machine works under high stress during everyday operation", he said.
The art of finding the optimal baler for our business!
And, during the visits, some market participants promoted a specific baler technology (some strictly advocated pre-compacting technology with a Single Flap, some with Double lateral Flaps, some advocate cutting press technology) but ANIS doesn't. Because it offers all options –and in advising ANIS is impartially focused on the customer's type of business and their processing materials.
The visits showed Penić-Ivanko that the cutting (shear) technology from ANIS "works very well" and is, moreover, less expensive to buy.
ANIS baling solutions driven by experience
LUGplast did not hesitate in making clear demands on the new machine supplier. It was agreed that the machine would be returned and penalty payments would be due if product promises (throughput, bale weight, electricity consumption, etc.) were not kept. Only a few manufacturers were willing to make these promises in writing. Thus, it was clear to Mr. Penić-Ivanko "that ANIS stands by its product and behind the advertised achievements "Baling solutions driven by experience".
Based on needs assessment they opted this time for long-lasting robust and efficient ANIS baler model ATS 110-75D-5V, which is powered by a 2 x 30 kW electric motor and has a pressing force of 110 tons (1.100kN) with 160 cm filing opening length. In PET baling, the highly compressed bales reach a weight of up to 480 kg with a bale cross-section of 110 x 75 cm and a bale length of 120 cm and are held together by a 5-fold vertical wire tying. This baling press is equipped with a frequency-controlled drive, which enables power to be reduced by up to 40% compared to conventional drives and is unbeatable in terms of robustness, efficiency, and reliability. The ANIS baler has low operating costs (electricity, wire) and it runs quietly. In addition, it complies with all current regulations on occupational safety. All this leads to a "very good price-performance ratio".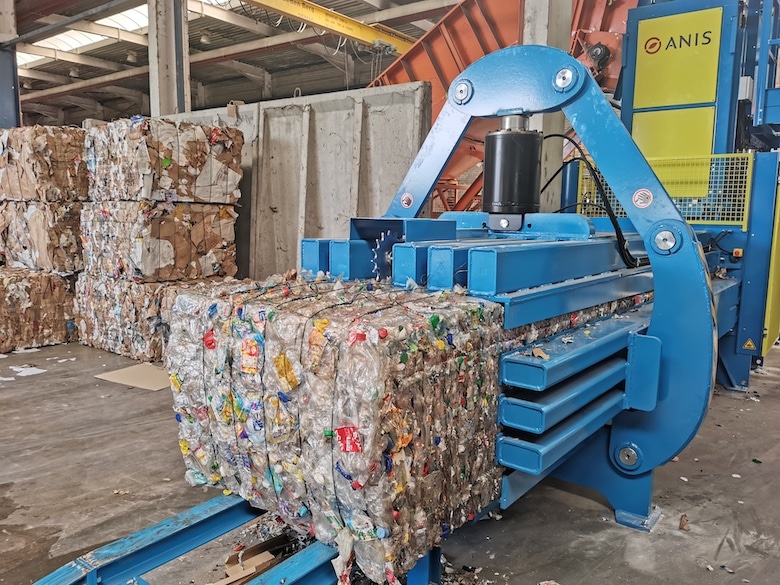 First impressions
After a few months of regular operation, the ANIS customer in Croatia did not experience any serious disruption. On the contrary, we were amazed at how our throughput has been increased because we still have an old baler in our mind, says Penić-Ivanko. Since the new highly-compacted and stackable bales are about 150 kg heavier than the old bales with the same volume, the trucks can be loaded faster with optimal load, the workspace around the baler is much cleaner now, we redeployed workers to the other jobs and finally due to all of these advantages we significantly saved on costs.