Baling and/or shearing also allows for an element of sorting to ensure that the final product is of uniform quality – thereby commanding a higher price from the ultimate user.
Originally designed for use within its own scrap yard, JMC Recycling Systems Ltd of Nottingham, UK, provides a range of different size-reduction products to meet the needs of its customers.
Requiring a great deal of force supplied by hydraulic rams, balers are an obvious choice for size reduction.  Sold under the brand name McIntyre JMC's first baler, a "5025", was manufactured back in 1977. Although modified throughout the last 40 years, the 5025 remains essentially the same today.  The 5025 is a manually operated non-ferrous baler named for the size of the bales it produces – 50cm x 25cm x variable (20 x 10") The original aim was to introduce a robust machine which produced bales which could be lifted manually – although subsequent models can be supplied with bale tracks and various other options to minimize manual handling.  The first 5025 baler was sold to F.E Mottram of Congleton, Cheshire, UK, with the second going to McIntyre's own yard.  JMC still takes early McIntyre 5025s back in part-exchange and believes that Serial number 001 remains in operation today.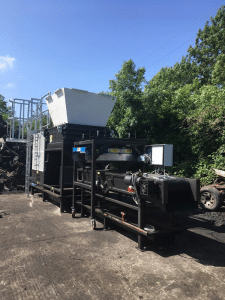 Over the years JMC has looked at increasing the production capacity of its balers through automation.  Complete automation can be difficult when a single machine must handle varying quantities and types of material. Often semi-automatic machines are more versatile.  As such the company's current baler range consists of manual, semi-automatic, and fully automatic balers able to handle anything from turnings and cans to washing machines.  Through its liaison with other worldwide manufacturers such as Bonfiglioli, JMC also offers larger balers for scrap iron, steel, and cars.  
Yards receiving large quantities of material in long lengths, such as extrusion scrap, or wanting to separate different material types (such as valves from the copper pipe in plumbing materials for example), will typically buy a scrapyard shear.  Over the years, JMC has supplied a wide range of shears to suit all common material types.  Again, the use of a shear is not all about size reduction, also allowing the user to separate and sort materials to earn more profit. 
Fitting into neither the baling nor shearing category is JMC's range of Engine Crackers.  Engines are difficult to recycle efficiently and profitably, requiring tremendous force to reduce and separate different component metals.  But by crushing whole engines into pieces that can then be sorted, an engine cracker can pay for itself in under a year. JMC's engine crackers have a 120-tonne crushing force and are built to withstand the high forces needed. They can demolish car engines in just two minutes.  Magnet conveyors can then remove steel, separating it from more valuable aluminum.