The engineering company is supported by its local partner, Ingeniería de Proyectos y Recursos para la Industria. Visitors to the trade fair will get information about the newly developed Vecoplan Infinity line of shredders (VIZ), among other machinery. These highly efficient shredders are notable for their flexible cutting geometry.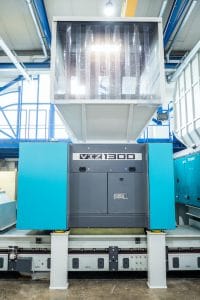 Closed cycle waste management puts high demands on recycling systems. The more homogeneous the material, the easier it can be processed and used to produce high-quality products. Vecoplan AG offers solutions that are ideal for this purpose. For years it has been a successful and reliable partner to the recycling industry. Customers can order complete processing systems if needed. Vecoplan's shredders, which are perfectly matched to the technical characteristics of the given material and the subsequent recycling process, have been very well received by users. They meet stringent requirements in terms of reliability and profitability. Visitors to Expo Plasticos will have a chance to learn about the new single-shaft shredder – the Vecoplan Infinity (VIZ) serie, which has recently come onto the market. These highly efficient shredders are able to deal with all kinds of input plastic materials. Vecoplan puts the focus on a flexible cutting geometry. The machines can be precisely adapted to different input and output requirements by changing the rotors and blades and by selecting the right screen. The performance can be exactly matched to the interface.
Vecoplan AG develops, produces and sells machines and systems for shredding, conveying and processing primary and secondary raw materials in the production and materials cycle. A leader in its industry, the company is continually developing new solutions and manufacturing them in-house. As a partner, Vecoplan thus provides its numerous national and international customers with a clear technological advantage – and it has been doing so for more than 50 years.