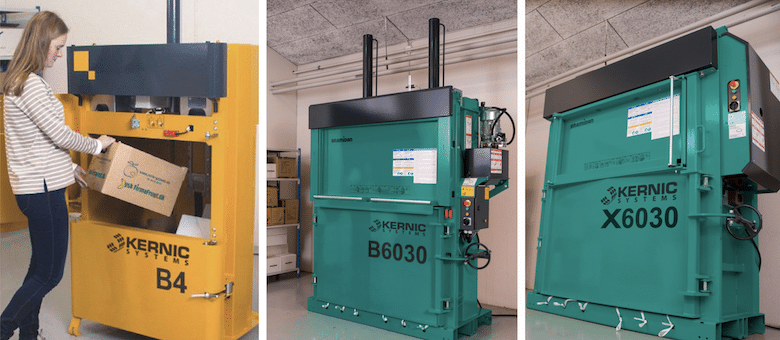 Traditional volume reduction solutions using shredding requires not only the shredders itself but also a baler to bale the large scrap pieces and some dust collection system to take out the dust outside the facilities complying with safety and health standards.
Another way to handle the volume reduction is to compact them directly in saleable balers.
This method requires a Pinch Conveyor optimized to crush the boxes and drop them directly in the baler chamber. Alternatively, a large baler with a large inlet can also do the same job. Then, a powerful baler can create dense compact mill-size bales. This method is suitable for places with clean cardboard and a large volume of boxes as Distribution Centers, Warehouses, or even Cardboard Converters where scraps and old boxes can be dropped directly in the conveyor lane.
This approach is more economical, easy to install, and requires less footprint.
Take a look below a real installation step by step done by Kernic Systems in a large Distribution Center in Ontario, Canada.
This article is published by
For over 35 years Kernic Systems has provided Balers, Air Conveying and Dust Collection systems, Shredders, Industrial Vacuums and recycling equipment to a wide range of markets. Kernic offers our unique OneSource™ for Simplicity approach to systems design. Our experienced team will take the complex task of integrating various system components ...