Given the company's aim to recover metals and return them to the economic cycle, after five collaborative plants, the decision has now been made to construct the first plant equipped by sorting specialist STEINERT alone. It is fitting that, as STORK celebrates its 25th anniversary, STEINERT is supplying the company with the 25th non-ferrous metal separator.
With an annual capacity of 250,000 tonnes of mineral waste from waste incineration plants and a throughput of 140 tonnes an hour, the plant is the largest of its kind in the Leipzig economic area. 11 STEINERT machines facilitate effective metal recovery in the form of a non-ferrous metal concentrate in grain sizes of two millimeters and larger. This is then separated further in a sink/float procedure. As well as mature magnet technology, seven non-ferrous metal separators, and sensor-based sorting technology is used in this process. But innovative technology alone isn't the solution.
STEINERT EddyC family
The design of STEINERT EddyC combines both tried-and-tested and innovative elements in the separation of non-ferrous metals.
Eccentrically mounted magnetic pole system
Self-supporting frame construction for rapid belt replacement
Grain sizes of 0.5 to 40 mm
Fine pole system with a maximum change in polarity at a rotation speed of 4000 rpm
Horizontally and vertically adjustable splitter blade
STEINERT ISS family
The STEINERT ISS induction sorting system is the perfect addition to magnetic sorting and eddy-current separation for recovering residual metals from a mix of materials.
Proven technology for separating all metals
Two sensor types with different resolutions to adapt to your specific scenario
Grain size of 1 to 200 mm
"These days you need good people and everything has to be spot on."
The appreciation that Stork has for his staff can also be seen in the latest customer magazine, which STORK is dedicating to its staff, customers and everyone of importance to the company. The magazine introduces readers to manual sorters, fitters and managing directors, but also the tools essential for economically-viable operation. According to Stork, "STEINERT has recognized that we are a special kind of partner – and we see that." "Of course, we don't always agree but their guys get on with my guys. This then automatically boosts business, something which isn't the case with many other companies."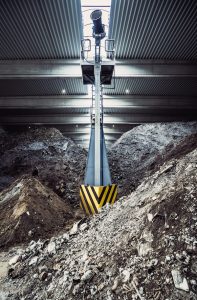 This mutual trust can ultimately also be seen in the fact that the two companies have been working together for 15 years. During this time, they have been able to learn a lot from one another and STORK has become a slag and metal recovery specialist. "We started to get into metals at the end of the 1990s with crushers, screening units, air separators and one non-ferrous metal separator as best we could." After many modifications, they started to work with STEINERT. Stork adds, "and then, of course, we learned that there is more inside than we realized and we built a second plant," later adding one of the first sensor-based plants for recycling stainless steel.
Now, STORK recovers 21 tonnes of aluminum and 4 tonnes of copper a day from slag. "But despite that, we're still just getting started. There has been great progress over the last ten years but there is still massive untapped potential. We definitely expect a lot to change." In fact, growing demand for metals seems to be inevitable. Projections are forecasting a doubling or in some cases tripling of demand for metals by 2050. To reduce the resultant impact on the environment, especially in the form of greenhouse gas emissions, recovering metals from ash is just one of the many aspects being discussed in finding a solution to this dilemma.
For STEINERT, close collaborations and support are essential elements of the company philosophy, from which all parties benefit. For example, the two companies spent a lot of time working together to program new sensor systems, but also important impulses were given which proved valuable when implementing scrapers designed specifically for ash systems. "Especially at the start, we got huge amounts of test material from STEINERT and this gave us totally different approaches to tackling problems. We learned an awful lot during that time and without a doubt, it's paid off. It was the right thing to do." The company still sends staff on STEINERT training courses and to the STEINERT test center to learn more about the latest innovations and applications. "It works."
"We are thinking long-term."
With great foresight, STORK gained approval for mobile plants for processing slag and ash in 1997, meaning that they could plan a major investment in Leipzig with just a minor approval process. Therefore, just in time for the anniversary year, STORK has opened its third plant in Leipzig for processing ash and slag – the third-largest after Berlin and Magdeburg – and for the first time ever, has only used STEINERT technology in its process. "Taking account of the experience we have gained from five collaborative plants, we decided to construct the new one with STEINERT alone." This will ensure cost-effective and efficient recovery of non-ferrous metals using eddy-current technology and of stainless steel using sensor-based sorting technology.
"Through our plants in Berlin, Magdeburg, and Leipzig, we've now got the east of the country fully covered."
The foundations for the next 25 years of company success have been laid and new challenges are already in sight: not only does the company want to move into new parts of Germany, "it's true that things are now changing the world over. Just think of China and Trump." Stork goes on to mention intensified global trade conflicts and more stringent requirements for raw material purity and recycling rates but also expresses a desire to expand abroad. "For me it's hard to imagine ever not investing in this vision," and in these new areas of work STEINERT, with its 130-year history of developing innovative technologies, and its international subsidiaries will be a reliable partner and will always be able to offer a solution thanks to its magnet and sensor sorting technology in waste and metal recycling as well as mining.