Saint Flooring won Take Back Partner of the Year Award in the Carpet Recycling UK 2020 Awards for Good Practice for success in working with the supply chain to recycle post-installation offcuts from the newbuild housing sector. The company, which diverted 250 tonnes of waste carpet from landfill in 2020, was also Highly Commended in the Recycling Champion category.
"I feel absolutely elated with the award as it 'rubberstamps' the success of our take-back project implemented last year. It is testament to all the hard work over the last 12 months," said David Heafey, Finance Director at Saint Flooring who implemented waste material recycling throughout the company's nationwide sites in 2019.
"Across the group, we're saving around £150,000 to £170,000 annually on skips and waste costs by recycling carpet, as well as underlay, cardboard, and polythene," he continued. "Carpet Recycling UK supported us throughout and our membership helped us to find partners to recycle the carpet. Without being a member, I do not think we would have had this success. It's been worth its weight in gold becoming a member of Carpet Recycling UK!"
Highly Commended members are: Designer Contracts and Bath Contract Flooring.
Held online this year, the annual Carpet Recycling UK Awards For Good Practice were sponsored by recycling technology members Mach Tech Services and Warwick Ward. Carpet Recycling UK wishes to thank these companies who would normally take part in the networking available at the annual conference exhibition.
The awards, which have been running for seven years, recognize the important achievements and contributions by members – both individuals and organizations – who continue to advance the sustainability of their business within the carpet, rug, and textile flooring sector, and seek to help use carpet, carpet tile, and other textile flooring waste as a resource in the circular economy.
Recycler of the Year Award went to the century-old John Cotton Group Ltd, which reprocesses clean manufacturing and installation offcuts into new bedding products. Group Managing Director, Mark Cotton said: "Having heavily invested in R&D, our team has worked extremely hard and overcome many hurdles in order to achieve the levels of 'upcycling' we are committed to today."
He added: "We thank our supply chain partners who have been excellent in listening and reacting to our requirements. Undoubtedly, it is the passion of the members of this industry who are committed to the cause of 'upcycling' that makes our 'collective goals' possible. Thank you for ALL your support."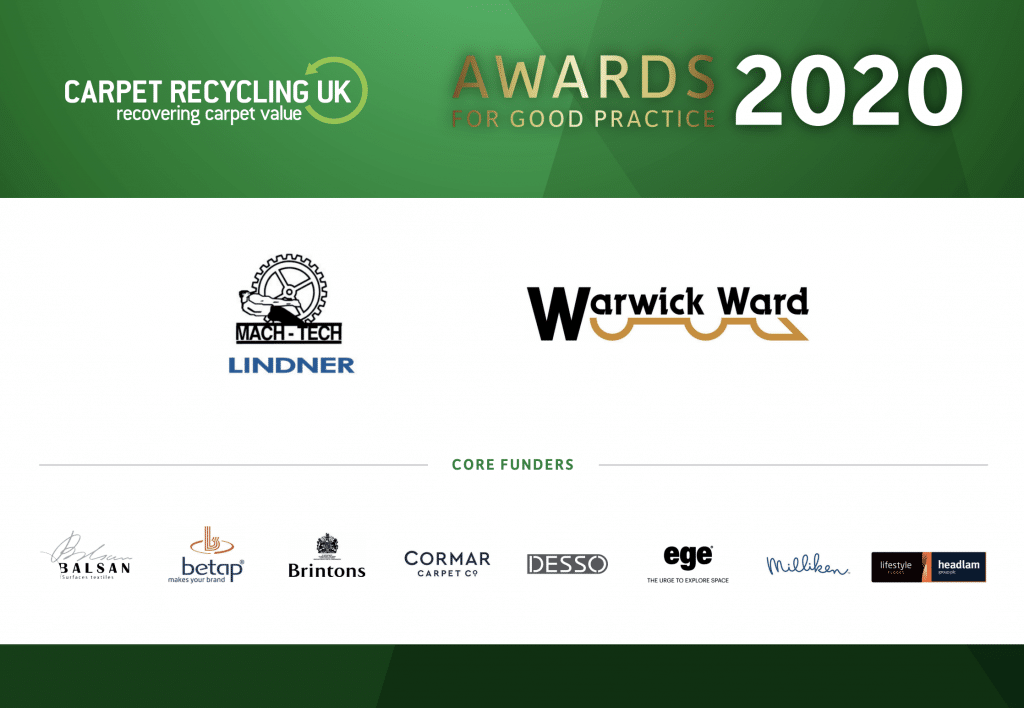 Highly Commended members are: GT Recycling, Australia, Tarkett DESSO, and Melrose Interiors.
GT Recycling Managing Director Trevor McLean said: "We are extremely proud and excited to be recognized for our innovative product that uses carpet fiber as a reinforcing mechanism in footpaths, cycle paths, and hardstand areas."
A founding member, Greenstream Flooring CIC picked up the Reuse Member of the Year award for the fifth time for demonstrating successful take back and reuse of carpet tiles from construction and refurbishment projects, which delivers the best environmental option for carpet and carpet tiles, as well as important social benefits.
Having links with nine housing associations, Greenstream has been instrumental in raising awareness of the need for affordable low-cost flooring. Their mission is to maximize the community benefit from the re-use of flooring and in 2020, the organization diverted over 50,000m² of carpet tiles from landfills.
Greenstream's Founder and MD, Ellen Petts said: "We are delighted to receive this national recognition of our work around the reuse of commercial carpet tiles. We hope the acknowledgment of the importance of our business and others in this sector will encourage further action in the circular economy and reuse elsewhere."
Highly Commended member and previous award winner is: Carpet Tile Recycling.
James Bagdadi, Technical Advisor, Tarkett DESSO was named Recycling Champion of the Year, and Andrew Brent from Designer Contracts was Highly Commended, along with David Heafey of Saint Flooring, mentioned above.
In promoting the Restart scheme, James educates customers on sustainability topics and his technical knowledge enables flooring contractors to understand how to harness materials for best recycling value.
James said: "I'm proud, honored, and humbled to be given this award. Tarkett leads the way in driving the transition to a circular economy in the flooring industry and the Tarkett Restart program is a huge part of that process, allowing us to collect post-consumer carpet tiles and other resilient flooring waste.
He added: "I'm pleased to be part of an organization that allows us to really innovate and develop recycling schemes and contribute positively to what we're doing in the flooring industry. Thank you CRUK for the award and to our contractor partners and colleagues who work with us to facilitate the collection of post-use carpet tiles."
Carpet Recycling UK Manager, Adnan Zeb-Khan said: "We were really motivated by the variety and depth of the entries, up by 20% this year, including one from our Australian member GT Recycling. As the 'go-to' organization for sustainability issues relating to circular design and end of life waste outlets for textile flooring, we will continue to represent our members' interests and advance sustainability within the sector."
CRUK thanks its core funder members for their continued support – these are carpet companies Balsan, Betap, Brintons Carpets, Cormar Carpets, DESSO, ege Carpets, Lifestyle Floors/Headlam, and Milliken. CRUK's mission is to grow its membership and presence and to promote design for recycling to reduce waste and the diversion from landfill of textile flooring waste in the UK to a resource for sustainable use.