To be prepared for the growing demand for recycling cable waste S-Firma decided to procure a new cable recycling plant. The choice fell on the specialist for recycling machines and systems company THM recycling solutions from Eppingen-Mühlbach in Germany.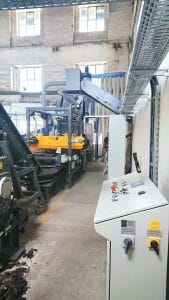 The new cable recycling plant consists of a granulator for pre-shredding of the cable waste, a magnetic separator for sorting out ferromagnetic contaminants, a cutting mill as fine cutter as well as all necessary conveyor equipment. The input material is loose cable waste from households and industry. After processing the cable scrap with the cable recycling plant from THM, a copper/plastic fraction with a grain size of 4 mm is the outcome. With a downstream separation plant, a pure copper fraction is obtained from the copper/plastic fraction. The cable recycling system from THM has a throughput capacity of approx. 800 kg / hour.
S-Firma offers comprehensive services for companies and citizens in the field of waste recycling, including the disposal of hazardous waste. The company has all the necessary certificates for waste management and is also equipped with all the necessary and modern technical equipment that is required for a smooth waste treatment process. This also includes its own transport vehicles. The services offered include buying, loading, collecting, sorting and processing of paper, a wide range of plastics, electronic waste, metal waste as well as other waste and hazardous waste. Particular emphasis is placed on good cooperation with municipalities, cities, and waste collection centers. The company employs more than 80 people in its production workshop, with up to 80% of the employees being disabled people.