EDGE Innovate have announced their participation at CONEXPO 2023. This will be EDGE Innovate's fifth instalment of the exhibition and the Irish manufacturer of bulk material handling and recycling equipment is extremely excited that EDGE customers will get to experience the company's newest machines, technology, and services.
Lee Williamson, EDGE Innovate North American Sales Manager explains what visitors can expect from EDGE Innovate at CONEXPO 2023 "EDGE Innovate are delighted to be exhibiting once again at CONEXPO. Our theme for this year's event is "Next Level Solutions". Our objective is to showcase the latest equipment and technology that allows organisations to increase processing capacity, provides greater efficiency and offers the best possible return. The equipment we will have on display at CONEXPO 2023 will allow operators to do just that; to bring their operation to the Next Level".
ON DISPLAY
From the largest mobile trommel on the market in the shape of the EDGE TRM831, to the EDGE FTS75 Mulch Master and the VS420 high torque shredder; the products to be displayed at CONEXPO 2023 are proven to meet customers demanding requirements when it comes to reliability, production capacity and cost of ownership.
EDGE TRM831 Mobile Trommel
EDGE's latest offering is one of the largest wheel mounted trommels on the market and provides operators with unrivalled production rates. With extensive stockpiling capabilities thanks to its end discharge conveyor design, the TRM831 design prevents product cross-contamination and reduces the double handling of material. This is complimented by a remote operated, 180° radial fines conveyor as standard which has the capacity to stockpile up to 1030m³ (1347yrd ³). The EDGE TRM831 portable trommel is ideal for the high-capacity screening of various applications including topsoil, compost, sand, household waste and construction and demolition waste. With a wide range of different drum types and screening media available, the EDGE TRM831 can be customised to suit the customers exact application requirements.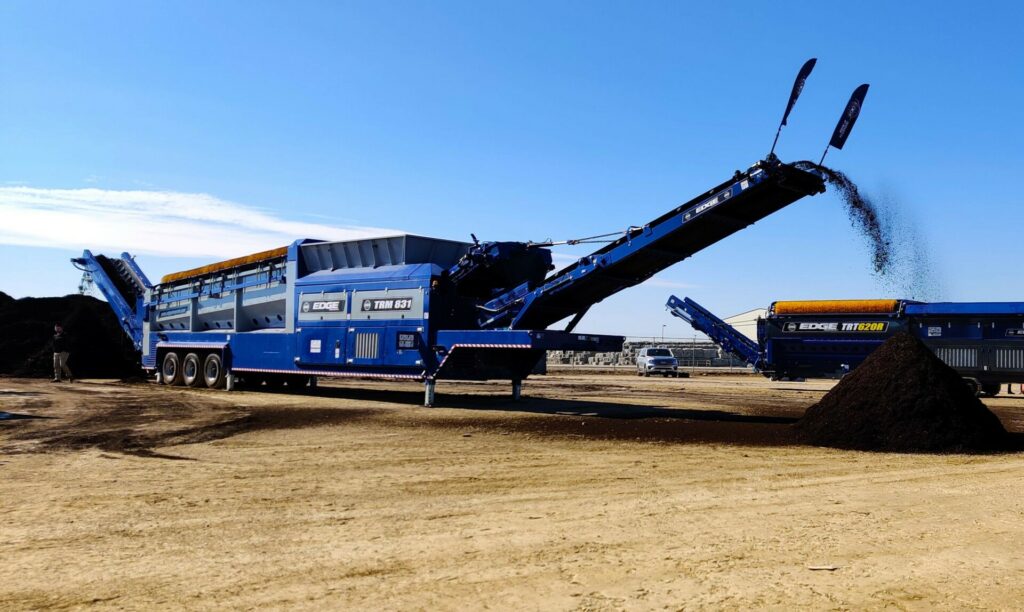 The EDGE TRM831 incorporates a host of impressive design features such as an eco-power saving functionality which reduces unnecessary running costs and a user-friendly HMI control panel for the easy adjustment of machine parameters. An intelligent load management system prevents drum overload and ensures that the trommel screen is always operating at optimum performance with minimal supervision.
EDGE FTS75 MULCH MASTER
The EDGE FTS Mulch Master is setting new standards in the turning, blending and stockpiling of organic material. Pioneered by EDGE Innovate; the FTS Mulch Master is a portable feed stacker that is specifically designed for processing lower density, organic materials such as mulch, compost, and soils. The unique hopper design from EDGE ensures 100% of feed stock sees the turner – a process the company says is not possible with traditional windrow turners.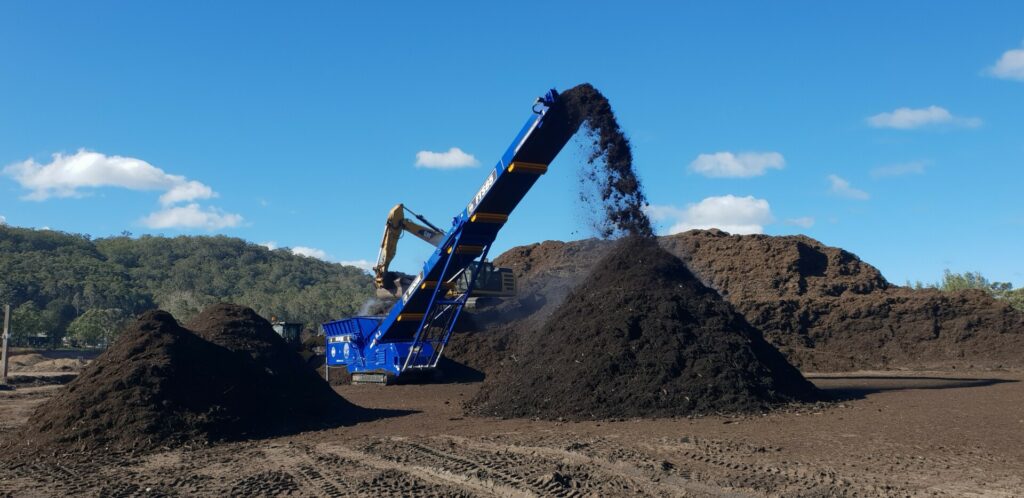 By combining the two methods of flipping, rotating and constant conveyor flow; the EDGE FTS75 Mulch Master prevents unwanted material friction and compaction. Material is untangled via the forward/reverse high-speed turning drum which allows the feed material to breath whilst allowing the material to remain cool, thus, reducing the risk of combustion and anaerobic or "sour" mulch
With a production capacity of up to 764m³/hr (1000yds³/hr), the EDGE FTS75 Mulch Master allows operators to increase their ability to turn material in comparison to what is currently on the market whilst also providing greater flexibility.
EDGE VS420 High Torque Waste Shredder
With decades of knowledge in the design, manufacturing and installation of mobile waste shredders, it is no surprise that EDGE Innovate's VS420 twin shaft shredder launched at CONEXPO 2020 is quickly gaining a reputation as a world class shredder. With its high capacity, reliability and low running costs, the EDGE VS420 is proving to be an excellent shredding alternative to what is currently on the market.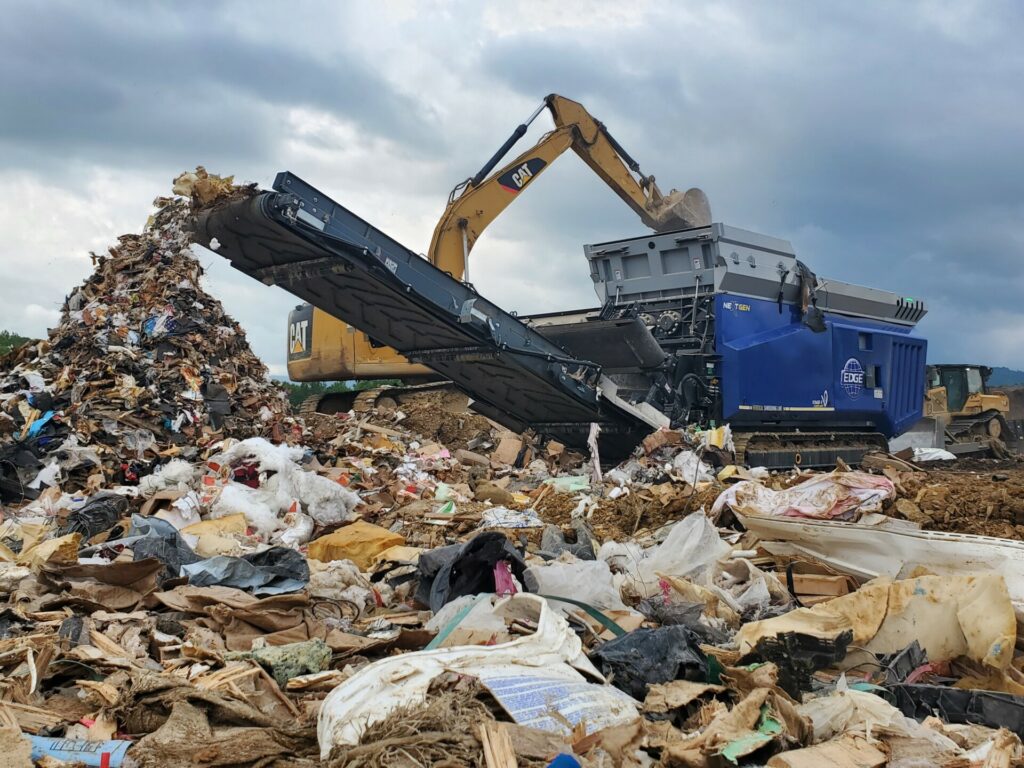 EDGE's next generation shredder has been developed for ultimate versatility and high resistance to contaminants with a number of customisable shredding programmes and chamber configurations available. An intelligent operating system which incorporates tramp metal protection provides the ultimate security from contaminants and prevents asset damage.
The VS420 offers operators a host of design features include hydraulic hopper extensions, a large automatic tipping hopper with remote functionality, hydraulic height adjustable twin pole magnet and a "One Point" service area. EDGE's VS Status Lighting system which provides a quick and simple communication link between the machine and the operator. It allows the operator to know the status of the shredder, when to continuing loading material, when not to load or if there is a blockage thus ensuring maximum throughput while preventing material overload.  EDGE Innovate's next-generation shredder has been proven to achieve high-capacity throughputs, operational reliability, and offers low operational costs.  
EDGE Innovate will be showcasing their products and services in the Silver Lot, stand #S5066 from the 14th to 18th March. Discover more via www.edgeinnovate-event.com