New high precision granulator series G17
CMG launches a new series of small size beside the press granulators with connotates of high caliber. The very innovative and unique attributes of such new series are several and all contribute to obtaining the highest degree of productivity, regrind quality (homogeneous particle dimensions and absence of dust), efficiency of operation and the best application flexibility. In its standard configuration the G17 granulators are applicable to processes of injection moulding and of blow moulding. In the ET1 or ET2 configuration, they are suitable for extrusion applications. The granulation capacitiy range is from 5 kg/h up to 90 kg/h.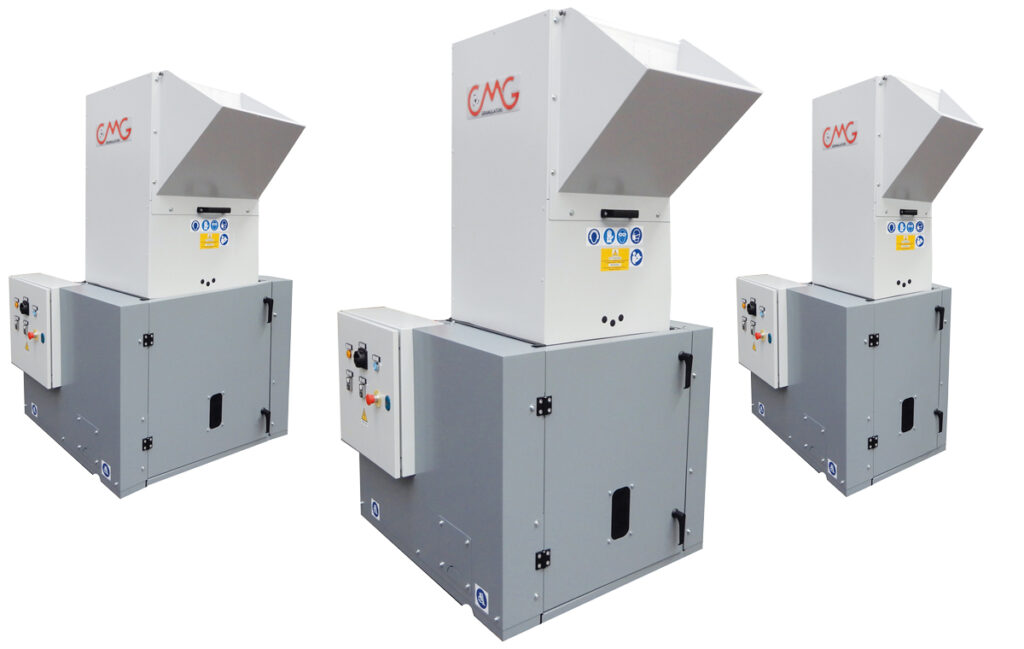 New G26 Line: Versatility, Robustness, Precision
G26 is the new line suitable for application with injection molding, blow molding and extrusion processes, it is made of three models: G26-30, G26-45 and G26-60. The line features integral sound enclosure and a very innovative feed hopper design to accommodate the widest variety of shapes and dimensions for the parts to grind. All models operate in high-efficiency conditions, are all equipped with EISA premium-efficiency motors and can have AMP controls (Adaptive Motor Power). Energy utilization is 20 Wh/kg vs the + 40 Wh/kg of conventional solutions. The standard configurations of the new series cover capacities starting from 50 kg/h all the way up to 300 kg/h.
Customer Service
With Headquarters, Production Site and Technical Center in Italy, and the largest distribution network in the plastics industry, CMG is active all over the world with localized technical service, spare parts and sales centers.
Find the nearest CMG service center