Herbold Meckesheim GmbH is leading the way in developing processes to treat the flow of waste in a cost-saving, high-performance way and a constant high-level quality. In these process steps size reduction is one of the key elements for saving energy and operating costs.
The Herbold Granulators of the SB series is this innovative step fulfilling the demand in saving energy and reducing operating costs in processing materials like HDPE/PP bottles, PET bottles, PET trays, shredded materials like pipes, profiles, sheets, and similar materials. With the Herbold granulators of the SB series, the material is not fed into the cutting chamber by the force of gravity like in standard gravity-fed granulators but instead fed evenly to the rotor using horizontal feeding screws. The feeding is load- controlled which ensures the granulator operating at optimal capacity and at an even rate without power peaks known for gravity-fed granulators.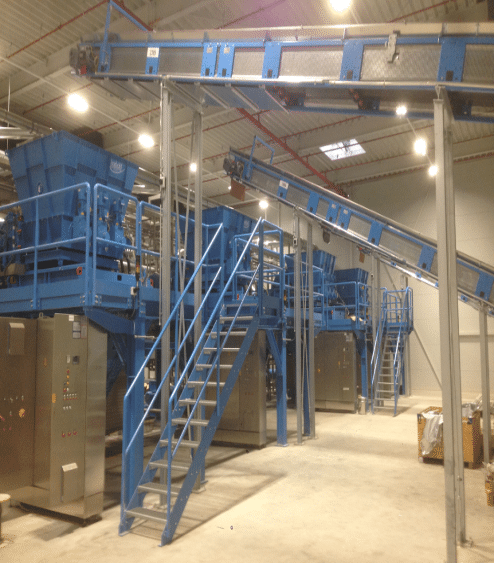 The advantages of the Herbold granulators of the SB series: 30-50% higher throughput, considerable savings in energy costs due to lower energy consumption in the range of 30 -50% compared to the same size of conventional granulators. The SB granulators are also equipped with a vibration sensor measuring the vibration during the operation of the machine. The sensor indicates when it is necessary to replace the knife and warns about various hazardous operating states.
In addition, the Herbold granulators of the SB series are fitted with the same innovative advantages like all Herbold granulators: heavy-duty welded steel construction, split housing design for maximum maintenance access, rotor and bed knives are adjusted from outside of the granulator, constant cutting circle due to adjustable knife gap, the housing protected with replaceable wear plates, the key parts of the rotor designed with exchangeable wear elements. Due to the outboard rotor bearing, a sealed housing and a modified discharge trough the SB granulators can also be used as wet granulators.
All these features are contributing to lower maintenance costs, lower operating costs, and represent the reasons for worldwide success. Since the development of the SB series, Herbold has sold these machines in every corner in the world. You can find these machines in New Zealand, South Africa, Asia, Russian Federation, South America, North America, Europe. The SB granulator series is not only a key step in the Herbold PET bottle or rigid PE/PP washing lines but you can also find them in lines of Herbold competitors.
The Herbold Granulator of the SB series has met the challenge of the Circular Economy in reducing energy and operating costs.