Our activities are characterized by two essential features: the economic benefit for our customers and thesustainable use of our environment..
Special commitment and highest technical know-how are required to meet those demands successfully and permanently.. And that is typical for JENZ.
Claiming to be the most innovative and efficient company in this industry we meet the permanently increasing challenges of our customers every day. Trustworthy, authentic and goal-oriented.
JENZ is optimally positioned to allow you to use the energy potential of trendsetting raw materials with an increased value. We produce ecologically compatible, high-quality machines for the recycling of biomassserving a sustainable and resources-saving energy generation.
An active process culture with the ability for continuous improvement indicates the basis for the strength of our company– based on employees showing high efforts and assuming full responsibility for every step and every action.
And as the human being is our most precious asset, we challenge and support our employees within the scope of their abilities. We respect ethic principles and cultural differences and we condemn every type of racism and hostility to foreigners.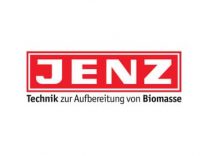 Company name:
JENZ GmbH Process Biomass
Address:
Wegholmer Str. 14
Phone number:
49 (0) 5704/9409-0