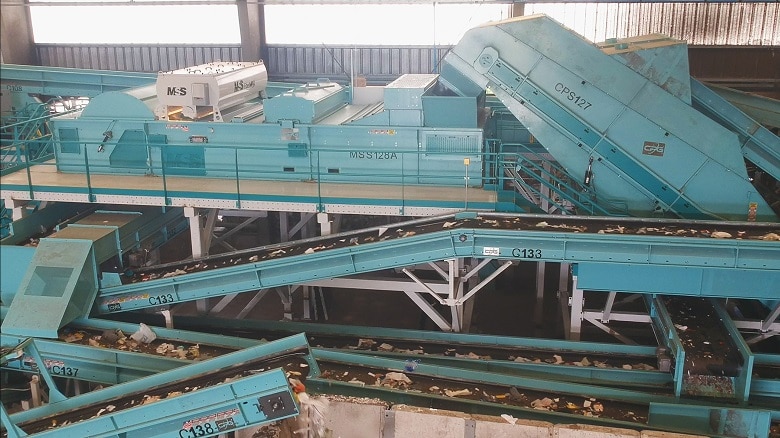 Balcones Resources, a nationally recognized recycling company, partnered with CP Group of San Diego, CA to upgrade their single stream residential and commercial material recovery facility.
The 100,000 square foot facility was originally installed in 2012. Changing market conditions, rising labor costs and new technology were the main motivators for Balcones to undertake a large retrofit.
"Balcones is committed to creating and operating recycling programs that produce positive environmental and financial impacts. These programs must endure the test of time and market changes," says Kerry Getter, Balcones CEO.
In 2018, Balcones committed to working with CP Group on a system retrofit. The retrofit gave Balcones a competitive edge, increased throughput, decreased operating costs, and improved fiber recovery and purity. The collaborative effort between Balcones and CP enabled the companies to analyze and test several scenarios and determine the correct design arrangement and use of optical sorters.
"After a lengthy project analysis, we decided to work with CP Group because of their success in the marketplace, advanced technology, and the experienced team gave us confidence in our investment. MSS demonstrated our material and proved the results we needed to achieve to make the investment. We are already seeing those results at our facility," says Getter.
The large retrofit was completed in May of this year. The heart of the upgrade features three MSS CIRRUS® FiberMax™ optical sorters. MSS is the optical sorting division of CP Group. FiberMax™ optical sorters run at 1,000 feet per minute on 112" wide belts using near-infrared technology to clean the fiber streams with both positive and negative sorting.
The focus of the FiberMax™ has been the removal of fugitive plastics and other non-conforming items from the paper stream. This creates cleaner material which in turn makes a more valuable product.
The retrofit also includes a new 4-deck CP Glass Breaker screen to remove glass and fines, a 140" wide CP AntiWrap Screen™, CP's newest fiber screen which separates the large fiber from other materials, and a 140" wide CPScreen™ to separate small mixed paper. The new glass breaker was implemented to increase the recovery of glass and eliminate disc wear. The fiber screens were upgraded in order to increase material recovery while greatly reducing the labor required to clean the screens due to the anti-wrapping capabilities.
The equipment upgrade also came with new software to enable Balcones to better understand their production through quantified data. Through the use of an integrated SCADA package, Balcones can track their live production on their balers including daily material totals, as well as inbound and outbound material volumes on each line.
"Balcones really pushed us to offer the very best in technology that would serve them for many years to come. Working with the Balcones team has been a real pleasure. As operators and marketers of their material, they really know their numbers. When it comes to MRF design you have to know your numbers in order to create the right solution. Balcones made it easy for us. We're looking forward to continued work with them," says Branden Sidwell, CP Sales Engineer.
This article is published by
CP Group specializes in Material Recovery Facility design, manufacturing, installation and service. CP Group—comprised of CP Manufacturing, Krause Manufacturing, MSS, Inc., and Advanced MRF—provides award-winning recycling system design, manufacturing, retrofits, audits, service and consulting. CP Group provides turn-key solutions for mixed waste, ...