As a result, processors are turning to mobile, trailer-mounted shredding systems capable of quickly reducing bulky plastic material onsite into small chips. By increasing the density, shipping costs are dramatically reduced. Shredding the plastic to size and readying it for further processing also maximizes the price that recycling plants pay the initial processor.
Now such recycling is simplified with portable, customizable shredding systems mounted on a fifth-wheel trailer that enables travel to as many sites as needed. After removing steel components from bulky plastic items, processors can crush, compress, shred, chip, size, convey, weigh, and bag the material in supersacks in a single, turnkey process.
When chipping a voluminous product to size in the field, shipping costs can be cut by two-thirds or more by densifying the material and taking the 'air' out of the freight cost. This type of mobile system speeds the material processing rate and allows for controlled size reduction into chips that are worth more per pound when sold to recycling plants.
With conventional shredders and granulators, reducing plastic to a specific size is difficult because the material is randomly cut until it is small enough to fit through a sizing screen. With this approach, 20 to 50 percent of the material ends up incorrectly sized due to variability in screening and processing with fines being another problem to be dealt with.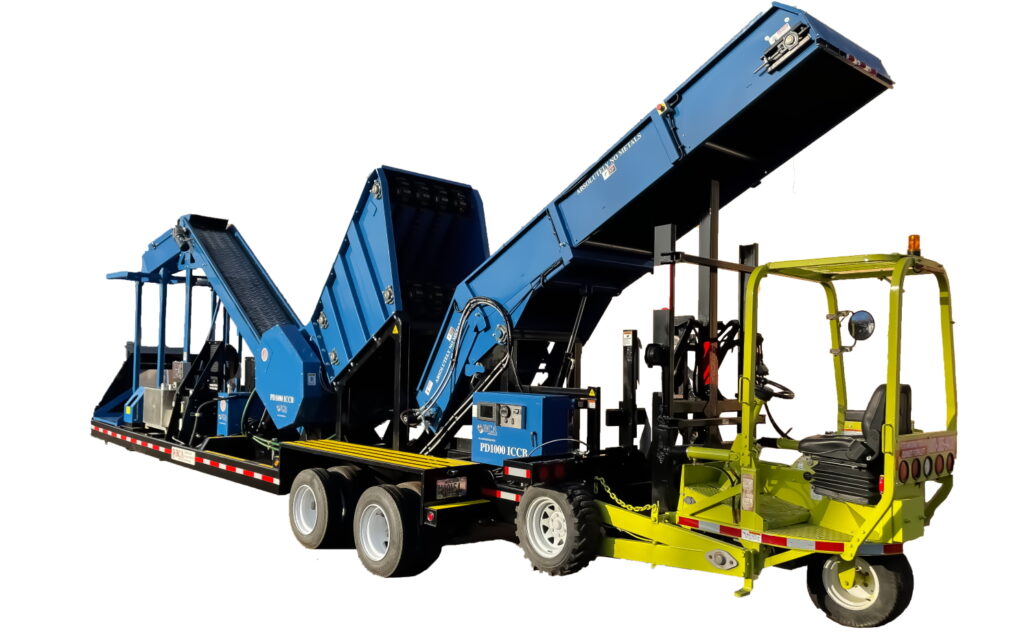 To address the root cause of such inconsistent sizing while providing for mobile use, the industry has developed cost-effective, customizable, portable shredding systems using a single pass system rather than screening.
These systems can quickly reduce oversized plastic onsite, fill half-ton supersacks and load the supersacks onto trucks. The complete process significantly reduces shipping costs by enabling more products to be transported in the same space. It also maximizes the sale price by reducing the need for further processing.
The shredding technology is designed to crush, compress, shred, chip, size, convey, weigh, and supersack ship oversize plastic products in a turnkey process. The system is designed and built as a fifth-wheel trailer, which weighs under 32,000 pounds. This weight includes an optional, lightweight portable forklift used to move material to the shredder and convey supersacks full of plastic chips to trucks for transport to recycling plants.
By incorporating the knife system technology, a standard shredder is transformed into a hybrid doing the process work of a dual shaft rotary shear shredder and a single shaft granulator, but without the need for screening. The technology uses the precision grabbing action of the high torque, dual shaft shredder to cut the width of the material, while the Triplus bed knife design of the shredder sizes the length. The process produces accurately sized material in one pass without a screen. End-product size is based on the size and geometry of the knives and can be designed for the size the customer requires.
Unlike traditional equipment, the knife system is capable of shredding, chipping, and sizing any type or size of plastic in a single pass without using a screen. A shredder utilizing this design can produce over 85% correctly sized material in one pass with less than 10% oversized material and a tiny percentage of fines.

When cutting to size is important, for complete, customizable, onsite shredding and shipping operations, plastics recycling professionals can achieve approximately 2×2-inch chips at an example rate of 2 tons per hour for 50-to-96-gallon waste bins with the knife system.
The system utilizes a rotary bar system that crushes and feeds plastic containers up to 96 gallons into a 48-inch knife system. The chipped product is then typically conveyed into a bagger system, which includes a diverter and weigh scale integrated with two supersack stations, each of which holds up to 1,000 lbs. capacity.
The portable system can bag or convey approximately two to two-and-a-half tons per hour of curbside waste bin material.
Because every organization has unique shredding requirements, the portable system is customized to suit specific needs. It can be ordered in various sizes and capacities, and with or without items such as baggers, weigh scales, or lift trucks. While processors have long shipped bulky plastic objects like waste bins, bumpers, 55-gallon plastic drums and plastic pallets to recycling plants despite the inefficiencies involved, the recycling industry now has more cost-effective methods to lower shipping costs as well as boost productivity and profit.