Their facility, first opened in 2013, started with a conventional fleet of wheel loaders and excavators. Looking for alternatives to load their new shredder, their wish list led them to consider replacing the excavator with material handlers. "We wanted an elevating cab," Shipp recalls. "And we needed rotation in the grab in order to pick out the material that should not go into the shredder." But a material handler that could live in the recyclers' extreme environment remained a top priority.
Serious about recycling
Shipp and his father Gary first got into the trash business with Springer in 2004. As their knowledge of trash hauling expanded, their interest in new processes for recycling grew, as well. Following a 5-year process of licensing and planning, they built the new Sun Recycling facility with the goal of sending no material to a landfill. Today, their facility receives 125 to 200 truckloads of waste material every day, six days a week. They deploy dumpsters and roll-off trucks throughout the DC region. Loads of construction and demolition debris, asphalt, dirt, metals, drywall, wood, carpeting, furniture, and other waste materials are all dropped on the facility's tipping floor. Then, one of the 818s goes to work.
Keeping pace with waste
Employing about 50 workers and drivers, the whole operation takes place under the roof, in a fully enclosed building. Metals and concrete are sold into recycling markets. The residual stream goes to a nearby energy-from-waste producer. Cycle times are critical. "We cannot be down," says Shipp. "We only have 250 yards of metal storage in three bunkers; and another two bunkers for concrete. However, we do not have the capacity to store our residual material stream. We have to truck material out immediately. We watch those numbers pretty closely day-to-day, to make sure we are moving out at least as much as we are bringing in."
Up to the task
Finding the right machine to feed the shredder non-stop in a harsh environment turned out to be a simple search. Shipp and Springer enjoy a solid relationship with Midlantic Equipment, their SENNEBOGEN dealer. "We needed an additional machine, and our territory representative at Midlantic, Shane Pinzka, was able to demonstrate an 818 quickly," says Shipp.
The load-out solution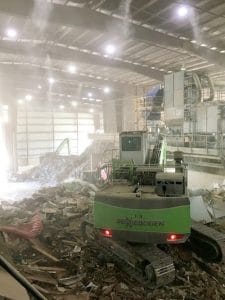 A continuous stream of walking floor trailers is ready to transport the plant's residual material to an energy plant. "Residual" covers about 40% of the material processed here. The need to move product efficiently into the trailers led to Sun Services' purchase of the second 818 M."We made some changes to the building to improve our loadout," Shipp explains. "We had been using our wheel loaders, but we realized that another 818 would be the best fit for that end of the operation." With the 818's serial elevating cab, operators are able to see into the trailer as they place the materials, so they can fill holes and finish the load quickly. According to Springer, the operators are also pleased with the new machines because the cab offers enough space and is a comfortable place to spend a working day at.
Three to stay ready
The latest addition to Shipp and Springer's SENNEBOGEN fleet is identical to the first two machines. Again, the driving factor behind the purchase was efficiency. Day-to-day, the 818s are keeping up with the demands of the pace and the working environment. According to Shipp, "Their downtime for general maintenance and blowing out the machine because of over-heating has come to a minimum. We used to have to do that all the time. These 818s have been a great addition to our fleet." All SENNEBOGEN machines are equipped with powerful reversing fans to help them run cool in harsh conditions like this. For an extra boost, the Sun Services units were fitted with a custom pre-cleaner.