The family firm, now in its third generation, has a history of exploring new ideas and business opportunities, and for investing in new equipment to put their ideas into action. After bringing a Bonafiglioli car shredder into the operation a few years ago, brothers George and Bruce Zubick moved this year to commission North America's first Bano vertical mill to anchor a 10,000 sq. ft. electric motor-breaking plant. But to feed the process, the Zubicks elected to stick with a familiar name.
Housed in a new enclosed structure on the Zubick's property, the facility is supported by the yard's latest addition to an extensive fleet of SENNEBOGEN purpose-built scrap handlers.
Bruce Zubick recalls, "The decision to go with SENNEBOGEN was determined before the processing equipment arrived. We knew what the machinery was and what was needed to feed it. We looked at other equipment and other brands, but the 818 M fit the bill."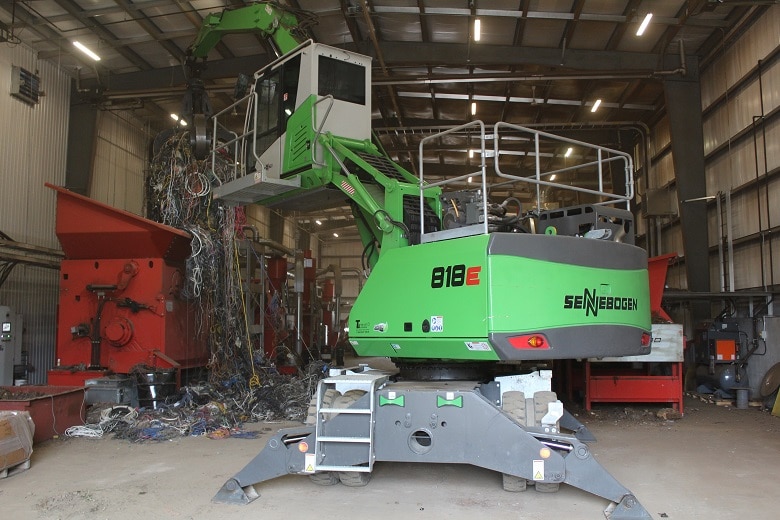 A history "outside the box"
Even the Zubick's experience with SENNEBOGEN is marked by "firsts." When the manufacturer originally introduced its 850 model, the first one sold in North America came to the Zubick yard. "We bought the 850 off the blueprints," says Bruce. "The decision was based on our experience with our SENNEBOGEN 835." Later, the brothers installed the first remote-operated SENNEBOGEN to feed their new Vezzani gravity shear – also a first in Canada.
"We've never been afraid to look outside the box. Being open to new ways is part of doing due diligence," continues Bruce. "We do have a high trust in SENNEBOGEN's reliability and support. That first 850 was the largest in the business at the time. We've added another since then. Now we've added a 'baby brother' for this new application."
"Purpose-built" facility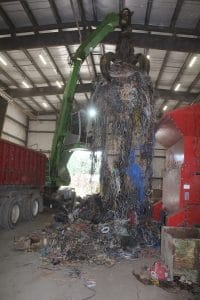 The new non-ferrous operation is housed in its own 150 ft. x 60 ft. (45.7 m x 18 m) "purpose-built" building, 35 ft. (10.6 m) high at the peak and 30 ft. (9 m) at the walls. The facility runs 2 lines: one to strip and cut wire; the other running the Bano mill and Steinert separators to process "meatballs" extracted from the nearby shredder operation into ferrous and non-ferrous streams. The motors are largely salvaged from appliances that Zubick processes onsite, as well as units shipped to their operation by other yards in the region.
The 818 M feeds the two parallel lines from one position at the front of the process, using the mag-grab to move loads of shred magnetically from trucks into the mill, then switching to the grapple mode to feed bundles of wire into the cutter from stockpiles on the floor. At 48,060 lbs. (21,800 kg), the 818 is close to one-third the size of their 850s, but it provides high reach and lift capacity required to match the processing speed and volume of the mill.
Right-sized for the job
The operation is overseen by Bruce's son, Ben Zubick. "SENNEBOGEN's elevating cab lets the operator see right into the trucks and into the hopper. He has to stagger the material as it's loaded into the hopper, so the visibility allows more efficient handling. The 818's compact swing radius is ideal for an indoor operation like this – there's just 1.5" (38 mm) of counterweight out the back! On most machines, the counterweight overhangs the pads by a foot or two."
Ben notes that the size and operating range of the 818 were integral to the design of the new facility. "When you're outside the sky's the limit for equipment," he says. "But inside, you have to consider the area around you, the height of the roof, the ceiling fixtures like ductwork, and electrical. We could have built an arena to house all this equipment; but it's not an arena, it's a reasonably sized, efficient facility with exactly the right piece of equipment from SENNEBOGEN."