Established over 50 years ago in 1969, when founder Robert Heatrick invested in a Ford backhoe loader to undertake drainage contracts for local businesses in the Armagh area, the company grew and began to diversify into civil engineering, completing many projects throughout Northern Ireland.
Today, the company remains a family business with hard work and dedication to quality at its core. Since acquiring Skipway Waste Management & Recycling in 2012, the company has further grown into a major player in the recycling and demolition sectors, securing countless contracts across the UK. Operating from depots in Belfast and Portadown and quarries in Moira and Lisburn, the Group's impressive and growing fleet of almost 60 trucks and skip loaders, as well as specialist tipping, ejector, and walking floor trailers are a familiar sight on Northern Irish roads. R. Heatrick Ltd received a prototype of TTS 518T trommel and agreed to put it through its paces over a period of a few months. Terex Ecotec's smallest trommel to date, compact yet uncompromised, the TTS 518T has been intuitively designed and offers operators unrivaled application flexibility, production rates, and serviceability.
"During our testing, we used a variety of materials including stone, timber, and other waste," says Trevor Heatrick, "and we never ceased to be amazed at its efficiency and performance. We can change the drum very quickly, in a matter of minutes compared to maybe two days' work on a competitor's trommel; the drum simply lifts out with the aid of a forklift and can be replaced by a different sized one from another manufacturer, so we can easily integrate it into our existing trommel fleet.
"Another major benefit of the Terex Ecotec trommel is being fitted with tracks as opposed to wheels, so maneuverability is better. It can be packed up in 10 minutes and tracked on to a low loader to transport it to another of our sites – we use it in our quarries, in our waste facility in Belfast, and in the yard at Portadown where it can be offloaded and put to use in next to no time.
"It is a very versatile and compact machine that is very easy on fuel; running it for 12 hours a day I reckon we are using just 10 gallons of diesel."
The TTS 518T was supplied and delivered by Terex Ecotec's new Northern Ireland dealer, Quarry & Recycling Solutions (QRS), headed up by Dougie Watt, and what also makes the sale special is that it was his first sale since being appointed just a few days previously!
"We have dealt with Dougie in the past, before his appointment by Terex Ecotec, so we had every confidence that he would continue to support us going forward with the new trommel. When we had the machine on testing, we recommended some changes and refinements to improve its performance; they took those suggestions on board and the modifications were implemented in due course, so we knew exactly what we were investing in," says Trevor.
Adds Dougie: "I have had a long-standing working relationship with Trevor for many years, having looked after all his maintenance and repairs, so when I took on the Terex Ecotec dealership I approached him about this new trommel, knowing that a more compact machine would suit his requirements, and I was delighted we were able to secure the deal."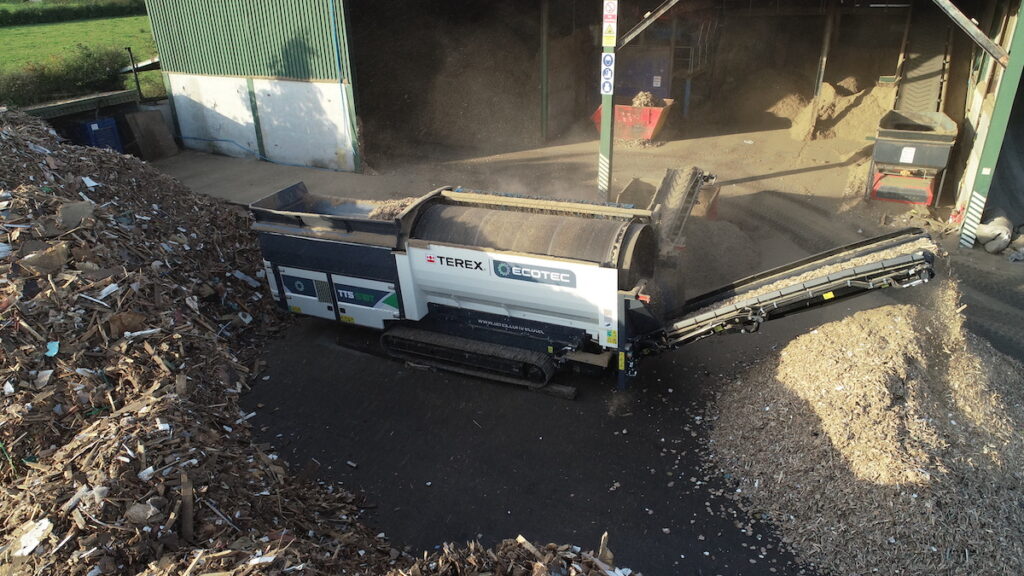 Fully equipped with a Stage V/Tier 4 engine and the latest intelligent screening technology, the TTS 518T delivers a superior and cost-efficient end-product, as Trevor Heatrick has discovered. And as Dougie commented, the machine, available in both tracked and wheeled variants, is ideal for operations where space may be limited. Highly versatile, it can screen a variety of materials including compost, biomass, soil, gravel, and waste.
Optimal performance providing a total screening area of 23m², the TTS 518T is fitted with a 1.8m x 4.7m horizontal drum with a spiral design. It shares the same intuitive control system and 'push to start' buttons used on the TTS 620, allowing the operator to effortlessly configure the machine to suit the required application. The intelligent feed control system continually monitors the machine adjusting the feeder speed to optimise screening performance and throughput. Being driven at the head, the feeder provides an excellent and continuous feed rate, reducing slippage in difficult applications. The feeder has also been designed as a slide out cassette which allows for easy maintenance and quick and simple belt changing. The clear tunnel area underneath the feeder prevents material build-up and allows any material in this area to drop directly onto the ground.
With double-sided drum access via 180 degrees opening side doors, maintenance can be carried out with ease. The swing-out engine cradle provides unprecedented service access enabling daily checks and maintenance to be carried out safely from ground level. All the conveyors are fully modular allowing each to be removed independently, with the fines and oversize also lowering to ground level for maintenance. The TTS 518 is available to purchase now via Terex Ecotec's world-class dealer distribution network that provides the sales and aftermarket service demanded in the market.