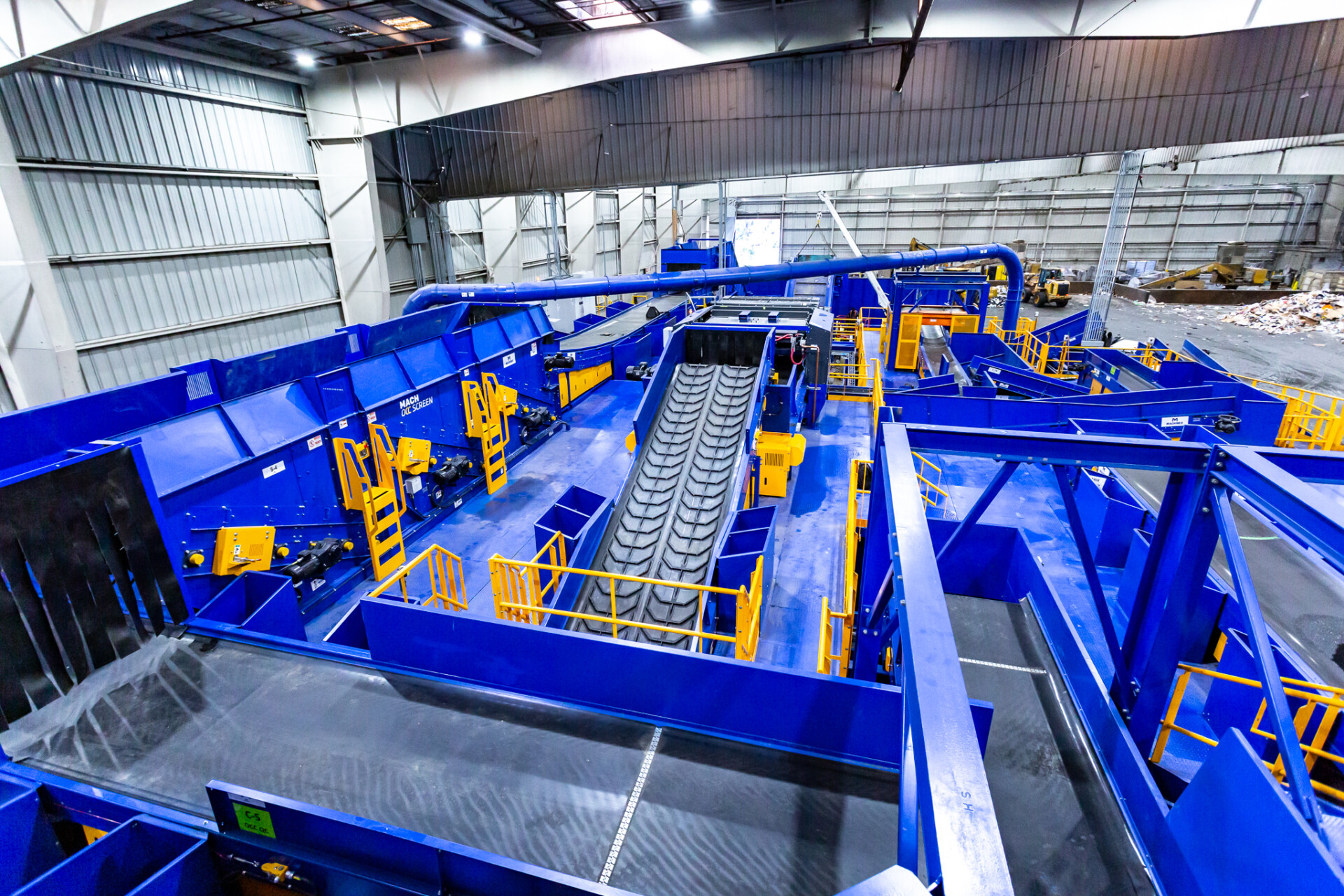 Machinex is pleased to announce its new partnership with the City of Phoenix, Arizona, to deliver a 30 Ton Per Hour (TPH) Residential Single Stream system in 2023. This project is part of the City of Phoenix's circular economy and waste diversion initiatives which includes diverting a majority of recyclables away from its landfill, with the objective of achieving Zero Waste by 2050.
To become a circular, zero-waste and carbon neutral urban area, City of Phoenix focuses on five key pillars to reduce, reuse, recycle, reconsider, and reimagine. As a global solution for a sustainable tomorrow, this project also has a positive economic impact on the community by creating new job opportunities.
Machinex will contribute to the City's objective of achieving zero waste by 2050 and transitioning to a circular economy by providing a new single stream system to achieve remarkably higher recyclable recovery rates. As the City's project requirements include very demanding standards for throughput and sorting quality, Machinex took up the challenge and designed a Materials Recovery Facility (MRF) to fit in the Zero Waste policy, to save resources and preserve the environment.
The 30TPH MRF is designed to sort recyclable materials such as paper, cardboard, HDPE, PET, PP, mixed plastics, and glass coming from the City's residential curbside collection program, with processing capacity of more than 10, 000 tons per month. To achieve such requirements, advanced sorting technology equipment with interconnectivity were necessary to reach high recovery rates without compromising the throughput.
This recycling system, entirely designed and equipped by Machinex, includes a MACH Trommel, two MACH Ballistic separators, a SamurAI® sorting robot, and multiple MACH Hyspec® optical sorters to clean papers and fibers while also capture plastics. To maximize recovery rates while offering higher security for sorters, a MACH Trommel is located at the beginning of the system, before the pre-sort station, to divert small fractions. This allows the smaller fractions to be handled separately, while reducing the material burden depth at pre-sort, making for a safer and more efficient sorting position. The small fractions pass immediately by two optical sorters, at the front of the system after the Trommel to immediately target small plastics and fiber. The remaining optical sorters within the system clean paper and captures targeted PET, HDPE, and PP. Finally, two MACH Hyspec® located at the end of the sorting line optimize recovery by capturing any remaining recoverable materials, while cleaned paper goes to a quality control station. The SamurAI® sorting robot with integrated AI is performing quality control on plastics. The system has also been designed such as additional robots can be easily added for future needs.
Machinex' innovative approach to split the stream and address each fraction separately helps ensure that this system will reach the high recovery rates requested, while maximizing recovery of valuable materials to close the loop and contribute to the City's zero waste goal.
"Having worked with the City for a number of years in different roles, I'm very familiar with the City of Phoenix's history of innovating around the recycling program" said Will Herzog, Machinex' Western Region Sales Manager. "The City built one of the first single stream recycling systems in the U.S. back in the early 1990s, and this new investment will push the City's recycling program back to the forefront of recycling technology and material recovery. We can't wait to get started on this project!"
"We are pleased to be working with Machinex on this exciting project," said Rick Peters, Deputy Director of Public Works for the City of Phoenix. "When operational, this new recycling facility will integrate the latest technologies, including numerous optical sorters, to maximize material recovery while producing high quality commodities. The new facility is designed to be flexible and adaptable making Phoenix resilient to market and commodity changes over the next 20 years. We also expect this facility to be a great resource to educate students and residents on the value and importance of recycling."
This article is published by
Machinex Industries offers complete engineering design, manufacturing and installation of Material Recycling Facilities. As a leader in sorting technologies, Machinex Industries provides turnkey systems: Single-Stream, Mixed Waste Processing, Construction & Demolition, Commercial and Industrial Waste, front-end processing for Waste-to-Energy ...