Automating your metal recycling process begins with the addition of a shredder. Shredders reduce worker risks associated with manual handling, feeding, and cutting of large metal sheets, further automating your production line. Amos Mfg., Inc. offers a full range of shredders featuring the 125 HP Dual Shaft Shredder. Amos shredders are custom-built based on the requirements of the application. Each solution will be tailored to accommodate the feeding, shredding and conveyance of material. If there is a need for a complete solution, Amos can provide the additional auxiliary equipment to support a complete turnkey solution.
The 125 HP Dual Shaft Shredder features a low speed, high torque cutter design that shreds metal with ease and efficiency, reducing the particle size and providing consistency for further processing and more efficient handling. This also allows for an increase in the density of scrap material per dumpster, cutting costs associated with otherwise frequent and premature waste transportation.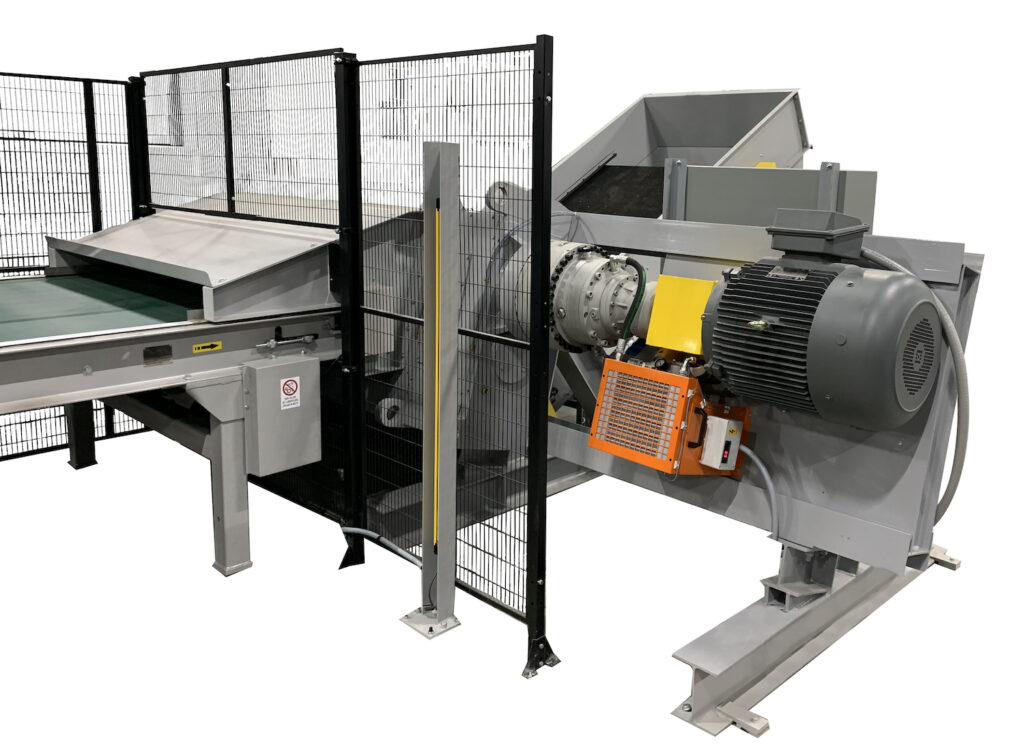 One customer in the scrap metal recycling industry was interested in automating the reduction process to automatically feed the shredder directly from the laser burner. With space limitations that prohibited the movement of full scrap sheets from processing line to the scrap dumpster the Amos team proposed a solution. The 125 HP Dual Shaft Shredder was modified to accommodate a horizontal feed from the laser burner, matched with a cutter profile specifically designed to effectively grab and particulate the sheet metal in a range of thicknesses from 16 to 11 gauge. The Amos shredder provided the ideal solution with its high torque and compact design which reduced the size of scrap metal making it more manageable for the customers recycling process. This manufacturer was very satisfied with the gain.
Amos shredders reduce volume and create more consistently sized material that increases efficiency for additional downstream operations. Amos offers shredders from 1 HP to 400 HP and beyond, with a wide selection of industrial shredders for a variety of applications. A complete solution can be provided based on the type of materials being processed, throughput, particle size, feeding method, and other operational requirements.
Learn more about our 2 and 4 shaft shredders or contact us for a custom shredding solution today.