The Siam City Cement subsidiary Ecocycle in Hon Chong (Kien Giang Province, Vietnam) took up the challenge and found the right technology partner in WEIMA. Toxic hazardous waste now ends up in the calciner for cement production after shredding, instead of in the landfill.
The production of industrial goods often generates large quantities of waste, some of which are highly toxic. The environmentally sound disposal of this hazardous waste poses major hurdles for Vietnam and its companies.
INSEE Ecocycle, formerly Geocycle Holcim, is a leading provider of waste management solutions in Vietnam. To meet the challenges posed by climate change, increasing urbanization, and dwindling natural resources, the company specializes in the sustainable treatment of industrial waste as well as hazardous waste, and also offers complete solutions for waste assessment and logistics.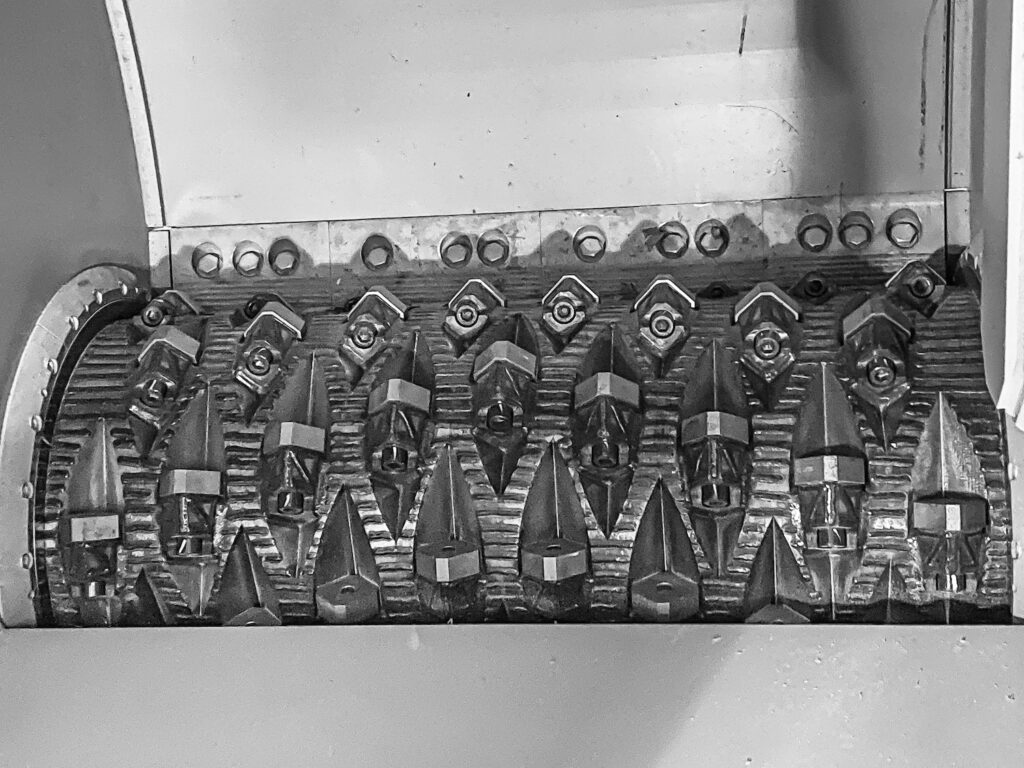 As a subsidiary of the Siam City Cement Group (SCCC), INSEE pursues the goal of producing high-quality building materials in the most sustainable way possible. Siam City Cement is a leading manufacturer of cement products and other building materials with headquarters in Bangkok and a network of group companies in Thailand, Cambodia, Vietnam, Bangladesh, and Sri Lanka. The regional player has relied on the WEIMA brand for several years and already uses WEIMA single-shaft shredders for municipal solid waste (MSW) shredding in Thai cement plants.
Special treatment for special waste
In addition to industrial waste, hazardous waste is also processed at the Vietnamese cement plant in Hon Chong. The term hazardous waste refers to waste materials that exhibit certain hazardous characteristics (these include flammability, reactivity, corrosivity, toxicity). They often pose a risk not only to health but also to the environment. When treating these hazardous substances, it is, therefore, essential to ensure that they are destroyed in a safe and environmentally sound manner. A major challenge in the processing of this highly contaminated waste is posed by the aggressive properties of the material. For proper waste processing as part of calcination in the rotary kiln, an extremely robust shredding solution is therefore required.
Wanted: A fearless shredder for hazardous waste materials
The requirements of the Vietnamese cement manufacturer: A compact, low-maintenance machine that shreds hazardous waste to defined particle size as a single-stage processing solution. For this important task in pre-processing, WEIMA was commissioned to install a robust, high-throughput PowerLine 1500 single-shaft shredder.
In order to ensure safety and to shred the particularly critical waste, such as sludge, textiles contaminated with oil, contaminated solid waste, and activated carbon, to homogeneous particle size, a slow speed of 65 rpm is used. With a working width of 1,500 mm and the universally applicable PowerLine rotor, a total material throughput of five tons per hour is achieved.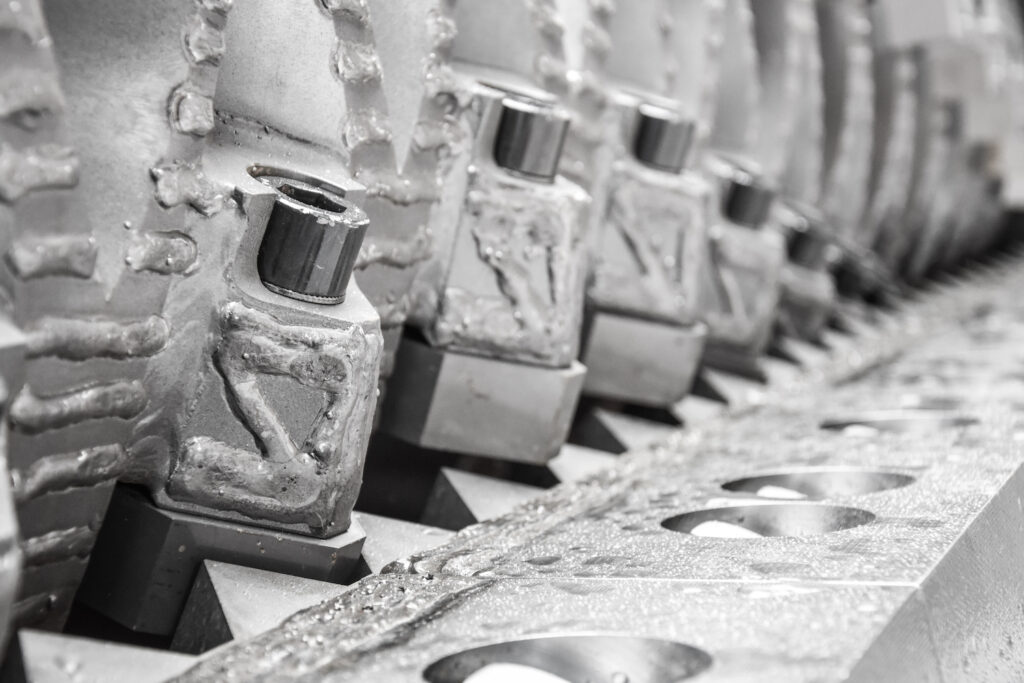 Extreme demands on machine and drive
The special benefit here is that the waste is fed into the WEIMA shredder by a gripper–untreated, unsorted, and without pre-shredding. To meet the extreme requirements, WEIMA used particularly efficient and robust technology, such as the proven hydraulic drive and wear-reinforced designs of individual machine components.
The 18-ton industrial waste shredder is driven by an innovative hydraulic drive from Hägglunds Bosch Rexroth with an output of 200 kW. The hydraulic drive has a crucial advantage for this application: Since it does not have a classic gearbox that is subject to wear from impacts, it is faster to react and less sensitive to shocks from foreign materials
However, not only the throughput but also the particle size of the crushed material is essential. After all, the extremely high temperatures in the cement kilns can only be achieved in a constant manner if the quality of the material is right. With a round hole screen, the shredder achieves a constant particle size <150 mm. In order to withstand the continuously high loads, the screen segments are made of particularly wear-resistant Creusabro steel.
From pre-processing to co-processing
In pre-processing, the hazardous waste is shredded to a standardized size and then sorted and filtered. The shredded material is transported to the cement kiln via an automatic loading system using a gripper and a closed conveyor belt, where it is used in co-processing.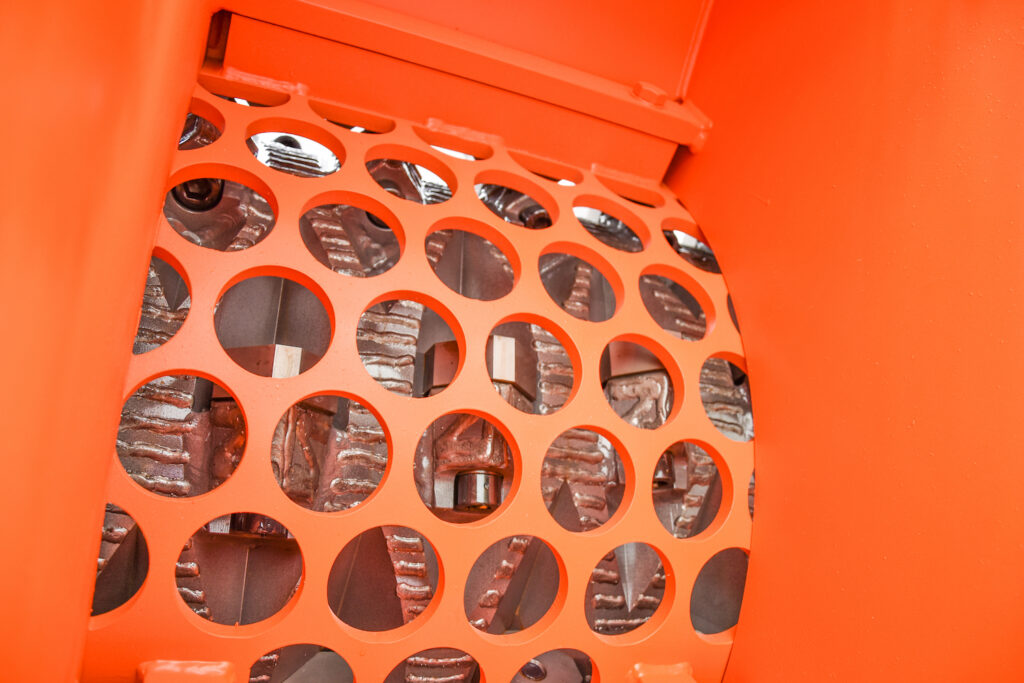 The high temperatures and long residence time in the kiln ultimately destroy the last toxic residues completely. Co-processing thus makes it possible to avoid landfilling and incineration of hazardous waste. INSEE Ecocycle also minimizes the use of fossil fuels and consequently reduces greenhouse gas emissions. In addition, the cement manufacturer can reduce energy costs and live up to its own principles of preserving natural resources for future generations.